Flats at London's new Nine Elms housing development are being advertised to buyers in the Far East despite an acute shortage of homes in the capital, it has emerged.
Wealthy buyers as far afield as Hong Kong and Singapore are being encouraged by developers to buy up housing despite many London residents unable to afford a home of their own or skyrocketing rents.
Billboards have appeared in Hong Kong for flats in the Aykon tower near Vauxhall, with accompanying promotional literature promising buyers a "global symbol of opulence".
Full-page newspaper adverts have also been taken out in the Singaporean newspaper the Straits Times.
The billboards for the 50-storey tower bear the logo of UK estate agent Savills as well as the developer DAMAC.
Flats from another development in the area, Embassy Gardens, are also being advertised in newspapers in Singapore.
The developers at Embassy Gardens are targeting Far East buyers to such an extent that they have even laid on a seminar discussing the Feng Shui potential of the flats.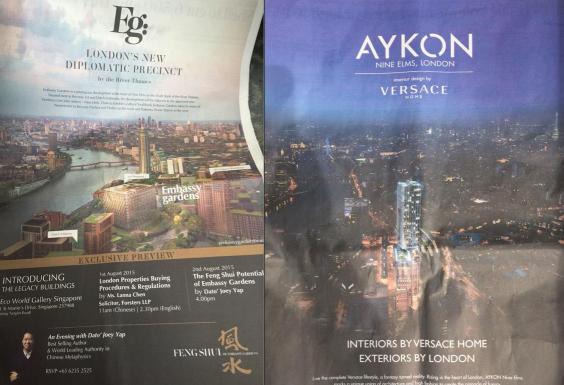 Feng Shui is a doctrine popular in traditional Chinese culture that suggests invisible forces can be shaped by the positioning of buildings. It is sometimes considered by architects in the Far East.
The seminar, titled "An evening with Dato' Joey Yap, best selling author and world leading authority in Chinese metaphysics" took place on 2 August in Singapore.
Prospective buyers could also attend a 1 August session on "London Property Buying Procedures & Regulations" with options in both Chinese and English language.
Adverts for other UK developments in Singaporean newspapers boast of rental returns from British tenants of eight percent, and a guaranteed 121 per cent buyback after seven years.
The Mayor of London Boris Johnson last year urged developers to voluntarily commit to selling new homes to Londoners before or at the same time as abroad.
"I want Londoners to be able to live near where they work and to raise their families in our boroughs," he said at the time.
"I am therefore writing to ask you to sign up to my new Mayoral Concordat to promote home ownership for Londoners. This voluntary pledge recognises your commitment to market new homes first or first equal to Londoners."
In pictures: Tiny London flats to rent
In pictures: Tiny London flats to rent
1/6 London properties

A "cosy" flat in an upmarket area of west London is available to rent for a reasonable £520 a month, provided the tenant doesn't mind showering under the bed

2/6 London properties

Located on Castletown Road, the advertisement on Zoopla boasts: "A cosy, single studio located in the heart of London's fashionable and up-market area of West Kensington, this compact mezzanine includes not only a fully furnished living area including table, chair, wardrobe and chest of draws [sic] but also a personal shower and kitchenette complete with storage"

3/6 London properties

The property is recommended for "students, working professionals and those looking for a thriving London life at an affordable rate"

Rightmove

4/6 London properties

A studio flat for rent in Kember Street, north London was advertised for £737-a-month

Rightmove

5/6 London properties

The 'well-used' kitchen of a flat in Hoxton, which was on the market for £997 per month

Zoopla

6/6 London properties

For only £125 per week you could be the lucky owner of this single studio flat, complete with shower and kitchenette, located between Barons Court and West Kensington

Zoopla
But he stopped short of regulating developers, who are free to sell homes abroad if they think they can make more money. The developments referenced in this article are also being advertised in the UK.
The Mayor described Nine Elms as "the most important regeneration story in London" .
"I firmly believe that Nine Elms is the last and single greatest prospect for regeneration in Central London," he said.
Industry figures have previously argued that such sales abroad help finance developments.
The Nine Elms Opportunity Area is the last major development site near central London. Transport For London is building a new Tube station in the area to serve the new development, with developers contributing funds.
London's housing shortage led to rents rising 11.8 per cent in the last year to July, according to property service HomeLet.
Reuse content