Mounting concern over Britain's culpability for a catastrophic attack on its main base in Afghanistan has prompted the Commons Defence Select Committee to consider its own inquiry into the incident, The Independent can reveal.
Fifteen heavily armed Taliban got past an empty watchtower and reached the airfield at Camp Bastion. A five-hour battle ensued in which two US Marines were killed, 16 soldiers wounded and almost an entire squadron of Harrier jets destroyed.
In the aftermath, the US took over responsibility for the base's security from the British. A major US Army investigation resulted in two US generals being sacked earlier this month. Ministry of Defence (MoD) officials have dismissed the US findings, despite revelations that Britain refused to pay for airfield protection recommended months before last September's attack.
James Arbuthnot, chair of the Defence Select Committee, has asked the MoD "for sight of British reports into the incident". Once the committee gets this information, he said it "shall be in a better position to consider what further action to take [whether by way of having an evidence session on it or otherwise]. It is a most serious issue which we shall not be dropping".
Lt-Col Chris "Otis" Raible, commander of the US Harrier jet squadron at the base, was armed with just a pistol when he led a desperate defence against the Taliban. After an hour of fighting for his life, the 40-year-old, who had three children, was dead.
Writing exclusively for The Independent today, his mother, Kim, a real estate agent from Pennsylvania, accused MoD of a "total disregard" and "arrogance and total lack of empathy" over what happened. She is writing to Defence Secretary Philip Hammond to demand a full investigation.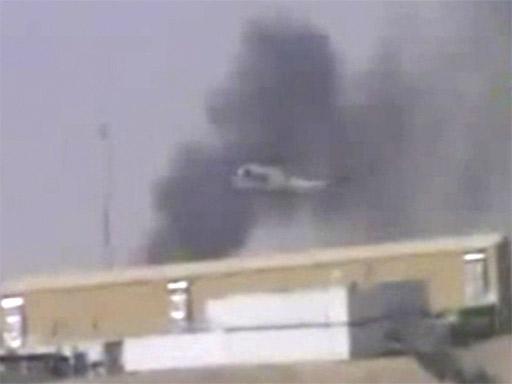 An MoD spokesman said: "Whilst the US review was intended to examine US actions only and not those of coalition forces, the UK has considered its findings in detail. In addition the UK has contributed fully to a number of Isaf and UK reviews. We are confident that we have identified all significant lessons and acted upon them and no further UK action is required.
"A concertina wire, a ditch, berm obstacle and a 30ft-high boundary chain-link fence were in place around Camp Bastion at the time of the attack and the US review states that a separate internal perimeter fence would likely not have presented any serious challenge, barrier or impediment to the enemy.