Dissatisfaction with the National Health Service saw its biggest jump ever last year, according to a long-running national survey.
Satisfaction with the health service has been falling since 2010, while dissatisfaction has been growing, according to the British Social Attitudes Survey.
The sharpest change so far came 2015, when the proportion of people actively dissatisfied with the NHS rose in eight per cent to 23 per cent.
The number of people who said they were satisfied was at 60 per cent, down from its peak of 70 per cent in 2010.
Social care services were a particular drag on satisfaction ratings. That service is funded by councils, who have faced significant cuts to their budgets and have had to pass on savings.
The findings come amid controversy over the Government's handling of the NHS and a wave of strikes by junior doctors over a planned new contract.
The NHS has also been increasingly missing waiting time targets in recent years, with the latest figures showing more than 100,000 patients spending at least 12 hours in A&E departments in England in 2015, according to BBC Radio 5Live.
Officials maintain that the proportion of people waiting a long time is small, however.
The Government announced £3.8 billion extra funding for the NHS in November and has permitted some councils to raise a small amount of extra council tax to fund social care services.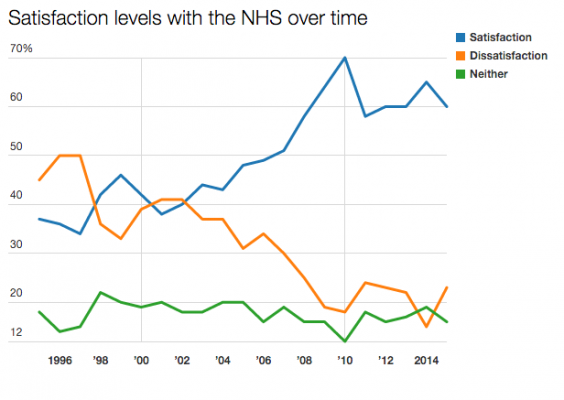 John Appleby, Chief Economist at The King's Fund, a health policy think-tank, said the results were based on a number of factors.
"The British Social Attitudes Survey has traditionally been seen as a barometer of how well the NHS is performing. The latest survey underlines the high value the British public places on the quality of care the NHS provides and its availability free at the point of use," he said.
In pictures: Junior doctors protests in UK
In pictures: Junior doctors protests in UK
1/10

20,000 Junior Doctors marched through central London in protest at the new contract changes the government is trying to impose which they say will be unfair and unsafe

2/10

Junior doctors protest in London

3/10

4 year old Cassius takes part in a demonstration in Westminster, in support of junior doctors over changes to NHS contracts, London

4/10

Protest over proposed changes to junior doctors' contracts, Leeds

5/10

Junior doctors and NHS staff protesting against the health service cuts and the proposed contract changes offered by the government outside Parliament

6/10

Junior doctors and NHS staff protesting against the health service cuts and the proposed contract changes offered by the government outside Parliament

7/10

Over 5000 junior doctors rallied in Waterloo place, before marching through Whitehall and onto Parliament Square, in opposition to Jeremy Hunt's new working conditions for doctors

8/10

Demonstrators listen to speeches in Waterloo Place during the 'Let's Save the NHS' rally and protest march by junior doctors

9/10

Junior doctors marched in London to highlight their plight

10/10

A protester at a demonstration in support of junior doctors in London
"It is no surprise to find that dissatisfaction is driven by waiting times for appointments and perceptions of underfunding and staff shortages. However, it is also apparent that people's perceptions are influenced by their views about a range of factors including politics, policy and public institutions, as well as by their own experience of the NHS."
Rob Webster, chief executive of the NHS Confederation, which represents health service managers said the stats were "deeply concerning".
"Public perception on NHS funding, staffing and wait times are however driving lower satisfaction. What the public and health service now needs is a strong clear narrative from politicians of all parties on the future of the NHS," he said.
"The most important set of results are those on social care. We have said consistently that the NHS and social care system cannot be seen in isolation from each other. A further fall in satisfaction of 5 percentage points to just  26 per cent is deeply concerning. 
"This reflects the pressure social care services are facing and these must be addressed if we are to sustain effective care for vulnerable people. Current resourcing levels in social care will, we believe, be insufficient in the short term to make this a reality."
The BSA survey covers England, Scotland and Wales and has been running for around 30 years. The health service is devolved to each of the home nations.
A spokesperson for the Department of Health said: "There is pressure on the NHS as our population ages, and that's why the government is investing record amounts to transform care."
Reuse content