Nicky Morgan has hinted at her intention to replace David Cameron when he steps down, telling a fringe at the party's conference that she has demonstrated her leadership credentials by winning twice in a marginal seat. 
While she refused to be give a firm answer to whether she would definitely throw her hat in the ring, she said she had demonstrated leadership by winning twice in her Tory-Labour marginal Loughborough constituency. It comes after last week she hinted she would run for the leadership but said it would depend on her family. 
Ms Morgan, who replaced Michael Gove as Education Secretary burnished her moderate credentials, pledging to back the UK's membership of the EU come what may, admitting she was wrong to vote against gay marriage and refusing to commit to opening new grammar schools. 
Meanwhile a fellow female Tory on the rise, the party's Scottish leader Ruth Davidson has been tipped as a potential future leader by a current Cabinet minister. "If you're looking for a strong female leader of the party they don't come stronger than Ruth," a Cabinet member told The Telegraph. "It's obvious, if people are looking for a strong female, Ruth is a strong female."
Ms Morgan, asked whether she possessed the leadership skills to run for the Tory leadership at a fringe event hosted by the Huffington Post, Ms Morgan said: "Firstly, I'm not going to get into what's going to happen. The time will come, other people will make the decisions." She added that it was for "other people to decide" who ran but insisted that having won a marginal seat for two general elections running, she had proven the key leadership credential of "the ability for people to follow you".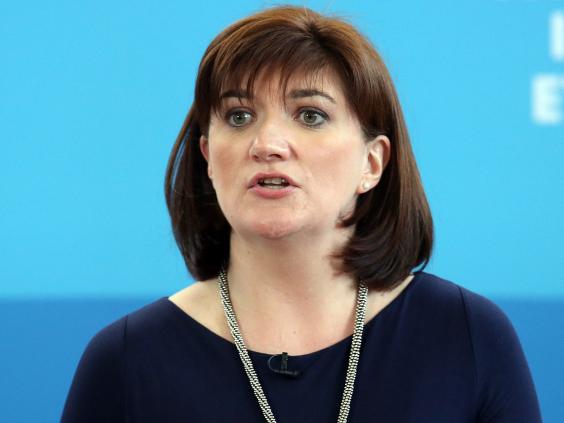 She said: "As a candidate in a marginal seat I think actually one of the things that people don't realise actually is that when you are out campaigning or leading a campaign team you are having to provide leadership."
Speaking about her role as Education Secretary and the need to spot talented leaders, she added: "In this job, like no other I have ever done, you are learning all the time… good leaders are nurtured and that's what we need in our school system – to really spot good talent and to not leave it to chance but to make sure we get those good leaders in. Whether that process is the same in the Conservative party then that's for other people to decide."
In an interview with the Spectator last week, Ms Morgan first raised the prospect of running for the leadership, saying she hoped to see another female Tory leader. 
"I hope that, in the not-too-distant future, there will be another female leader of a main Westminster political party," she said. "A lot of it will depend on family. I'd be saying this if I were male or female – in the sense that being leader of the party is so all-consuming, putting such a pressure on family relationships."
Asked about those comments, she said: "I was asked a question and I gave a straight answer and if that's news then so be it. It's not anything I'm looking for any response too. We will cross that bridge, as a party, when we come to it".
Addressing her approach to the EU referendum, she said she could not see herself campaigning for an Out vote but insisted the media needed to give David Cameron time to secure reforms in his renegotiation bid.
Asked whether she could envisage campaigning for an Out vote, she said: "Personally not". 
"I will want to be staying in, other people will want to put forward different views. I also think it's completely right to give people a say. It's been a long time since we gave people a say [on the European Union]," she added. 
Ms Morgan, who also serves as the Government's equalities minister, said she was surprised at the number of people who "don't want to accept that people can change their minds" when it came to her previous opposition to gay marriage. Ms Morgan, an Anglican, voted against same sex marriage but now admits she was wrong to do so. "Hopefully people understand that I've said I think I got it wrong and my position has changed," she said.
She added: "I think people are more comfortable with actually making assumptions about people... 'You voted this way so you must be a certain kind of person' and actually it surprises me how challenged people feel by somebody who changes their mind."
Reuse content