Nicola Sturgeon will take to YouTube today to deliver a pre-recorded "people's message" directly to the Scottish electorate, as she launches her final programme for government ahead of next year's elections.
A few hours after informing the Scottish Parliament of her legislative plans for the final session of the current term, the First Minister will appear in a more relaxed two-minute video filmed at Bute House, her official residence in Edinburgh.
The ministerial first is intended to allow Ms Sturgeon to address Scots in a more "personable" fashion than her speech at Holyrood will allow. The short video, designed to be an instantly sharable version of her plans for government, will be accompanied by a big push on social media.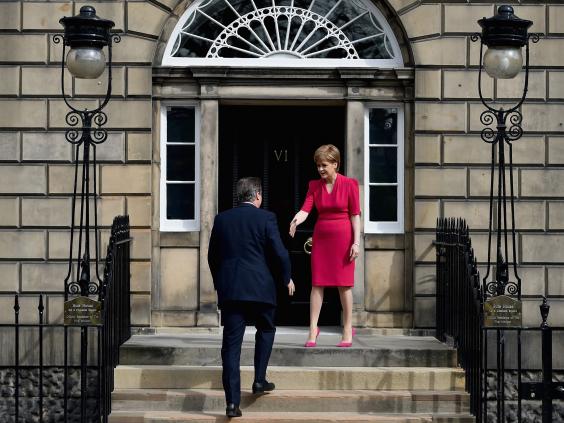 Reforming education in Scotland is expected to be at the heart of the SNP leader's proposals, unveiled with only nine months to go until the country heads to the polls to elect a new batch of MSPs. Her party's record in government will also face scrutiny from her opponents, led by Scottish Labour's new leader Kezia Dugdale.
A Scottish Government spokesperson said: "This is an opportunity for the First Minister to explain directly to the people of Scotland how she will deliver a fairer and wealthier country.
"When she came into office last year, the First Minister declared that she would lead the most open and accessible government ever and in the past nine months she has travelled Scotland listening to communities and hearing their issues. Now she will use this video to set out the way forward and her vision for making this country the best it can be."
Ms Sturgeon has said that her "bold and ambitious" plans for the next nine months will continue efforts to improve public services and the state of the economy, as well as setting out how ministers will use the new powers proposed in the Scotland Bill.
The First Minister is well aware of the power of social media in communicating with the public. She joined Twitter in 2010 and has since gained more than 243,000 followers, using the site to connect personally with voters and rapidly rebut accusations from her critics.
In her address to the Edinburgh International Television Festival last week, she said Twitter "allows me, if I so choose, to bypass or, on occasion, challenge traditional media – to point out factual errors or misquotes or get messages out to people without having to wait for the broadcast news bulletins or the next day's papers."
BBC Woman's Hour Powerlist: The ten most influential women
BBC Woman's Hour Powerlist: The ten most influential women
1/10 1. Nicola Sturgeon

Leader of the SNP

PA

2/10 2. Anna Wintour

Editor-in-chief of American Vogue

AP

3/10 3. Angelina Jolie

Actress director and humanitarian ambassador

AFP/Getty

4/10 4. Kath Viner

Editor of The Guardian

Getty Images

5/10 5. Camilla Cavendish

Director of Downing Street Policy Unit

YouTube/TheKingsFund

6/10 6. Sia (right)

Singer, songwriter and music video director

7/10 7. Caitlyn Jenner

High profile trans woman

AP

8/10 8. Karen Blackett

CEO, MediaCom UK

9/10 9. Zanny Minton Beddoes

Editor-in-chief of The Economist

YouTube/TheEconomist

10/10 10. Sara Khan

Co-founder of Inspire
She said that an example of this came in the run up to the general election, when a newspaper printed a leaked memo suggesting that she had told the French Ambassador she would prefer David Cameron to be Prime Minister over Ed Miliband. Within five minutes of the news breaking, she took to Twitter to dismiss it as "categorically 100% untrue". It later transpired that the memo was an erroneous record of their conversation.
"The real point is that today – because of social media – there is a real chance that a lie won't have got much beyond the end of the road before the truth has its boots on, tearing after it," she added. "And that is a very good and healthy development."
In a recent interview, Sturgeon also claimed that some politicians "just don't get social media" and merely "tweet press releases" rather than connecting with the public. She often uses the site to give Scottish voters an insight into her personal life.
Reuse content