Scottish Nationalist MPs are ready to vote on English-only laws, Nicola Sturgeon said as a poll showed her party on course to wipe Labour off the political map in Scotland.
Ahead of tomorrow's announcement of details of extra devolution of powers to Holyrood, Scotland's First Minister confirmed the SNP was prepared to set aside its convention that its MPs abstained on issues only applying south of the border.
She singled out the example of the NHS, insisting the SNP's intervention would be justified to protect Scotland's share of health spending and to reverse the "privatisation" of the NHS under the Conservatives.
Her comments came after her predecessor, Alex Salmond, hinted last month at the change of tactics, telling the Independent that SNP MPs would act on a "vote-by-vote" basis after the election.
Ms Sturgeon told the BBC today: "We would be prepared to vote on matters of English health because that has a direct impact potentially on Scotland's budget."
She said: "If decisions are taken over time that reduce the public funding of the health service in England, that has a direct knock-on effect to Scotland's budget and our ability to protect the funding of Scotland's health service. It is a self-interested position for us to take."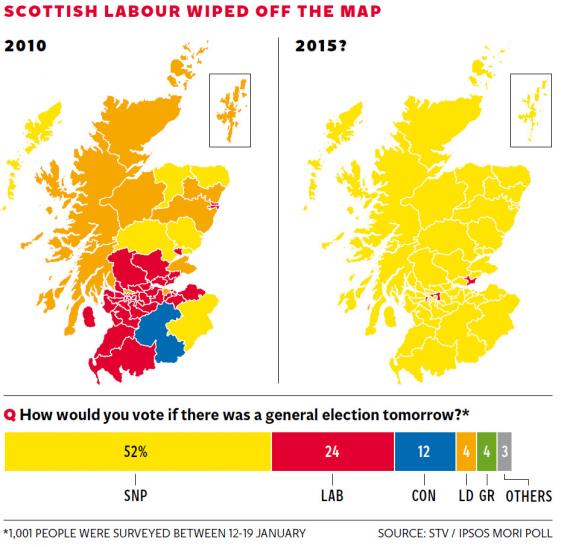 Her comments were denounced by the Tory Defence Minister Anna Soubry who accused her of fuelling English nationalism.
"She puts our Union at risk again. I think she plays with dangerous stuff," Ms Soubry said. "She is playing into the hands of those people who get much more irate than I do about 'English votes for English laws'."
The SNP's potential influence after May 7 was dramatically reinforced by a Ipsos Mori survey putting it on 52 per cent, with Labour on just 24 per cent. The poll, which suggests Labour's new leader Jim Murphy has made little impression on voters, would give the SNP a projected 55 of the 59 seats at Westminster.
On a uniform swing, Labour would be reduced from 41 seats to just four, with Mr Murphy among those ejected by the electors.
While no-one realistically expects a landslide on that scale, Labour is facing up to the possibility of the SNP sending a bloc of at least 20 MPs to the Commons.
It could emerge as a power-broker in a hung parliament, potentially throwing a lifeline to a minority Labour administration. The SNP has made clear it would not do any deals with a Tory government.
David Cameron will visit Scotland tomorrow as the Coalition sets out plans to pass more powers over tax, spending and welfare to Holyrood.
The move follows the joint pledge – described as The Vow – by Mr Cameron, Nick Clegg and Ed Miliband ahead of last September's independence referendum for Whitehall to surrender substantial authority to Scotland.
The Smith Commission, set up to turn the leaders' promise into concrete proposals, said the parliament should have power to set income tax rates and bands, should receive some of the VAT raised in Scotland and have increased borrowing powers. It also called for Holyrood to take control over benefit payments worth £2.5bn a year covering unemployment, disability and poverty.
Mr Cameron will claim on Thursday that the move will make Holyrood one of the most powerful devolved parliaments in the world.
"The Scottish Parliament will combine the freedom to decide what happens in Scotland's schools, hospitals, surgeries and police stations and the responsibility of determining how around 60 per cent of public money in Scotland is spent because, for the first time, the majority of the money the Scottish Parliament spends will be raised right here in Scotland," he will say.
Reuse content