It was only published on Amazon today, yet Nigel Farage's book, The Purple Revolution: The Year That Changed Everything has already had over 100 reviews.
While many appear to be genuinely filled with praise for the Ukip leader's 320 page work, others are clearly up to mischief and have been getting creative with their criticism.
"My least favourite fiction book so far. The characters weren't very relatable and the main guy whose perspective the story is told from, the pub drunk, I just didn't feel like he had many dimensions, considering he was the central character of the narrative," one review reads.
"Once I put it down I just couldn't pick it up again," goes another, while someone complained that it was "the worse biography of Prince ever".
A second disappointed Prince fan, 'Rob', said: "This is in no way the story of how the pop/funk Minnesota midget came to be, nor does it detail his life before his rise to prominence."
The 9 worst car crash interviews in recent politics
The 9 worst car crash interviews in recent politics
1/6 Chloe Smith on Newsnight

George Osborne was enjoying a good day as he scrapped a planned 3p rise in fuel duty in June, 2012. But then someone had the bright idea of putting Chloe Smith, a junior Treasury minister and then something of a rising star for the Tories, on Newsnight. But she was unable to convincingly answer a single question posed to her by Jeremy Paxman, even the ultimate killer blow: "Do you ever think you're incompetent?"

BBC

2/6 Boris Johnson on Andrew Marr

Eddie Mair, standing in for Mr Marr during his stroke recovery, might have been seen as something of a soft touch in March 2013 before he destroyed the London Mayor on the BBC's flagship Sunday current affairs show. Mair presented a series of anecdotes about the harsher side to the fluffy-seeming Mr Johnson's rise to power and concluded: "You're a nasty piece of work, aren't you?" Boris didn't quite seem to know how to respond.

PA

3/6 Ed Miliband on Good Morning Britain

Labour's leader faced some slightly inevitable accusations of being "out of touch with reality" from ITV's Susannah Reid after she surprised him with a "how much does X cost question". This time it was during an interview on how much he knew about his much-vaunted "cost of living crisis" – and Mr Miliband underestimated the average household grocery bill per week by about a third. He admitted he was wrong – but later tried to wriggle out of the situation by claiming he was only referring to "basic groceries" not his "overall shopping bill".

PA

4/6 Rachel Reeves on Daily Politics

The shadow Work and Pensions Secretary got very mixed up on whether Labour were promising "a freeze or a cap" – when energy prices actually stopped rising and fell. Refusing to accept that her party had enacted a u-turn on policy, she said: "It wasn't us who changed – it's the world that changed." She later couldn't give any examples of retail prices being successfully fixed by governments – stumping for "the minimum wage – the price of labour".

5/6 David Cameron on Gay Times

Grilled on his MEPs' voting records on gay rights in the European Parliament, a pre-prime ministerial Mr Cameron suggested they could vote any way they liked. But he also said the right not to suffer discrimination based on sexuality was a fundamental human right – meaning it should not be subject to an open vote. The former PR man got so flustered he had to ask for the cameras to be turned off because he was getting "distracted".

6/6 Nigel Farage on LBC

Nigel Farage's image as a plain-speaking, not-like-that-lot-in-Westminster politician suffered one of a number of dents in May 2014, when a tense 22-minute confrontation with LBC's James O'Brien had to be cut short by his spin doctor. Patrick O'Flynn – who is now an MEP for Ukip – had to step in when Mr Farage was repeatedly questioned on his views on race and why he would be uncomfortable if a group of Romanian nationals moved in next door to him.
Mr. J. Kerrison observed: "This is a book. To call it anything less than a book would be untrue; to call it anything more: undue praise."
Steve Anderson called it "The Poundland Mein Kampf".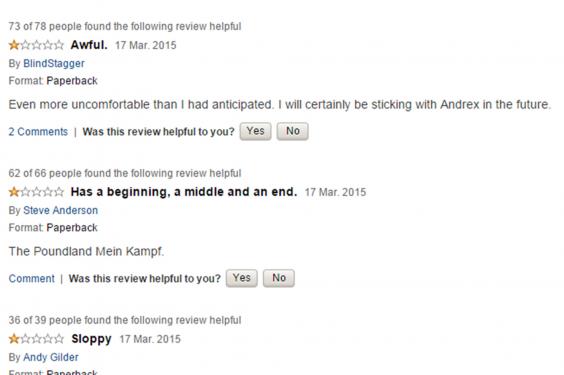 Farage's book promises to tell the "untold story of the journey Ukip has travelled under Farage's leadership, from the icy fringes of British politics all the way to Westminster".
In a serialised version of the book for the Daily Telegraph, it was revealed that it would be "curtains" for Farage's tenure at the helm of Ukip if he fails to win a Parliamentary seat at the general election in May.
He said he hoped that staking his political future on victory in South Thanet will draw the "flak" from the Labour and Conservatives towards him and away from the party's other target seats.
Reuse content