It's immigration vs revolution, eurosceptic vs banker-sceptic, monarchy vs anarchy - and tweed vs glam rock leather.
When Nigel Farage and Russell Brand sit down on the same Question Time panel on Thursday night, it's difficult to predict what will happen.
We know the Ukip leader is going to be talking up his party's chances ahead of the next general election. It's more than likely that the actor and comedian will be pressed on whether he thinks we should be having an election at all. And it's highly unlikely that David Dimbleby will be able to let anyone else get a word in edgeways.
But here are some of the things we think it is worth keeping an eye out for from Farage and Brand. Pick a side, grab a pen, and settle in for some Question Time Bingo.
For Russell Brand
Revolution
Starting off with an easy one, tick this off if Brand talks about the anarchist upheaval he has been proposing in recent months.
Tactile operation
Brand likes to move his body to express himself - and doesn't care whose personal space he violates in doing so. This one's for when he makes physical contact with another panellist.
Apple and pears (swears)
He's positioned himself as a rebel - and the programme will be going out after the watershed. If he pushes the boundaries and his language gets a bit naughty, tick this off.
Pluggy-wuggy
He may claim to eschew capitalism, but Brand's fortune is built on carefully-timed media appearances. If he mentions his book - or his films - it's bingo.

That's capital
Speaking of which, if Brand goes off on one and uses the terms 'banker', 'capitalism' AND 'greedy' in one contribution, tick this off.
Mum's the word
Brand got into a Twitter spat with a Daily Mail journalist this week and posted the hack's personal details online. He claimed it was after journalists tried to contact his mother about a story. Expect journalistic ethics to come up - and tick this off if Brand brings up his own family.

Godwin's Law
Brand and Farage come from very different points on the political spectrum, and it is a famous adage that if a debate goes on long enough between two disparate parties, at some point somebody/something is getting compared to Hitler/the Nazis. Tick here if Brand uses either term.
Hamming it up
Brand is a massive West Ham fan, and the cynics among us would have it that he played this up to affirm his credentials as a man of the people. Last season he even appeared on Match of the Day for some reason. Tick here if he brings up bubbles (or just 'his team' in general).
Attire
At the time of writing, we've no idea what any of the panellists will be wearing. So a big tick here if Brand turned out in either a) an unnecessary scarf (it's warm enough under the studio lights) or b) a very anarchistic sleeveless vest.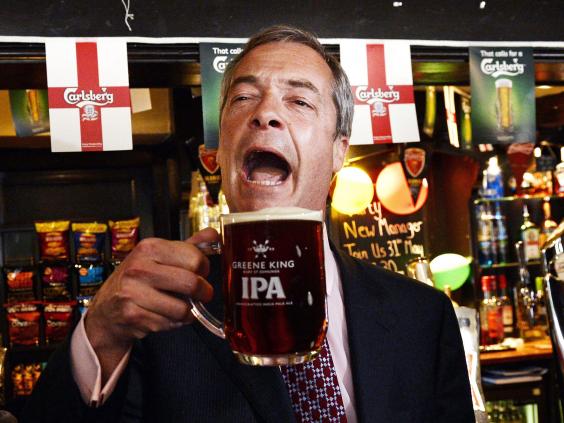 Nigel Farage
Immigration
It's an obvious one to start, but one he might be avoiding after he was slammed for blaming his lateness to a Ukip event at the weekend on immigrants clogging up the motorways. Ok, who are we kidding - tick here when he mentions them lot coming over 'ere.
A regal performance
After the Duke and Duchess of Cambridge's trip to the US, the matter of the monarchy may well be put up for debate. Tick here if Farage mentions The Queen - and an extra pat on the back if he uses the phrase 'value for money'.

'People's Army'
It's a phrase that Farage got a lot of usage out of during the Local and European elections earlier this year, and one which will no doubt play well against Brand's idea of the will of the people. Tick here if he refers to Ukip voters in such terms.
Well aren't you a comedian
Farage knows how to come across as scarily likeable, and that includes using compliments to make his point. Tick here if he claims to find Brand funny, in a but-stay-out-of-serious-business sort of a way.

Fawlty Towers
Brand's most famous scandal involved a prank call to Andrew Sachs telling him he'd slept with his granddaughter, while Farage claims to represent just the sort of ageing male demographic who will have a soft spot in their hearts for Manuel. Tick here if the Ukip leader doesn't let Brand forget it.
'The Establishment'
Frankly this phrase could apply to either side, but the MEP and former commodities broker has the more irksome trait of insisting he isn't really part of it. Tick here if he plays up UKIP in opposition to 'the old parties'.

Country comparison
While it's fair to say Brand is not the plainest speaker, Farage absolutely loves a good metaphor. Tick here if he mentions 'tanks' in the context of 'lawns', 'foxes' in the vicinity of 'chickens', or 'cats' getting familiar with 'pigeons'.
Democracy
Brand declined to vote in the last election - a revelation that famously prompted Jeremy Paxman to admit he didn't either. Farage may well take issue with this - but tick here only if he specifically uses the 'D' word.

It's a tie
As with Brand, we don't know what Farage will be wearing on Thursday night. But while there's a little less scope to speculate, he did genuinely wear a tie embroidered with the Bayeux Tapestry the other day. Tick here if he goes for anything similarly extravagant - even if it's just a slightly predictable Ukip purple.