Nigel Farage has told Ukip to put "country before party" and dedicate itself to its core goal of securing Britain's exit from the European Union.
The Ukip leader sent a clear message to his party's supporters and all those in favour of leaving the EU to unite for the EU referendum campaign, declaring: "We want our country back".
Delivering his keynote speech at Ukip's party conference in Doncaster, Mr Farage told activists they must grasp the once in a lifetime opportunity to secure a Brexit - a goal that he said was "dearer to my heart" even than Ukip.
He said the EU referendum could be won by offering a "big strong, positive message," hailing the decision by the Electoral Commission to force David Cameron to change the initial Yes/No question after the elections watchdog ruled it was too biased.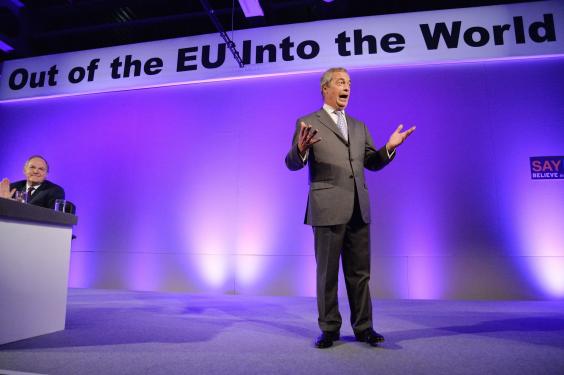 Mr Farage threw his support behind the new umbrella group campaigning for an Out vote, called Leave.eu, bankrolled by Ukip donor Arron Banks.
"I have to say to you, as the leader of this party, as somebody who has given over 20 years of his life to helping build this party, while of course I want us to do well as a party and succeed in those elections there is something that is actually dearer to my heart than party politics, even if it's Ukip," he told Ukip activists.
He mocked EU enthusiasts such as Sir Richard Branson, Tony Blair and Lord Mandelson who will be supporting the In campaign, while describing Tories such as David Cameron as "piggy in the middle" - a reference to claims he "inserted a private part of his anatomy" into a dead pig's mouth during an initiation ceremony at Oxford University.
Eurosceptic Tory MPs
Eurosceptic Tory MPs
1/7 Owen Paterson

Formerly a cabinet minister, Owen Paterson is now free to make his opinion known on the backbenchers. On the subject of Europe, he does so regularly – claiming recently that the EU referendum was "rigged" in favour of staying in

Getty

2/7 John Redwood

A longstanding eurosceptic, Mr Redwood warned last year that businesses that spoke out in favour of EU membership would be punished at the check-outs by anti-EU

Getty

3/7 Bill Cash

Awkward squad rebel Bill Cash said last year that he thought the EU had become an undemocratic, German-dominated project. "An increasingly assertive German Europe is at odds with British national interests," he wrote in the Daily Telegraph

Getty

4/7 Philip Davies

From the Conservative party's hard right wing, Philip Davies has been a longstanding critic of the EU. He founded the Better off Out campaign and is so eurosceptic that Ukip decided not to stand a candidate against him in 2010 because they agreed with him

Rex

5/7 Nadine Dorries

Outspoken Tory MP Nadine Dorries has previously advocated an alliance with Ukip. At the height of the Greek crisis in 2013 she said that the EU was "dying on its feet"

Rex

6/7 Liam Fox

The former defence secretary is a central figure on the right wing of the Conservative party. He's long put pressure on David Cameron over EU negotiations

Getty

7/7 Zac Goldsmith

A socially liberal eurosceptic, Goldsmith was one of the founding members of the People's Pledge campaign to get MPs to sign up for an EU referendum. His father ran the Referendum Party, a precursor to Ukip

Getty
Leave.eu will take over from its previous name, The Know, and will merge with other groups campaigning for an Out vote, such as the Bruges Group, Global Britain and Get Britain Out.
Meanwhile it was reported that Lynton Crosby's firm was offered £2m to work for the Leave.eu campaign.
The Australian election strategist was seen as the mastermind behind the Conservative party's unexpected general election victory and also oversaw Boris Johnson's two London Mayoral elections.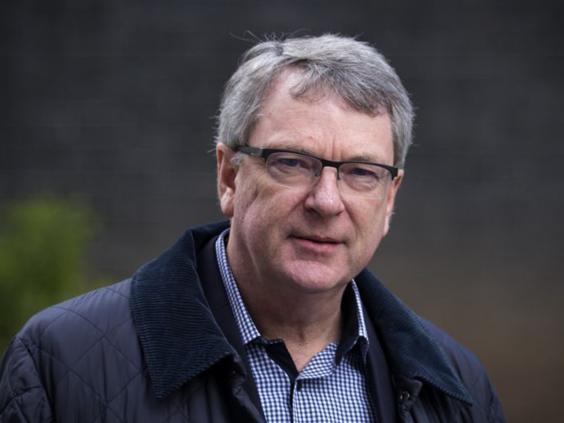 Mr Crosby's firm, CTF Partners, turned down the offer after a two-week period, according to the BBC.
Mr Farage, speaking at Ukip's annual conference on Friday, said: "I want us to summon every resource of energy that we can find in our bodies and our minds, I want us to dedicate ourselves wholly to winning that referendum."
"This is the moment to put country before party. This is a once in a lifetime opportunity to get back the independence and self-government of this nation.
"Our message is clear, we want our country back," he added.
Eurosceptics were given a boost from a poll by Business for Britain that showed three in four small business owners wanted the UK to be able to negotiate its own trade deals, while just a quarter supported the EU single market.
However another business-related poll by the British Chambers of Commerce delivered contrasting news. Two thirds of business people it surveyed said they would vote to remain in the EU, with just 27 per cent saying they wanted to leave.
Reuse content