The Northern Powerhouse has struck a chord both in Westminster and the north, forming a key plank in the Government's drive to ensure the economic recovery provides security for people and places across the country. Its devolution of powers and budget to metro mayors has focused on the North's great Victorian city regions – Manchester, Leeds, Newcastle, Sheffield and Liverpool. But a more coherent and strategic approach is required if we are serious about rebalancing the national economy. 
JRF's report shows that the scale of the challenge could hardly be any greater, with 10 of the top 12 struggling economies located in the north of England. The north-south divide is stark, with no southern city ranked in the top third of the index. Although cities in the north are growing, they are getting left behind as their growth rates significantly lag behind national levels.
But it doesn't have to remain this way. New metro mayors must harness their increased economic powers to ensure prosperity is shared by all people and places. Powers over housing, skills and helping people into work are set to be devolved. There is a genuine opportunity to foster a new kind of economy.
The Government can play a greater role too. For example, George Osborne's Budget next month could create greater incentives for councils to help areas that have struggled. A welfare earn-back scheme – where town halls and Treasury share the savings from tackling unemployment – would ensure all areas benefit from rising employment, and also bring down the welfare bill.
This uneven growth between places is not just a national issue, it is also critical within city regions. Take Greater Manchester, the poster boy for the Northern Powerhouse. The city is going places: the cranes on the skyline, trams ferrying residents to and from work, a cultural offer of global appeal. The city centre has the buzz of a big, vibrant European city. Mancunians would have you believe that Manchester is the Northern Powerhouse.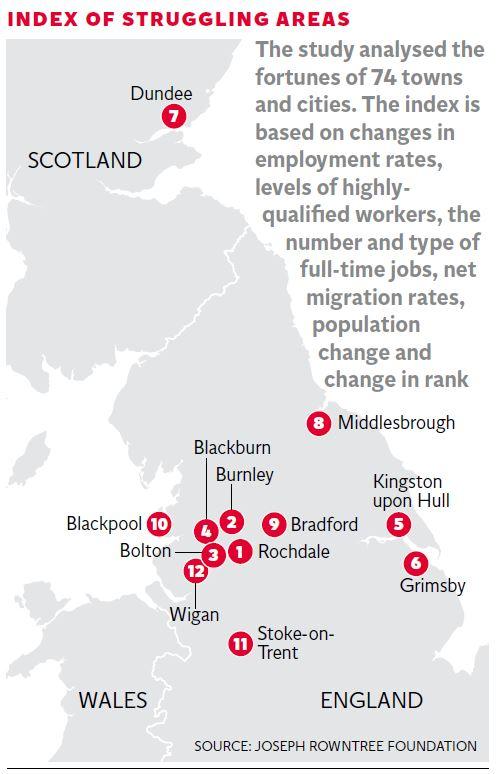 But away from its urban core and leafy southern suburbs the story of Manchester's northern boroughs is quite different. Three of the top 12 struggling cities in our index are within the Greater Manchester conurbation. While neighbouring authorities such as Oldham and Tameside may take some comfort at not being at the top of the index, it would be churlish not to recognise that deep and extensive social and economic challenges exist across the north of the city region. And the challenges don't stop here. There are places such as Burnley and Blackburn (both in the top 12) on the periphery of Greater Manchester but outside the city region political construct. The Northern Powerhouse can seem like a very vague and distant concept to these places. What does it provide – a vision or a slogan?  
The city devolution agenda needs to move beyond rhetoric and behind-closed-door deal brokering to a more coherent strategy. A Northern Powerhouse cannot be built around one or two core business centres which overshadow their neighbours. 
We need a more inclusive growth that ensures no person or place slips through the cracks or gets left even further behind. But this will take time, investment and commitment beyond the life of one Parliament. Next Month's Budget would be a great place to start.
Josh Stott is Head of Policy and Research for Cities at the independent Joseph Rowntree Foundation. @joshjrf
Reuse content