Official figures have underestimated the squeeze on earnings by more than 20 per cent, according to a new study.
The exclusion of the growing army of 4.5 million self-employed people from the wages statistics means they are inaccurate, according to research by the Resolution Foundation think tank.
It calls for a more accurate "all worker" earnings measure to include the self-employed, who now make up one in seven of the workforce.
The think tank, which studied wages between the pre-recession wages peak of 2008 and 2014, found that the average weekly earnings of all  workers (including the self-employed) fell by between 11.9 per cent and 12.6 per cent, rather than the 10 per cent recorded for employees alone.
This means the overall decline in earnings was between 20 per cent and 30 per cent deeper than previously thought. Applying this analysis to the most recent official earnings data (for April this year), the average worker earned around £469 a week – at least £10 lower than the official figure of £479.
The number of self-employed has surged by 700,000 since 2008, while the number of employees has risen by 260,000 over the same period. The earnings of the self-employed fell much more sharply than those of employees between 2009 and 2012, the years following the initial downturn, but have since broadly tracked them.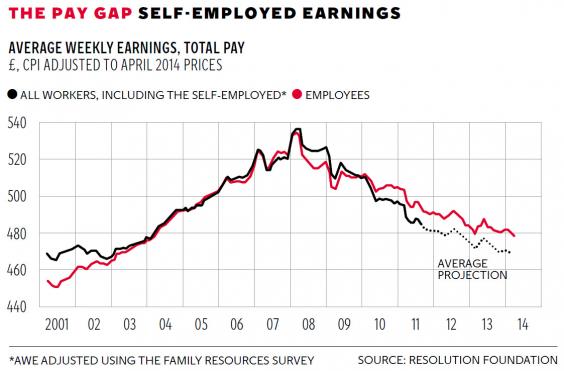 According to the foundation, official statistics provide only a partial picture of earnings, even though they are a crucial economic indicator for policy-making – including the Bank of England's decisions on interest rates.
A switch to an "all worker" measure would also prevent earnings being underestimated as they start to rise during the economic recovery.
Gavin Kelly, the foundation's chief executive, said: "Our lop-sided approach to the self-employed – celebrating them in the jobs figures, excluding them from the earnings data – is in urgent need of change. If we didn't count the self-employed in our jobs data, we'd have no idea what was really going on in our labour market.
"Yet when it comes to earnings all official measures overlook the plight of the UK's 4.5m self-employed – that's equivalent to almost the entire population of Wales and Northern Ireland. This partial approach means we have an inaccurate picture of what has really been happening to earnings in our economy."
The official figures are compiled by the Office for National Statistics, which reports to Parliament.
A Treasury spokesperson said: "The government's long-term economic plan is working and Britain is coming back. The economy is expected to grow faster than any other G7 country this year, the deficit is falling and more people are in work than ever before.
"The only way to sustainably increase living standards is to go on growing the economy and getting people into work. But the effects of the Great Recession are still being felt, which is why the government has taken continued action to help hardworking people by increasing the personal allowance to £10,500, freezing council tax and fuel duty for the whole of the parliament, and reducing energy bills by £50 per household."
Reuse content