The Ukip sex scandal involving the party's general secretary and a prominent female member took an unexpected turn last night after the University of Oxford spoke out to dismiss Natasha Bolter's claim to have been a student there.
The former Labour activist had been due to stand for the party in South Basildon and East Thurrock, but withdrew her candidacy after accusing senior official Roger Bird of sexual harassment.
General secretary Roger Bird has insisted he was not a "predator" and that is he confident a full party inquiry will clear his name.
But now, in what has rapidly descended into a row of one person's word against another, Ms Bolter's credibility appears to have been dealt a major blow.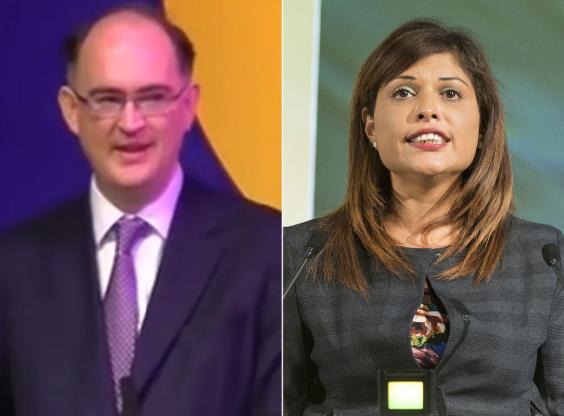 When she was introduced – by Mr Bird himself – at the party's conference in September, Ms Bolter was described as having received "five A-grade A levels and went on to read PPE at Wadham College, Oxford".
At the time, Mr Bird said of the party's new member's education: "I was particularly pleased to hear this because it means I am no longer the only Oxford PPE-ist in Ukip – and Nigel will have to stop making jokes about PPE-ists."
Speaking to the Telegraph last night, however, a spokesperson for the university said nobody matching Ms Bolter's details had ever attended. It is believed to follow claims made by Ms Bolter in an unpublished interview with The Times.
Ukip gaffes and controversies
Ukip gaffes and controversies
1/18 European elections poster

Party's latest EU election posters branded 'racist' and compared to BNP campaigns

Rex

2/18 Farage 'car-crash' interview

Ukip spin doctor forced to intervene as Farage falters in disastrous radio interview

3/18 Neil Hamilton

Picture Exclusive: The year is 1998. The venue is a Springbok Club meeting. The flag is a symbol for white supremacists in South Africa. And the speaker is Ukip's deputy chairman, Neil Hamilton

4/18 Kerry Smith

Kerry Smith resigned as would-be MP for South Basildon and East Thurrock after it emerged he had mocked gay party members as "disgusting poofters", joked about shooting people from Chigwell in a "peasant hunt" and referred to someone with a Chinese name as a "Chinky bird"

PA

5/18 Natasha Bolter

Former Ukip member Natasha Bolter was suspected of not having the teaching qualifications she professed to, only days after it was revealed that claims of her having attended Oxford University were also false

PA

6/18 Ukip Calypso song

Mike Reid released a single in praise of UKIP trying to control the UK's borders, only to withdraw the single after being accused of racism for singing in a Jamaican accent

7/18 Janice Atkinson

Janice Atkinson, Ukip's South East chair, pictured by protesters while campaigning in Ashford, Kent with local party chair Norman Taylor

Facebook/Maria Pizzey

8/18 Ukip cancels Freephone

Ukip cancels Freephone number after protesters repeatedly called to push up costs

Getty Images

9/18 Farage 'car-crash' interview

Mr Farage appeared to be caught out on a number of issues, from Romanian neighbours to people speaking foreign languages on the train

10/18 Ukip employs illegal immigrants

Ukip criticised after European election candidate found employing illegal immigrants

AP

11/18 Magnus Nielsen

Ukip candidate: 'Take away the right to vote to improve election turnout'

Getty Images

12/18 Poster model

A "British builder" portrayed in a Ukip poster accusing EU workers of taking UK jobs turns out to be an Irish actor - aka a migrant worker

13/18 'Arrest protesters'

Ukip called for police to arrest protesters 'who call us fascists' ahead of showdown with anti-fascist groups in Brighton

14/18 London Live make-up

Ukip's Nigel Farage reportedly refused to go on London Live 'without professional make up-artist'

Reuters

15/18 Andre Lampitt

Ukip forced to suspend the "poster boy" of its European election broadcast, after it was revealed he had posted a series of vile racist comments on Twitter

16/18 Expenses

Nigel Farage says he is taking taking legal advice over "outrageous" allegations that he is responsible for more than £50,000 of "missing" EU funding that was paid directly into his personal bank account

17/18 Have I Got News For You

Nigel Farage appears in Have I Got News For You, spends the entire episode being ridiculed over expenses and party 'fruitcakes'

BBC

18/18 Anti-gay comments

Local branch chairman for Ukip defends a party's councillor candidate Douglas Denny who called gay people "abnormal" and said he wished "they stop trying to ram it down my throat", all while discussing whether the word "sodomite" should be used
"We've recently seen an interview transcript in which Natasha claimed to have attended Wadham," the spokesperson said, "and can therefore confirm that Oxford University has no record of a Natasha Ahmed (Ms Bolter's maiden name) with a birthday of 12 July 1975 having attended Oxford."
The scandal came as the latest in a long line highlighting Ukip's image problem as an apparently male-dominated party.
Meanwhile Neil Hamilton, the former Tory MP parachuted in to replace Ms Bolter for the South Basildon and East Thurrock seat, has already been forced to stand down as well.
Now the Ukip deputy chairman, he claimed a "dirty tricks" campaign was being run against him after it emerged he had been asked to explain his expenses claims to the party's finance committee.
Reuse content