Peers have been blocked from moving to the Foreign Office as part of the £7bn refurbishment of Parliament because of bugging equipment, The Independent on Sunday can reveal. 
Some MPs also want to nationalise one of the country's most famous pubs, The Red Lion on Whitehall, to have a drink to help them through overly long debates when the Commons debating chamber is moved as part of the revamp. 
Repair work needs to start in 2020 to save the Palace of Westminster, which is riddled with rodents, moths and asbestos, but this is likely to involve moving both Houses of Parliament. 
One option is to move the House of Lords chamber, or at least peers' offices, to the Foreign & Commonwealth Office (FCO), near Charing Cross station, but officials have pointed out that this would involve the complicated removal of surveillance kit that is in place for national security. FCO officials are understood to have suggested that the Lords should instead take space in the Treasury, which is closer to Parliament, but this is horribly complicated.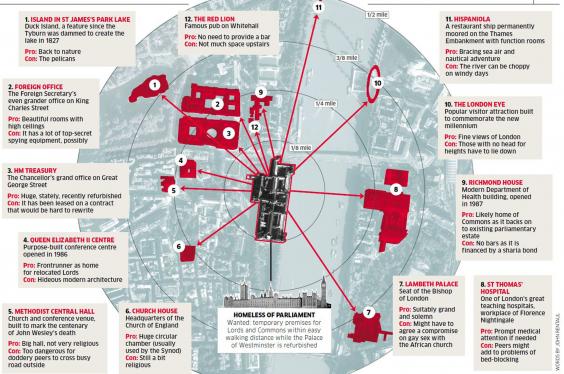 The Treasury underwent a £100m private finance initiative revamp during Tony Blair's premiership. The legal terms of these contracts are fiendishly difficult to unravel, meaning that any changes to the building's use would be all but impossible. 
The chaos means that peers are likely to end up voting and making speeches in the QEII Centre, which neighbours Parliament and was taken off the "for sale" list by the coalition in case it was needed when Westminster was, in effect, rebuilt. 
A source on the restoration and renewal committee, a cross-bench panel considering the future of the 19th-century palace, said: "The impression we're getting from the Foreign Office and the Treasury is that they aren't exactly falling over themselves to host members of the House of Lords. Even if the Lords does go to the QEII there [are] going to have to be overspill offices, so we're going to need one of them." 
UK news in pictures
UK news in pictures
1/30 19 July 2016

Merlin Entertainment's Talking Donkeys are put through their paces in preparation for three days of children's donkey rides, celebrating the start of the summer holidays in London

Mikael Buck

2/30 18 July 2016

David Barber, The Queen's Swan Marker, holds a cygnet, or young swan, during Swan Upping, the annual census of the swan population on the River Thames, in a week long exercise where unmarked mute swans are now counted - rather than eaten - in a tradition exercised by the British Crown for nearly 900 years, at Sunbury

REUTERS

3/30 18 July 2016

A 'Vote LEAVE' battle bus is re-branded outside the Houses of Parliament in Westminster by the environmental campaign group Greenpeace. The bus which was used during the European Union referendum campaign and had the statement "We send the EU £350 million a week let's fund our NHS instead" along the side was covered with thousands of questions for the new Prime Minister Theresa May and her government about what a 'Brexit' might mean for the environment

Getty Images

4/30 17 July 2016

US director Steven Spielberg poses as he arrives to attend the UK premiere of the film "The BFG" in Leicester Square

AFP/Getty Images

5/30 16 July 2016

A Raticate, a character from Pokemon Go, a mobile game that has become a global phenomenon, in front of the gates of Downing Street in London

Getty Images

6/30 16 July 2016

London landmark, The London Eye is illuminated in blue, white and red lights, resembling the colours of the French flag, as Britons express their solidarity following the deadly attack in the southern French city of Nice A gunman smashed a truck into a crowd of revellers celebrating Bastille Day in the French Riviera city of Nice, killing at least 84 people in what President Francois Hollande on Friday called a "terrorist" attack. / AFP / CHRIS J RATCLIFFE (Photo credit should read CHRIS J RATCLIFFE/AFP/Getty Images)

AFP/Getty Images

7/30 15 July 2016

Armed police outside the French Embassy in London, following the death of at least 84 people, including several children, after a terrorist drove a truck through crowds celebrating Bastille Day in Nice

PA

8/30 14 July 2016

Foreign Secretary Boris Johnson addresses staff inside the Foreign Office in London

PA

9/30 13 July 2016

New British Prime Minister Theresa May speaks to the media outside her official residence 10 Downing Street in London

AP

10/30 13 July 2016

David Cameron makes a speech outside 10 Downing Street in London, before leaving for Buckingham Palace for an audience with Queen Elizabeth II to formally resign as Prime Minister

PA

11/30 12 July 2016

Former Queen guitarist and campaigner Brian May poses with people dressed as Badgers during a photocall in London. The event was organised to 'urge' the government to abandon their planned Badger Cull which is to be rolled out in the Autumn

Getty Images

12/30 11 July 2016

Britain's new Conservative Party leader Theresa May speaks to members of the media at The St Stephen's entrance to the Palace of Westminster in London. Theresa May will become the prime minister who leads Britain's into Brexit talks after her only rival in the race to succeed David Cameron pulled out unexpectedly. May was left as the only contender standing after the withdrawal from the leadership race of Andrea Leadsom, who faced criticism for suggesting she was more qualified to be premier because she had children

AFP/Getty

13/30 11 July 2016

Stay Puft Marshmallow Man is seen on the concourse at Waterloo Station in London. Ghostbusters take over Waterloo Station as Stay Puft Marshmallow Man smashes through the concourse during the morning rush-hour

Getty Images for Sony Pictures

14/30 10 July 2016

Demonstrators from the Black Lives Matter movement march through central London, during a demonstration against the killing of black men by police in the US

AFP/Getty Images

15/30 10 July 2016

Members of the British Royal Air Force Aerobatic Team, the Red Arrows, perform ahead of the British Formula One Grand Prix at Silverstone motor racing circuit in Silverstone

AFP/Getty Images

16/30 9 July 2016

Jeremy Corbyn is escorted by police through enthusiastic crowds following his appearance at the 132nd Durham Miners Gala

Getty Images

17/30 8 July 2016

To mark exactly one month until Olympic Games and celebrate Usain Bolt's 9.58 second 100m world record, Virgin Media has created an ambitious installation which transformed the River Thames into a 100m-long video screen, while the Eye itself became a giant stopwatch counting down Bolt's time. Viewers within the London Eye were able to witness Bolt's record-breaking speed, thanks to a 100m-long, floating screen stationed on the river beneath

18/30 7 July 2016

Home Secretary Theresa May makes a statement outside the Palace of Westminste, after she won 199 votes for the Conservative leadership

PA

19/30 6 July 2016

Relatives of military personnel killed during the Iraq War talk at a news conference after listening to Sir John Chilcot present The Iraq Inquiry Report at the Queen Elizabeth II Centre in Westminster

Getty

20/30 6 July 2016

Protesters dressed as former British prime minister Tony Blair hold a demonstration outside the Queen Elizabeth II Conference Centre as they wait for the release of the Chilcot Inquiry in London

EPA

21/30 6 July 2016

Former Prime Minister Tony Blair responds to the Chilcot report

Getty Images

22/30 5 July 2016

Participants march in London as teachers across England stage a 24-hour strike in a long-running dispute with the Government over the "underfunding" of schools

23/30 4 July 2016

A remarkable twelve metre sand sculpture has been unveiled on the coast of Cornwall's Porthminster Beach to celebrate the 10th annual Barefoot Wine Beach Rescue Project globally. In a bid to inspire the nation to keep Britain's beaches 'barefoot friendly', the spectacular artwork has been created as part of the first ever World Beach Rescue Day (WBRD), a global initiative launching on 9 July pioneered by champions of cleaner beaches, Barefoot Wine

24/30 3 July 2016

British Conservative party leadership candidate Andrea Leadsom arrives at the BBC television centre in London to appear on "The Andrew Marr Show" in London

AFP/Getty Images

25/30 2 July 2016

Tens of thousands of people march through central London in a 'March For Europe Event'. The march is in protest at the result of the EU referendum

Getty Images

26/30 1 July 2016

Demonstrators chant as they wave underwear and placards with the words "Liar Liar Pants On Fire" written on them outside the home of former London Mayor Boris Johnson

Getty Images

27/30 30 June 2016

Justice Secretary and leading Brexit campaigner Michael Gove leaves his home in Kensington before announcing his intention to run to be the next Conservative Party leader and UK prime minister

Getty Images

28/30 29 June 2016

Spectators with umbrellas struggle against strong wind as stormy weather delays play at Wimbledon

REUTERS

29/30 28 June 2016

A couple kiss outside the Houses of Parliament during a protest aimed at showing London's solidarity with the European Union following the recent EU referendum

REUTERS

30/30 28 June 2016

Queen Elizabeth II & Prince Philip, Duke Of Edinburgh attend the unveiling of the Robert Quigg VC memorial statue in Bushmills village, Northern Ireland

Getty Images
A second committee source added: "[The FCO is] trying to tell us that they've installed some multimillion-pound equipment that they don't want to move. The Treasury, because it is a PFI, is incredibly difficult to carry out any changes to the building." 
MPs are almost certain to end up with a temporary chamber in Richmond House or one of its courtyards, because it is next door to MPs' offices opposite the palace. Richmond House has housed the Department of Health since the 1980s, but, since the lease was transferred to a sharia bond scheme two years ago, alcohol has been banned from the building, annoying MPs who rely on venues such as Strangers' Bar, alongside a terrace overlooking the Thames, to help them get through late votes. 
The committee is also understood to be considering a plea from some MPs to compulsorily purchase The Red Lion, a hostelry famous for entertaining political fixers, journalists and the players themselves. Owned by the Fuller's Brewery, The Red Lion made headlines when Gordon Brown was chancellor, because his spin-doctor, Charlie Whelan, was revealed to have told journalists, erroneously, that Britain was about to join the euro. 
Parliament's revamp is considered vital if it is to continue as a working office. Rebuilt after a huge fire in 1834, it is no longer fit for purpose and recent intakes of MPs, particularly, complain about its patchy Wi-Fi. 
Many MPs would like Parliament to move to another part of the country to help move Britain's economic and democratic dependence away from London, but this is considered impractical given that the machinery of government is in the capital. 
Politicians have been asked to consider whether to let repair work take place around them or to decant MPs and Lords one chamber at a time, but the quickest, cheapest and most likely option is to move all of them out for at least six years.
Reuse content