A Labour leadership contender has hit out against attacks by party establishment figures against the race's frontrunner Jeremy Corbyn.
Andy Burnham said support for Mr Corbyn was a symptom of Labour supporters looking for a more substantial politics than that offered previously.
"The attacks that we've seen on Jeremy I think misread the mood of the party. People have said they're crying out with something different … they want a bigger vision that can inspire and excite them," he told BBC Radio 4's World at  One programme.
"If we're just attacking people and making dire warnings I think it is misreading what people are saying. This election needs to bring some change to Labour."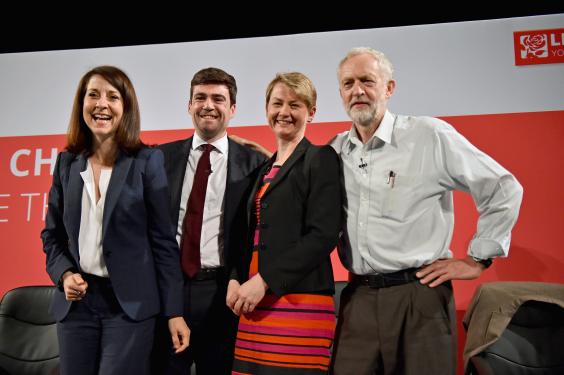 Figures like Alastair Campbell, Yvette Cooper, and Tony Blair have lashed out against Mr Corbyn, accusing him of being unelectable.
Today in a speech Ms Cooper said electing Mr Corbyn would condemn children to growing up under a Conservative government.
"I'm here because I can't walk away from this party, can't walk away from the people Labour should be standing for," she said.
Writing in the Guardian newspaper, former prime minister Mr Blair said Mr Corbyn would lead to the end of the Labour party.
Labour leadership: The Contenders
Labour leadership: The Contenders
1/4 Jeremy Corbyn

Jeremy Corbyn readily admits he is only standing to ensure the left of the party is given a voice in a contest dominated by candidates promising to move the party towards the centre-ground of British politics

Profiles by Matt Dathan

BBC

2/4 Andy Burnham

Andy Burnham is the current front-runner to win the leadership election according to bookmakers, but the fact that the Conservative party leadership hopes he wins shows the task that awaits if he is Ed Miliband's successor. He will have to find a way of distancing himself from both the last five years under Mr Miliband and the Blair and Brown years, during which he served in the Cabinet

Jon Super

3/4 Yvette Cooper

Yvette Cooper will also face a battle in convincing voters she offers a sufficient break with the past, having served in Gordon Brown's Cabinet and she played a key role in Mr Miliband's team as shadow home secretary. The fact that her husband is Ed Balls will not have a negative impact internally but voters are not likely to look favourably on the prospect of Mr Miliband's ousted shadow chancellor entering Downing Street if Ms Cooper wins in 2020

Getty Images

4/4 Liz Kendall

Liz Kendall faces criticism over her lack of experience – she was only elected in 2010 and has no experience of serving in government and wasn't even in Ed Miliband's shadow cabinet. But that very lack of experience means she can make a pitch as the only candidate offering real change and a real break from the Blair/Brown/Miliband years

Getty Images
Mr Burnham said Mr Corbyn had improved the leadership race, however.
"I've said that Jeremy has brought the campaign alike because there is a yearning out there for a different style of politics from Labour," he said.
"We've had this thing: retail politics. Small, gimmicky politics have been served out to different sectors of the population: people want something bigger, that they can believe in."
He added there would "absolutely not" be a legal challenge against the way the election had been conducted.
Mr Corbyn currently has a huge lead in the polls to replace Ed Miliband at the head of Labour. The other candidates are Mr Burnham, in second place, Ms Cooper in third place and Liz Kendall, in last place.
Reuse content