The Conservatives are viewed "more favourably" than Labour by voters, with less than four months to go until the general election, a poll for The Independent on Sunday reveals today.
While Ed Miliband's party retains a slim lead of just one point over the Conservatives, on 34 to the Tories' 33 per cent – with Ukip holding on in third place, on 18 per cent – the ComRes survey shows that the electorate appear more sympathetic to the Conservative Party.
The Greens are viewed favourably by 28%, just below the Tories but putting them ahead of the other parties
Worryingly for Mr Miliband, this undermines the widely perceived notion that Labour is the more popular party. For only the second time in the ComRes Favourability Index, the Conservatives are ahead of Labour, on 29 per cent compared to 26 per cent.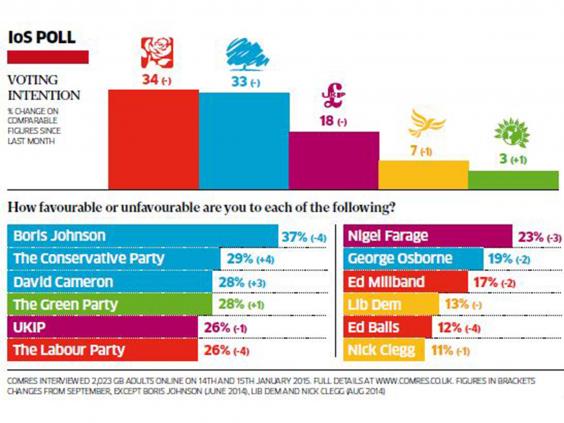 Nearly half of voters – 49 per cent – think the Labour leader is using the issue of the National Health Service for his political advantage and not because he cares about it, a finding that will add fuel to David Cameron's claim that Mr Miliband wants to "weaponise" the NHS. Almost one in five (19 per cent) of Labour voters also think this.
Boris Johnson is still regarded most favourably by voters, although his rating has fallen four points, from a 41 per cent last June. Mr Miliband's favourability rating is 17 per cent, lower than George Osborne's at 21 per cent.
Perhaps surprisingly, 49 per cent of voters say they are not yet bored with news about the general election, while 39 per cent are. More than half of Britons – 53 per cent – say they have definitely decided how they will vote on 7 May, while 36 per cent say they might change their mind.
Almost as many people think the Conservatives want to dismantle the NHS if they win the election – 41 per cent – as think a Labour government would herald economic chaos – 42 per cent.
Reuse content