Evidence of attacks on civilians by Saudi Arabia during its military campaign in Yemen may have been fabricated by "media savvy" Houthi rebels, a government minister has said.
Tobias Ellwood, the Minister for the Middle East, made the claim in the House of Commons as he answered questions about a leaked UN report which suggests the Saudi-led bombing campaign has specifically targeted civilians.
The report, which documents 119 separate sorties "relating to violations of international humanitarian law", has led to renewed concerns that British-made weaponry sold to the Saudis by the Government may have been used to commit war crimes.
Mr Ellwood said he took the report's allegations "very seriously", but pointed out that the authors had not visited Yemen in person and suggested that the evidence of possible attacks on civilians was largely based on "hearsay" and satellite photographs. He then claimed that some of the devastation might have been caused by Houthi rebels, who are fighting the Yemeni government in the brutal civil war.
"We are aware that the Houthis, who are very media-savvy in such a situation, are using their own artillery pieces deliberately, targeting individual areas where the people are not loyal to them, to give the impression that there have been air attacks," he said. "That is not to exonerate Saudi Arabia from any of the mistakes it might have made, but it is why it is so important to have a thorough process to investigate absolutely every single incident."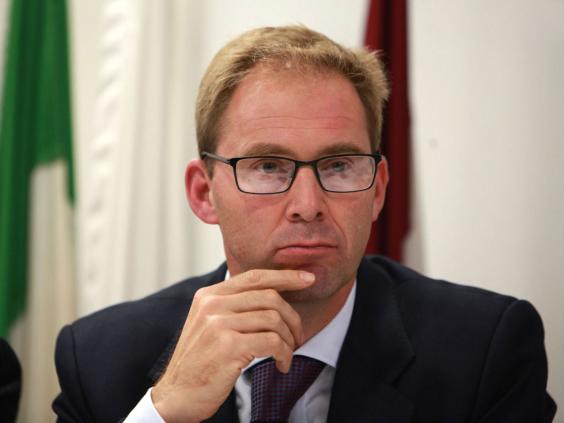 Mr Ellwood said he would not "dismiss" the report and promised to "sit down with the Saudi Arabians to make sure that we go through this with a fine toothcomb". He added that existing export licences with Saudi Arabia were compliant with UK criteria.
The Independent revealed how Mr Ellwood recently urged Saudi Arabia to do a "better job" of trumpeting its human rights successes during an official visit to the country – less than a month after it carried out the mass execution of 47 people.
Human rights organisations described his remarks as "astonishing" given Saudi Arabia's involvement in the military campaign in Yemen and the recent surge in executions in the kingdom. It has also faced international condemnation for its treatment of the blogger Raif Badawi and Ali al-Nimr, who was sentenced to death at the age of 17 for taking part in a pro-democracy protest.
Reuse content