When Alex Salmond urged his tremulously expectant audience in Perth's concert hall last night to "catch our breath for the day ahead, a day Scotland will never forget" – it was impossible not to wonder at how far the SNP's astute, skilful and ruthlessly determined leader has come since Scottish nationalism was dismissed as an eccentric foible of British political life.
Whether this has been, as he told the 1,000 or so Yes supporters "the greatest campaign in Scottish history –and you the greatest campaigners" there were few in the Gannochy Trust Auditorium on Wednesday night who did not believe that they were living in history – on the eve, as he put it, "of the most exciting day in Scottish democracy. "This has been the greatest campaign in Scottish history – and you the greatest campaigners"
With due caution he did not actually repeat what he had said in one interview earlier in the day that he was "totally confident" of the outcome of what he called last night "the opportunity of a lifetime", but the crowd seemed in little doubt as they waved their Saltires and sang "One Great Thing" that Salmond was on an eve of referendum roll yesterday.
Scottish independence: What will happen to key British institutions?
Scottish independence: What will happen to key British institutions?
1/7 The 2015 General Election

If it votes for independence, Scotland won't leave the union until 2016 meaning, under current arrangements, that if Scots decide to go it alone they will still vote in the 2015 general election. The possibility of Scotland swinging the vote in favour of the government with which it will negotiate their independence has led some to call for the elections to be delayed. Downing Street has said, however, that it has no plans to postpone the election despite claims a yes vote could lead to a constitutional crisis.

AFP

2/7 The NHS

Alex Salmond has said a Yes vote in the referendum is the only way to save Scotland's National Health Service. This claim was undermined, however, yesterday when research published by the Institute for Fiscal Studies determined that Scotland's devolved government spent less in real terms on its health service than England. Despite this, the splitting up of the NHS would be more straightforward than other institutions, as it is already managed from Holyrood.

Getty Images

3/7 The BBC

The Licence fee in Scotland currently raises around £230m which the Yes campaign says it would use, along with the assets of BBC Scotland, to create a Scottish Broadcasting Service or SBS. It says the SBS would continue to provide original content to the BBC and Scotland would receive access to all current programming, including BBC1, BBC2 and national radio stations. The government has said since February that an independent Scotland would lose any automatic rights to BBC programming.

4/7 The Pound

The No Campaign is hoping that doubts over whether or not Scotland will be able to keep the pound will sway the referendum in its favour. George Osborne has said that the UK will not let Scotland keep the pound if it votes to leave the union and the leader of the Better Together coalition, former Chancellor Alistair Darling, has called the Yes campaign's suggestion that it keep the currency "mad". Alex Salmond has claimed repeatedly that Scotland will be able to retain the pound and has said speculation to the contrary is little more than fear mongering.

Getty

5/7 The Army

Britain's involvement in the Iraq war and the stationing of the Trident Nuclear fleet north of the border are unpopular in Scotland. The Scottish Nationalists have railed against the war saying they would scrap Trident and create a new Scottish defence force based on existing Scottish regiments.

6/7 The Royal Family

Scotland would keep the Queen as a head of state under current plans proposed by the Yes campaign, as Elizabeth Queen of Scots.  It would also remain part of the Commonwealth. However a second referendum could be held to determine what form a new Scottish state would take.

Getty Images

7/7 Sport

Scotland's Rugby and Football teams would remain as they are if Scotland voted to leave the UK but the British and Irish Lions could be forced into a name change. What would happen to the British Olympic Association also remains up for debate. Scotland's most successful Olympian Sir Chris Hoy has said he is wary of independence because of the number of Scottish athletes living and training in England and what their status would be.

Getty Images
Maybe you have to be to get away with being as late as he was earlier in the day to visit a manufacturing plant privileged to be on his itinerary: Hyspec, a company making components for – topically – the oil and gas industries in the little East Ayrshire town of Stewarton. The loudspeaker van played the usual co-opted – some might even say usurped – by the Nats – Deacon Blue's Dignity, Runrigg'se Loch Lomond, the Proclaimers' Letter from America The Corries' version of Flower of Scotland. Again and again.. The enthusiastic supporters waiting with their their "End Tory Rule For Ever" banners--can any other party organise this sort of welcoming reception on a working day? – waited. And waited. You had to wonder whether the handful of faintly sinister looking security men in their black suits and black ties were really necessary sine the small crowd was calm and there was just one dissident, Kerry Hamilton an unemployed 33 year woman with a modest sized union jack.  When at around 12.45, Salmond steel grey Skoda Superb swept into the car park and he immediately plunged into the grateful crowd, Ms Hamilton bravely pushed her way into the middle – and to everyone's surprise shook the First Minister's hand. "He told me it was for our children's future. And I said 'yes, that's why I am voting no, for our children's future' . But I said: "'good luck on Friday.'" If Ms Hamilton had been deputed by No Campaign leaders increasingly claiming intimidation by their opponents to demonstrate that its own supporters know how to  behave she could have hardly done better. But she was a lonely dissident.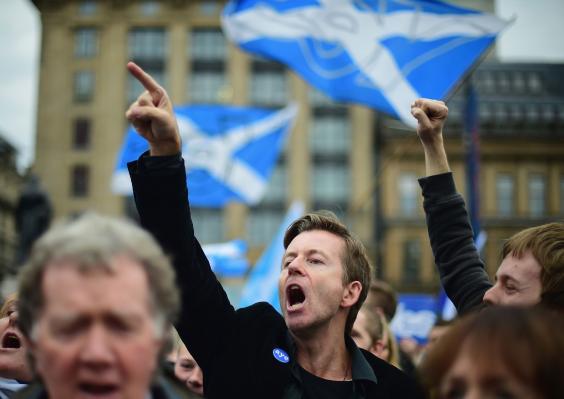 Salmond isn't always as cuddly as he can sound. A radio reporter who asked one question too many aat the end of  interminable broadcast  –and since the company had not actually been warned I advance thst tey would take place on the factory floor – production-stopping interviews. Salmond briefly pursued his lips and clenched his teeth at him, as though he was swearing at him under his breath. Asked whether most of the accusations of bullying –including by Sir John Major no less, or bad behaviour were not mainly directed at the Yes campaign he said curtly that he didn't "accept that analysis." While a tiny minority had behaved badly on both sides "99 percent" he insisted had risen to the spirit of "joyous, empowering campaign, a democratic festival".
Last night in Perth, that – and  yesterday's damaging report he had applied undue pressure on the Principal of St Andrews University to toe the yes line-- was washed away on a tidal wave of bagpiple-fuelled euphoria among the crowd already inside and even more so among the Saltire- studded few hundreds waiting to be let in. Here at least it was possible for the faithful to believe that they were –literally – on the eve of the historic breakthrough no-one thought even a month ago would ever happen, to their opponents the tragic dismemberment of the United Kingdom, but as they hoped – what the huge banner dominating the auditorium proclaimed: "Scotland's future in Scotland's hands".
Reuse content