Senior Cabinet ministers have been accused of making "profoundly misleading" claims about Britain's lucrative arms export industry by stating there is no evidence that shipments to hardline regimes are not used for "internal repression".
MPs have demanded an explanation from the Government as to why export licences were granted earlier this year for goods ranging from sniper rifles to CS gas grenades to be sent to countries with questionable human rights records such as Saudi Arabia and Libya.
The Commons committee dealing with arms exports has listed 18 nations which are currently the subject of embargos or considered a "Country of Concern" for human rights  were cleared to receive military or law enforcement equipment worth nearly £80m in the first three months of 2013.
Among the approvals being investigated by the MPs is the granting of licences worth nearly £6m for items including "acoustic devices for riot control", thunderflashes and armoured vehicles to be sent to Kenya around the time of the country's presidential election. The previous election in 2008 sparked a crack down by security forces and violence which claimed 1,500 lives.
In a hard-hitting attack on the Government's track record in scrutinising exports of military or sensitive "dual use" material, Sir John Stanley, chairman of the Committees on Arms Export Controls (CAEC), has written to four senior ministers - Foreign Secretary William Hague, Business Secretary Vince Cable, Defence Secretary Philip Hammond and International Development Secretary Justine Greening - accusing them of being unable to justify assurances that British exports are not used to abuse human rights.
The letter follows revelations that Mr Cable's department last year approved two export licences for chemicals which can be used as precursors for nerve agents to be sent to Syria while the country's civil war was raging. Officials insist that although the shipment was approved, it never left Britain.
Sir John criticised a statement in the Government's annual report on export controls, signed by the four ministers, that "there was no evidence of any UK-supplied equipment being used for internal repression".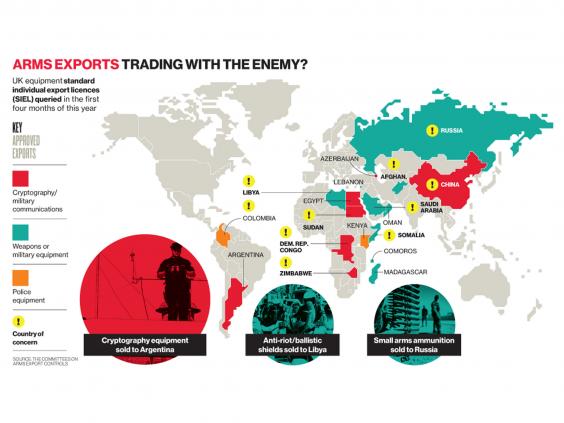 Britain currently has more than 3,000 licences for controlled goods worth about £12bn outstanding to the 27 countries considered by the Foreign Office to be of the highest human rights concern.
The senior MP, who is also a former defence minister, said that while the statement may be factually correct "it is also profoundly misleading given that for many of the goods for which Government export licence approval has been given and which could be used for internal repression,  it is also totally or virtually impossible to obtain evidence about their use once exported".
The committee added that among the items granted export licences which might be used by oppressive regimes against their own people were hundreds of consignments - ranging from miltary software, cryptographic equipment, dual-use chemicals and ammunition - which were untraceable once they had left the UK.
In a separate document, the MPs questioned a swathe of deals that form part of Britain's annual exports from the defence and security sector worth £11.5bn, including the sale of weaponry and military equipment to some of world's most unstable hotspots.
The deals included licences for military material worth £3.5m, including sniper rifles and weapon night sights, to be sent to Lebanon, which is the subject of a UN arms trade sanctions, and exports worth £4.3m ranging from body armour and anti-riot shields to "intelligence software" and ammunition to be sent to Libya, which is listed by the Foreign Office as a "Country of Concern" for human rights and has been singled out as a major conduit for arms across sub-Saharan Africa. It is understood that the weaponry despatched to Lebanon was destined not only for UN peacekeepers but also Lebanese government forces.
The MPs also queried the decision to approve defence exports worth £45m, including helicopter spares, to Egypt despite previously revoking similar licences in the wake of the overthrow of President Hosni Mubarak. The latest licences were suspended last month following renewed bloodshed.
The shipments approved to Saudi Arabia were CS gas hand grenades and "tear gas/irritant ammunition".
Among the licences called into doubt by MPs were the approval of shipments of hundreds of powerful assault weapons to Indian Ocean and Arabian Gulf countries, including the Comoros Islands, Madagascar and Oman for use by private companies in anti-piracy operations against Somalia.
In the case of Madagascar, licences for 1,000 weapons, including 200 sniper rifles and 50 "combat shotgun", were granted on top of approvals last year for more than 4,000 similar guns. The MPs said: "Given reports of human rights abuses in Madagascar, what assurances has the UK Government received that none of these items will not be used for internal repression?"
While it is understood that many of the items listed for dispatch to Kenya were also for use in counter-piracy operations, campaigners said there was a worrying lack of transparency and accountability in the arms export system.
A spokeswoman for the Campaign Against Arms Trade said: "Once military goods are sent abroad, the exporter has no control of how, when or where they will be used. But as in law, ignorance is no defence. When there are well-documented accounts of a government using similar weaponry for internal repression, or a strong likelihood that they will do so in future, then common sense says that the licence should not be issued."
The select committee, which has asked for a response from ministers and a justification for the deals it has queried by next month, also questioned deals to sell equipment to countries that could pose a threat to or are not aligned with Britain, including cryptographic equipment to Argentina and China and military equipment to Russia.
A Government spokesman said: "The UK operates one of the most rigorous arms export control regimes in the world, and has been at the forefront of implementing tough international trade controls, including most recently on exports to Egypt. We do not grant export licences where there is a clear risk that goods might be used for internal repression."
Reuse content