The Government must immediately stop all benefit sanctions until the system can be properly reformed, the Scottish National Party has said.
SNP welfare spokesperson Eilidh Whiteford made the call in response to reports that DWP staff were being put under pressure to hit targets for the number of people whose benefits are stopped.
"All sanctions need to be halted immediately until a fundamental root and branch independent review of the DWP's sanctions and conditionality can be carried out," she said in a statement.
"There is clearly a culture of pressure within the DWP which forces staff to refer people for sanctions for fear of retribution against themselves.
"Staff should instead be encouraged to make well-thought through decisions in the first place which would allow more people to move through the system and there would be less people desperately waiting to find out if they will have enough to make ends meet."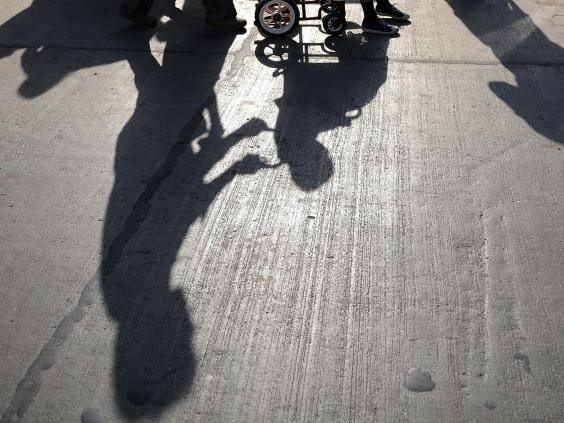 The MP highlighted that DWP figures show half of all sanctions for Jobseekers' Allowance and Employment and Support Allowance were later overturned at appeal.
The call comes a week after revelations that the DWP invented fake quotes from people in a leaflet about sanctions – a policy which involves stopping temporarily stopping a person's benefits.
The sanctions system has been criticised for causing extreme hardship and being operated in an unfair and arbitrary way.
In March this year Parliament's Work and Pensions Select Committee said there was evidence that sanctions were geared towards punishing people for being unemployed and might not actually help them find work.
The MPs said there was evidence that the benefit cuts for unemployed people caused more problems than they solved and might be "purely punitive".
What does five more years of the Tories mean for Britain?
What does five more years of the Tories mean for Britain?
1/8 Welfare payments will be slashed

One of the most controversial parts of the Conservative manifesto was to cut benefits for the working age poor by £12 bn over the next three years. But during the campaign they only said where £2 bn of these savings would come from. That leaves £10 bn still to find. Some experts think the only way they can close that gap is by means testing child benefit – with millions of families losing out

Getty

2/8 There will be tax cuts for those in work and those who die

The Tories will increase the threshold at which the 40p rate of tax becomes payable to £50,000 by 2020. They haven't said so but it is also likely that at some point in the next five years they will abolish that 45p rate of tax altogether for the highest earners. They also want to increase the effective inheritance tax threshold for married couples and civil partners to £1m

Getty

3/8 There will be an in/out EU referendum in 2017

The next two years are going to be dominated by the prospect of a referendum on Britain's membership of the EU. First off David Cameron has the daunting task of negotiating a deal with other EU leaders an acceptable deal that he can sell to his party so he can go into the referendum campaigning for a 'yes' vote. This may be unachievable and it is possible that the Tories may end up arguing to leave. Opinion polls show Britain is divided on EU membership, one poll this year showed 51% said they would opt to leave compared to 49% who would vote to stay in

Getty

4/8 There will be more privatisation of the NHS

Having won the election the Tories now have a mandate to go further and faster reforming the NHS. In order to make cost savings there is likely to be greater private involvement in running services, while some smaller hospitals may lose services they currently provide like A&E and maternity units

Getty

5/8 There will be many more free schools – and traditional state schools will become a thing of the past

The Tories plans to create 500 new free schools and make 3,000 state schools become academies. They will also carry on reforming the Department of Education and remove more powers from local authorities over how schools are run

Getty

6/8 On shore wind farms will be a thing of the past and fracking will be the future

Government spending on renewable energy is under real threat now the Lib Dems are no longer in power with the Tories. Subsidies are likely to be slashed for off-shore wind farm and other green energy supplies. Meanwhile there will be generous tax break for fracking as ministers try and incentivise the industry to drill for onshore oil and gas

Getty

7/8 There maybe more free childcare – but not necessarily

In the campaign the Tories pledged to double the amount of free early education for three- and four-year-olds from 15 hours a week to 30. The extra hours would only be offered to working families where parents are employed for at least eight hours a week. However they have not said where the money will come from to fund the pledge

Getty

8/8 Workers' rights could be reduced

The Tories want to slash business regulation, merge regulator and cut costs. The Lib Dems stopped them from reducing the employment rights of workers in power – but these are now under threat

Getty
Previous widely-criticised decisions include people being sanctioned for missing jobcentre appointments because they had to attend a job interview, or people sanctioned for not looking for work because they had already secured a job due to start in a week's time.
In one case a man with heart problems was sanctioned because he had a heart attack during a disability benefits assessment and thus failed to complete the assessment.
Charities including Crisis and the Joseph Rowntree Foundation say the sanctions are responsible for a significant increase in homelessness and rough sleeping in Britain under David Cameron's government.
The DWP says most people are not sanctioned and that the policy only applies to people who do not follow its rules.
Reuse content