Ukip general secretary Roger Bird last night fought back against claims that he sexually harassed a potential parliamentary candidate – by releasing text messages that he claimed showed they were in a relationship.
Mr Bird was suspended by his party on Monday after Natasha Bolter alleged that he had propositioned her while interviewing the 35-year-old to be Ukip's parliamentary candidate for South Basildon and East Thurrock on 10 September. Ms Bolter, a party high-flyer who defected from Labour, has since resigned her candidacy, and Ukip are investigating her claims.
Mr Bird, 41, maintains that they were subsequently in a "consensual relationship... with interest on both sides" – and yesterday released text exchanges between the pair in late September and early November this year in which she called him "perfect" and wrote that "I love you and miss you".
"She was keen on me and I was keen on her," the suspended official said. "I have got emails and texts to show we had a relationship and I will be presenting these to the inquiry. In any relationship there are some texts of an intimate nature."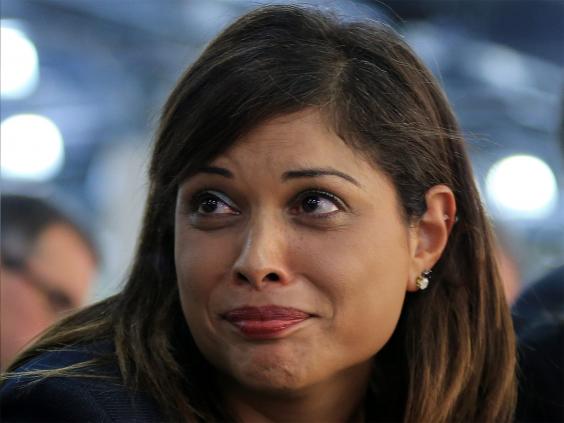 In a reference to the pair leaving the Ukip party conference in Doncaster in September, where she was a headline speaker, Ms Bolter allegedly wrote: "R u still cool with me leaving suitcase here and coming home with u? Xx"
Ms Bolter calls Mr Bird "a great mentor" and that she was "really looking forward" to seeing him" in messages allegedly sent in October. On 1 November she allegedly said: "But I love u and miss u and think u r sort of perfect..."
Mr Bird said the relationship came to an end on 2 November. A text message allegedly sent by Ms Bolter a few days later said: "U r not coming back and accordingly my life will go back to a meaningless void and it was chance that I met u. But I didn't invent u – u were real..."
Mr Bird's suspension came after Ms Bolter claimed told a newspaper that he made a pass while vetting her to be a prospective parliamentary candidate (PPC).
Labour defector Ms Bolter said the interview continued at Mr Bird's Oxford and Cambridge club in London where he had invited her to join him for dinner. She claimed that on a second occasion he called her for a meeting and bought her an expensive dress, before telling her she "now looked like a girl who could get in a taxi".
Ms Bolter told The Times: "When I went I could see that he wasn't really interested in what I had to offer as a politician. He took me down to the snooker room and said 'I find you very attractive'. He said, 'Would you like to come home with me?'"
Mr Bird, a former Tory councillor for Wandsworth who defected to Ukip in 2009 who has been general secretary since July this year, said he had acted appropriately.
He said: "I have done nothing wrong. I am a single man, she is also single. We are both single people who conducted a consensual relationship outside the office. I'm very sorry that a story like his should have arisen because it detracts from our [Ukip's] central messages. The party had to respond in a formal way and conduct an appropriate investigation."
The row brought the issue of women in the party back under the spotlight with women making up fewer than 10 per cent of Ukip's 322 PPCs for next year's general election.
Anne Marie Waters, Ukip PPC for neighbouring constituency Basildon and Billericay, said she had never experienced sexism in the party she defected to from Labour.
She told The Independent: "I was selected against a male opponent. I hear that sexism is in Ukip all the time and I don't see it. We have one of the better records [regarding women] to be honest with you. When I was in the Labour party they dropped the all-women shortlists for a year and no women at all were selected so they brought it back. The fact [that] Ukip doesn't need an all-women shortlist is to our great credit.
"These things happen in all parties and I'm a feminist. I just don't see [sexism] or misogyny during my time in Ukip. Every party has a shortage of women and who knows why that is? I really don't know."
The disgraced ex-Tory MP Neil Hamilton is now favourite to win the vacant South Basildon nomination tonight.
The alleged texts: Bolter to Bird
6 Nov 19.05
I have sang you [sic] praises to Nigel for 12 minutes.
6 Nov 00.24
U r not coming back and accordingly my life will go back to a meaningless void and it was chance that I met u. But I didn't invent u – u were real...
2 Nov 23.45
I love u bird and wish u let me look after u. Hope u feel better xx
1 Nov 09.27
But I love u and miss u and think u r sort of perfect...
19 October 19:57
it's one of the reasons u r fabululisious no one ever has won with me unless I allowed them too, so see u Wednesday and let's please try to get of[f] the circle line x
19 October 19:57
U r a really great mentor bird
27 Sep 09.48
R u still cool with me leaving suitcase here and coming home with u? Xx