DWP job advisers will be embedded in "a lot more" public services in the near future, a minister from the Department has said.
Priti Patel told MPs on the Work and Pensions Committee that so-called "co-location" of work coaches would be rolled out nationally, especially targeting areas of the country with high unemployment.
Last year the Government revealed that it was trialing posting job advisers in charity-operated food banks – with plans to deploy them across the country.
Ms Patel said that local councils – which deliver services such as schools, social care, libraries, and housing – would be a "key partner" for the DWP in reshaping the way people came into contact with work coaches.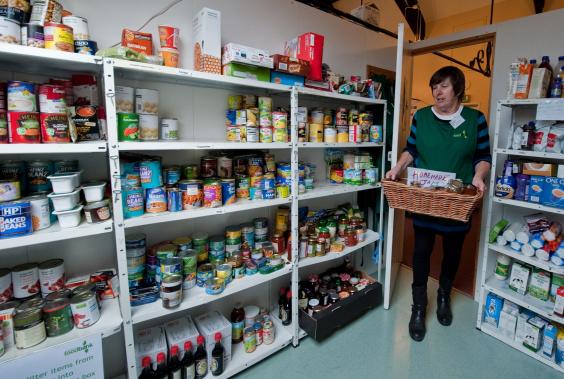 "One of the biggest areas of reform for us is this whole co-location of services," the employment minister told MPs on Monday afternoon.
"The role of work coaches, these are great individuals doing great work with people and helping to transform lives and get better outcomes for them.
"The way in which we can do that is by rather than signposting people and referring them and booking new appointments for them – actually integrating the service.
"There is a lot more coming and a very clear work programme as well, associated with co-location of public services around the country and looking at the demand locally where there are still significant challenges with people that are unemployed."
The most ridiculous reasons people had their benefits sanctioned
The most ridiculous reasons people had their benefits sanctioned
1/16

"One case where the claimant's wife went into premature labour and had to go to hospital. This caused the claimant to miss an appointment. No leeway given"

2/16

"It's Christmas Day and you don't fill in your job search evidence form to show that you've looked for all the new jobs that are advertised on Christmas Day. You are sanctioned. Merry Christmas"

3/16

"You apply for three jobs one week and three jobs the following Sunday and Monday. Because the job centre week starts on a Tuesday it treats this as applying for six jobs in one week and none the following week. You are sanctioned for 13 weeks for failing to apply for three jobs each week"

4/16

"A London man missed his Jobcentre appointments for two weeks because he was in hospital after being hit by a car. He was sanctioned"

2011 Getty Images

5/16

"You've been unemployed for seven months and are forced onto a workfare scheme in a shop miles away, but can't afford to travel. You offer to work in a nearer branch but are refused and get sanctioned for not attending your placement"

2013 Getty Images

6/16

"You are a mum of two, and are five minutes late for your job centre appointment. You show the advisor the clock on your phone, which is running late. You are sanctioned for a month"

7/16

"A man with heart problems who was on Employment and Support Allowance (ESA) had a heart attack during a work capability assessment. He was then sanctioned for failing to complete the assessment"

Copyright (c) 2015 Rex Features. No use without permission.

8/16

"A man who had gotten a job that was scheduled to begin in two weeks' time was sanctioned for not looking for work as he waited for the role to start"

9/16

"Army veteran Stephen Taylor, 60, whose Jobseeker's Allowance (JSA) was stopped after he sold poppies in memory of fallen soldiers"

2014 Getty Images

10/16

"A man had to miss his regular appointment at the job centre to attend his father's funeral. He was sanctioned even though he told DWP staff in advance"

2014 Getty Images

11/16

"Ceri Padley, 26, had her benefits sanctioned after she missed an appointment at the jobcentre - because she was at a job interview"

Jason Doiy Photography

12/16

"A man got sanctioned for missing his slot to sign on - as he was attending a work programme interview. He was then sanctioned as he could not afford to travel for his job search"

2012 Getty Images

13/16

"Mother-of-three Angie Godwin, 27, said her benefits were sanctioned after she applied for a role job centre staff said was beyond her"

14/16

"Sofya Harrison was sanctioned for attending a job interview and moving her signing-on to another day"

15/16

"Michael, 54, had his benefits sanctioned for four months for failing to undertake a week's work experience at a charity shop. The charity shop had told him they didn't want him there"

16/16

"Terry Eaton, 58, was sanctioned because he didn't have the bus fare he needed to attend an appointment with the job centre"
The minister also said teams of work coaches would liaise with local employers to find out where vacancies were, and could help employers fill staff and skills shortages.
A new model of "work coaches" is one of the key pillars of the Government's Universal Credit (UC) changes to the welfare system.
Campaigners have however accused the DWP of giving jobcentre advisers targets and incentives to sanction claimants – leading to unfair sanctions with a high rate of successful appeal.
Documents produced by the PCS trade union last year appear to show managers subjecting staff to performance reviews if they are not harsh enough with claimants.
One former Essex jobcentre adviser, Angela Neville, told the Guardian last year that since the Coalition government had come to power aspects of the advisor job had "shifted towards persecution of some of the most vulnerable people in society".
As jobcentres have moved towards UC work coaches, specialist employment advisors, such as those catering to people with disabilities, have also dramatically fallen in number. 
Figures revealed by the Independent in November showed a 60 per cent fall in disability specialists.
The DWP says Universal Credit work coaches are trained to provide tailored support specific to a person's individual needs.
Reuse content