The Conservatives have painted a "misleading" picture of their plans for deep cuts to public services, the respected Institute for Fiscal Studies has said.
Carl Emmerson, the institute's deputy director, said George Osborne's planned reductions to spending would be "anything but easy" to deliver and that cuts would feel harsher than under the 2010 coalition.
He argued that even if the government successfully made its huge planned £12bn cuts to welfare spending, cuts to other services would see a "slight acceleration" compared to the previous parliament.
"The cuts that the government announces later this year in next month's Budget and the following Spending Review may turn out to be deliverable," he said.
"But they certainly will not feel like is just 1 per cent being taken out of each area of spending, nor will it require merely '£13 billion from departmental savings' as the Conservative manifesto described.
"While not inaccurate, these numbers give a misleading impression of what departmental spending in many areas will look like if the manifesto commitment to eliminate the deficit by 2018–19, largely through spending cuts, while not cutting spending in many areas, is to be met."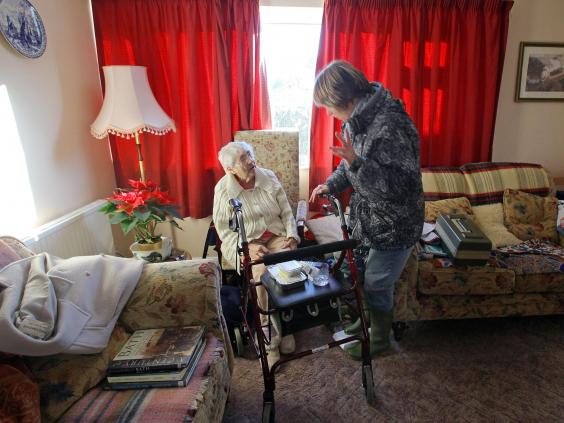 Mr Emmerson said cuts could be even more painful on the ground because "easy" efficiency savings would have likely already been made by civil servants in the previous five years, and programmes that were not considered essential had already been scrapped.
He also noted that the Mr Osborne's habit of protecting select departments from cuts meant that the impact would be felt more keenly elsewhere – including in local government services, policing, business, and transport.
Last month the IFS said the the Conservatives' planned cuts to welfare would likely either increase poverty or reduce work incentives.
In a statement to parliament today the Chancellor laid out more details of the Government's spending plans, proposing to take a further £3bn from Whitehall departments this year.
What does five more years of the Tories mean for Britain?
What does five more years of the Tories mean for Britain?
1/8 Welfare payments will be slashed

One of the most controversial parts of the Conservative manifesto was to cut benefits for the working age poor by £12 bn over the next three years. But during the campaign they only said where £2 bn of these savings would come from. That leaves £10 bn still to find. Some experts think the only way they can close that gap is by means testing child benefit – with millions of families losing out

Getty

2/8 There will be tax cuts for those in work and those who die

The Tories will increase the threshold at which the 40p rate of tax becomes payable to £50,000 by 2020. They haven't said so but it is also likely that at some point in the next five years they will abolish that 45p rate of tax altogether for the highest earners. They also want to increase the effective inheritance tax threshold for married couples and civil partners to £1m

Getty

3/8 There will be an in/out EU referendum in 2017

The next two years are going to be dominated by the prospect of a referendum on Britain's membership of the EU. First off David Cameron has the daunting task of negotiating a deal with other EU leaders an acceptable deal that he can sell to his party so he can go into the referendum campaigning for a 'yes' vote. This may be unachievable and it is possible that the Tories may end up arguing to leave. Opinion polls show Britain is divided on EU membership, one poll this year showed 51% said they would opt to leave compared to 49% who would vote to stay in

Getty

4/8 There will be more privatisation of the NHS

Having won the election the Tories now have a mandate to go further and faster reforming the NHS. In order to make cost savings there is likely to be greater private involvement in running services, while some smaller hospitals may lose services they currently provide like A&E and maternity units

Getty

5/8 There will be many more free schools – and traditional state schools will become a thing of the past

The Tories plans to create 500 new free schools and make 3,000 state schools become academies. They will also carry on reforming the Department of Education and remove more powers from local authorities over how schools are run

Getty

6/8 On shore wind farms will be a thing of the past and fracking will be the future

Government spending on renewable energy is under real threat now the Lib Dems are no longer in power with the Tories. Subsidies are likely to be slashed for off-shore wind farm and other green energy supplies. Meanwhile there will be generous tax break for fracking as ministers try and incentivise the industry to drill for onshore oil and gas

Getty

7/8 There maybe more free childcare – but not necessarily

In the campaign the Tories pledged to double the amount of free early education for three- and four-year-olds from 15 hours a week to 30. The extra hours would only be offered to working families where parents are employed for at least eight hours a week. However they have not said where the money will come from to fund the pledge

Getty

8/8 Workers' rights could be reduced

The Tories want to slash business regulation, merge regulator and cut costs. The Lib Dems stopped them from reducing the employment rights of workers in power – but these are now under threat

Getty
"In the Budget and in the spending review that follows, we will take the necessary steps to eliminate that deficit and run the surplus required in good times to bring debt sustainable down. It is what we promised in the election; it is what we aim to deliver in government," he told MPs.
"Now, I'm not going to pretend to the House that they will be easy decisions, but nor will I pretend to the public that we can avoid taking these decisions: we cannot. We have a structural budget deficit: we spend more than we collect in taxes and that is not going to be fixed by economic growth alone."
The economic institute outlined its analysis in a presentation for its pre-budget briefing, which was jointly organised with the Institute for Government.
The warning comes as the OECD calls for the Government to ease off the pace of its cuts in the early years of this parliament to prevent sluggish growth.
Reuse content