Tony Blair has accused Eurosceptics like Ukip of deceiving the British public over the benefits of leaving the EU and the dangers of immigration, and said Nigel Farage was actually harming the country's "white, working-class unemployed youth".
In a speech at the London Business School that put the case for the UK to lead reform in Brussels instead of leaving the union altogether, the former prime minister hit out at Ukip for "traducing our national interest" under the "false banner of independence".
Mr Blair denied any personal ambitions to the role of EU Commission President, and with critics looking to turn the accusation of "deceiving the public" back on him deflected a question about the ongoing Iraq Inquiry as "for another day".
In what can only have been a thinly-veiled attack on Mr Farage, the Ukip leader, Mr Blair said it was "dangerous and wrong for leaders in British politics" to give people the idea "that what's holding them back is that somebody is coming in and taking that opportunity from them".
"It is a deception to tell people that they're better off just shutting down in the face of it [immigration], or stigmatising those who are different in race, colour, nation or faith."
He acknowledged globalisation meant the world felt "frightening and insecure" but dismissed arguments for closing off the UK to immigrants.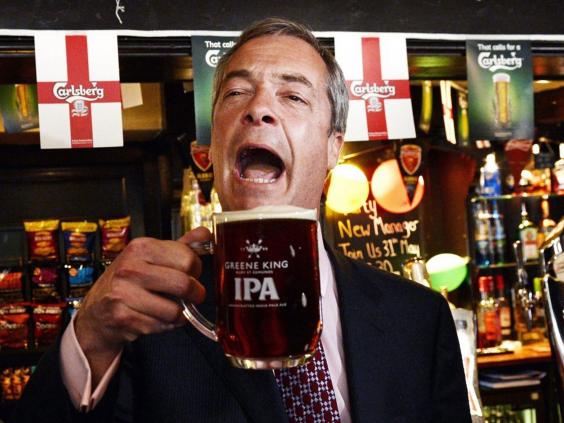 "The answer to the white, working-class unemployed youth in alienated communities in Britain is not to tell them their problems would be solved if there were fewer Polish people working in the UK," he said.
Instead they needed the skills to compete, he said. "It actually holds them back by giving them a grievance and not a chance."
And with the prospect of an in/out referendum on the EU in 2017 if David Cameron remains in No 10, Mr Blair said: "It is not those who argue that Britain should be in Europe who are at odds with our nation's history, but those who under a false banner of independence would make this country dependent on global powers and their manoeuvres that we would be powerless to influence or inhibit; who would have us exit from a principal stage of the world, on the grounds that we would be better able to write our own script, when all that would in reality happen is that the stage would remain, the play would continue, the actors would act, but without our participation.
"This is not satisfying our national interest; it is traducing it."
Tony Blair: A career of controversies
Tony Blair: A career of controversies
1/11 The Tony Blair 'selfie'.. A journalist takes a picture of Kennard Phillips 'Photo Op', depicting Prime Minister Tony Blair taking a 'selfie' in front of an explosion in Iraq, during a press viewing of the exhibition Catalyst: Contemporary Art and War

2/11 Protesters pictured outside the QEII Conference centre in London in 2011 as former British PM Tony Blair give his evidence in the Chilcot Iraq Inquiry

3/11 David Lawley-Wakelin, who disrupted Tony Blair's testimony at the Leveson Inquiry by bursting into the court

4/11 Blair giving evidence

5/11 Tony Blair visiting troops in Iraq in 2007

6/11 Blair meeting with troops in Basra, Iraq in 2003

7/11 Britain's Prime Minister Tony Blair speaks to British soldiers at Divisional Headquaters in Basra, May 2007

8/11 British Prime Minister Tony Blair eats dinner with British troops in Basra, Iraq, 21 December, 2004

9/11 Syrian president Bashar El Assad during his official visit to the United Kingdom in 2002. Mr Blair tried to engage Mr Garcia in a conversation about Syria. The former Prime Minister made clear he was very much in favour of military intervention last summer.

10/11 Syrian president Bashar El Assad and wife Asma during their official visit to the United Kingdom in 2002. Mr Blair tried to engage Mr Garcia in a conversation about Syria

11/11 Former Prime Minister Tony Blair's signature adorns a program he signed for an Iraq veteran during a reception at the Guildhall in London following the service of commemoration at St Paul's Cathedral honouring UK military and civilian personnel who served in Iraq
Mr Blair said Britain would be "highly successful as a country" if it took advantage of its connections with the rest of the world – "its language, its position, its history".
He added: "We are never going to do that by an attitude that says: 'We don't like foreigners'."
His interjection into British and European politics came as Mr Cameron faced criticism for openly opposing the federalist former Luxembourg prime minister Jean-Claude Juncker's push for the EU presidency.
And in an apparent swipe at Mr Cameron's reported intervention, Mr Blair said: "There shouldn't be any predisposition towards one person or against any one person."
Proposing sweeping reforms, he called for the European Council, made up of leaders from across the EU, to set out an agenda for change, and said Britain must build alliances for the good of the EU as a whole and "not simply to satisfy a narrow gauge dispute between the UK and the rest of Europe".