The Conservatives refused to build more social housing because they worried it would create more Labour voters, Nick Clegg has said.
Speaking ahead of the release of his new book, Politics Between the Extremes, the former Deputy Prime Minister said top figures on David Cameron's team viewed housing as a "petri dish". 
"It would have been in a Quad meeting, so either Cameron or Osborne. One of them – I honestly can't remember whom – looked genuinely nonplussed and said, 'I don't understand why you keep going on about the need for more social housing – it just creates Labour voters.' They genuinely saw housing as a petri dish for voters. It was unbelievable," he said.
The tale, relayed by Mr Clegg in an interview with The Guardian, echoes an account made by him in February this year in which he said the Conservatives view housing policy as an attempt to "shoot Labour's fox".
Housing tenure is widely regarded as a strong indicator of voting intention, with owner-occupiers significantly more likely to vote Conservative while private renters and social tenants vote Labour. The Conservatives have moved to dismantle social housing during their time in office. An extension of Right To Buy discounts has accelerated the sell-off of social homes while councils have been given little ability to beg or borrow money to build genuine social housing. 
A further extension of Right To Buy to housing associations was additionally turned into a two-pronged attack against social housing – with funding for the expensive policy raised by selling off high-value social homes.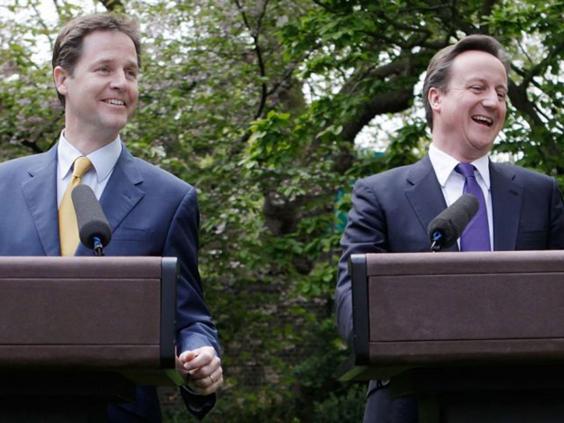 Social housing providers have also been encouraged to build so-called "affordable" homes – often in reality at unaffordable rents – rather than traditional social housing. 
Security of tenure is being abolished for new tenants while higher-earning council tenants are facing substantial rent rises that encourage them to buy their home through Right To Buy.
In pictures: Tiny London flats to rent
In pictures: Tiny London flats to rent
1/6 London properties

A "cosy" flat in an upmarket area of west London is available to rent for a reasonable £520 a month, provided the tenant doesn't mind showering under the bed

2/6 London properties

Located on Castletown Road, the advertisement on Zoopla boasts: "A cosy, single studio located in the heart of London's fashionable and up-market area of West Kensington, this compact mezzanine includes not only a fully furnished living area including table, chair, wardrobe and chest of draws [sic] but also a personal shower and kitchenette complete with storage"

3/6 London properties

The property is recommended for "students, working professionals and those looking for a thriving London life at an affordable rate"

Rightmove

4/6 London properties

A studio flat for rent in Kember Street, north London was advertised for £737-a-month

Rightmove

5/6 London properties

The 'well-used' kitchen of a flat in Hoxton, which was on the market for £997 per month

Zoopla

6/6 London properties

For only £125 per week you could be the lucky owner of this single studio flat, complete with shower and kitchenette, located between Barons Court and West Kensington

Zoopla
The Government has consistently said it wants to boost owner-occupation and create a bigger private rented sector. Theresa May has said she wants to close Britain's "homes deficit" to end the housing shortage.
Nick Clegg was the Deputy Prime Minister in the Liberal Democrat-Conservative Coalition Government between 2010 and 2015. He retained his seat at the general election but saw dozens of his MPs booted out of Parliament, with only six remaining.
Reuse content