The Tories take a 14-point lead over Labour in this month's ComRes poll for The Independent on Sunday. Labour's 27 per cent support equals the party's lowest level since just before the 2010 election.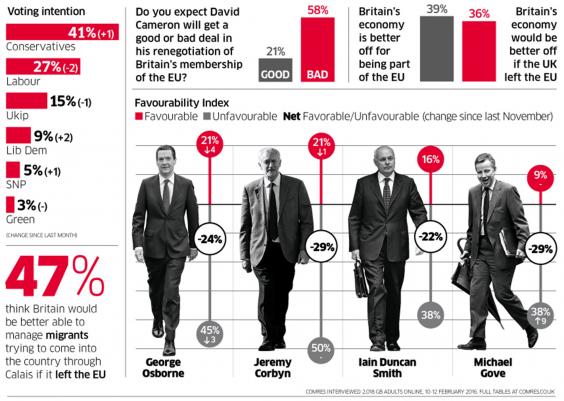 Click HERE for larger annotated version of the graphic
Jeremy Corbyn, the Labour leader, remains the least regarded of leading politicians, with 21 per cent having a favourable and 50 per cent an unfavourable opinion of him. While the favourability ratings of leading Tories has fallen over the past three months, Mr Corbyn's has not changed significantly. 
Despite the Prime Minister's difficulties over Europe, the favourability rating of the Tory party has improved. With a net score of minus 14 points, the Tories have overtaken Labour as the most favourably regarded party. Labour is on minus 21, Ukip on minus 26 and the Lib Dems on minus 27. 
Of the politicians tested, only Michael Gove, the Justice Secretary (minus 2), and John McDonnell, the shadow Chancellor (minus 1) have a negative score among supporters of their own parties. However, Mr Gove's overall score (minus 29) has improved from when he was Education Secretary, when it stood at minus 38. 
The poll also included Iain Duncan Smith for the first time: 16 per cent had a favourable and 38 per cent an unfavourable  opinion of him, a net score of minus 22. This illustrates the problem faced by the Leave campaign in the EU referendum, as he and Mr Gove could be the most senior cabinet ministers to declare for Brexit. 
Boris Johnson is the only politician with a positive score (plus 10), even though it has fallen from plus 17. If he could be persuaded to lead the Leave campaign, it would give it a boost.
Reuse content