A Conservative minister is telling voters in his constituency that he stood as a candidate for the UK Independence Party.
George Eustice, the farming minister who is fighting the next election with a majority of only 66, has sent out leaflets to constituents that make great play of his former membership of Ukip in an apparent attempt to stave off defeat by Nigel Farage's party next May.
Senior Tories are spending a nervous weekend waiting to see if there will be more defections to Ukip following the election of Mark Reckless as the party's second MP on Friday.
However, cracks were beginning to show in Ukip's new parliamentary group, as Mr Reckless said he was a "bit sore" that Mr Farage had changed policy on immigration within hours of him setting out what he thought was the party's stance on transitional arrangements for EU migrants.
Mr Eustice, the MP for Camborne, Redruth and Hayle, and David Cameron's head of communications when he first became party leader, yesterday told The Independent on Sunday that he would "never go back" to Ukip and expressed his "total support" for David Cameron. But his campaign literature is designed to amplify his Eurosceptic credentials, including a prominent mention of his standing for Ukip in the 1999 European elections.
One of his leaflets reads: "George Eustice, who was a Ukip candidate in 1999, has led the campaign for a radical return of powers from the EU. He was the founder of the Fresh Start group of MPs calling for EU renegotiation and contributed ideas to the Prime Minister's landmark speech last year when he committed to hold a referendum." Another leaflet, written in question-and-answer format, says: "Is it true that you once stood as a Ukip candidate? Yes, I did in 1999. I have always been sceptical about the EU and have argued consistently that we should aim to bring powers back from Europe while staying in the single market for trade."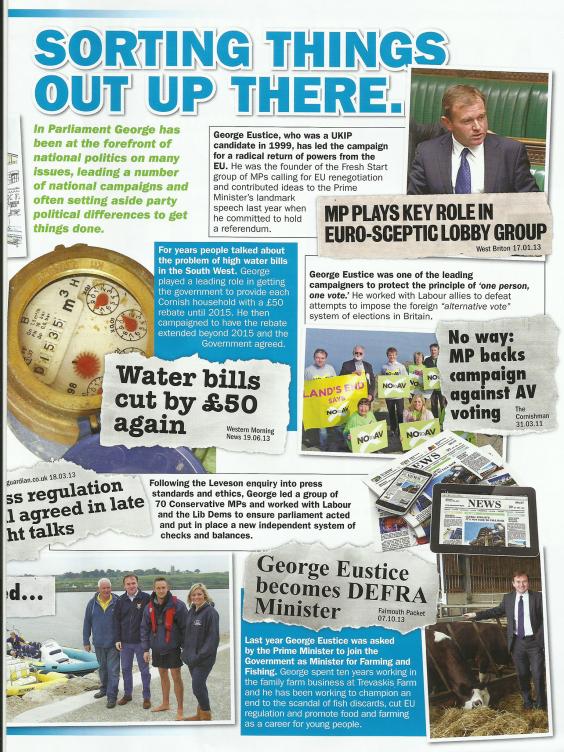 Mr Eustice said yesterday: "I have never hidden the fact that I was once a Ukip candidate and also director of the anti-euro campaign and I included the same points in my literature in 2010. The fact that I have direct experience of Ukip puts me in the best position to explain why they are wrong and how they undermine the Eurosceptic cause and diminish the prospects of a referendum. While some bookies are apparently offering odds on my defection, I have already made clear publicly that anyone who bets their money on my moving will lose their money. I will never go back to Ukip. Last year David Cameron gave the most important speech on Europe of any PM since the war and he has my total support."
No 10 sources were relaxed about Mr Eustice's leaflets. Addressing the Eurosceptic Bruges Group yesterday, Mr Reckless, the newly elected Ukip MP for Rochester and Strood, said that it was "incredibly unlikely" that Mr Cameron would win the general election outright.
But in clear criticism of Mr Farage, Mr Reckless said he had been in close contact with his leader before telling a by-election campaign event on Wednesday that Ukip wanted EU migrants to stay for a transitional period only if Britain withdrew from Europe. Mr Reckless told The Times yesterday: "Until Nigel changed it on Wednesday, the policy of the party was everyone can stay for the transitional period, no doubt about that … there would then be a permanent arrangement which would be part of the EU negotiation.
"The policy changed on Wednesday and I'm a bit sore about how I sort of came out of that, because I don't actually think I said I was only talking about welcoming people of particular circumstances." He had always believed EU migrants should be allowed to stay permanently regardless, he added.
Reuse content