Conservative MP Zac Goldsmith has announced he is running to replace Boris Johnson as Mayor of London.
The environmentalist said he decided to throw his hat into the ring for the Conservative party's nomination after politicians "from across the political spectrum" urged him to run.
But in a rare move he will first seek the permission of his 77,000 Richmond Park constituents by sending out a postal ballot to each of them asking for their consent to run.
He said he would be an independent-minded Mayor and would stand up for said his opposition to a third runway at Heathrow and cleaning up the capital's environment would be his main election pledges if chosen to stand as the Tory candidate in next May's mayoral elections.
He joins the race alongside Sol Campbell, the ex-Arsenal and Tottenham footballer, Mr Johnson's deputy mayor for policing Stephen Greenhalgh and millionaire businessman Ivan Massow.
Others expected to run include the leader of the London Assembly Tories Andrew Boff, Tory MP, while popular radio presenter Nick Ferrari has said he is considering it too.
Announcing his intention to run in the Evening Standard, he said: "London needs a Mayor who can work with Government to get the resources that London needs to deal with massive pressures on housing, transport and policing but is also strong enough to stand up to the Government when it gets things wrong."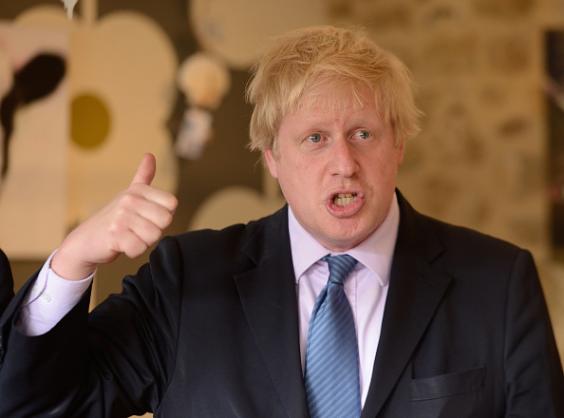 "I have just been re-elected as MP and it's important to know whether or not my constituents are happy for me to run for Mayor. They must have the right to say no and it is now up to them to decide without interference."
Mr Goldsmith won a staggering 23,015 majority in last month's election - increasing his votes by 19,000 on his 2010 result when he won the seat from the Liberal Democrats.  Those urging him to run for the mayoral candidacy include the incumbent Mr Johnson - a close friend and fellow anti-Heathrow campaigner.
He will send his constituents a voting paper asking them the question: "Do you give your consent to Zac Goldsmith to stand for election to be Mayor of London." It is an expensive move - the outward mail alone will cost £41,000 and the pre-paid ballot papers will cost him up to £24,000 if returned. They have until June 22 to respond.
If Mr Goldsmith is elected mayor it is likely to trigger a by-election, although it is not against the rules to serve as Mayor of London and an MP, as Mr Johnson is doing until he stands down next May.
The candidates will debate in the first of the Conservative party's hustings for the mayoral candidacy on July 4, held by the the Conservative Way Forward.
Mr Campbell, who announced his bid to run for London Mayor yesterday, said he would "bring something new to the table" if he was chosen as the Tory candidate. But he acknowledged he was not going to be a "frontrunner" in the race.
And he rejected suggestions his controversial move from Tottenham to rivals north London Arsenal would cost him crucial votes.
"If we keep thinking about football, we're not going to do anything. We are dealing with people's lives here," he said. "I want to change London for everybody."
The list vying for Labour's nomination is even more congested than the Tory list. It includes Tottenham MP David Lammy, Tooting MP Sadiq Khan, Hackney MP Diane Abbott, former Olympics minister Dame Tessa Jowell, Harrow West MP Gareth Thomas and transport expert and Labour activist Christian Wolmar.