A key ally of David Cameron and polling expert has warned that the Conservative Party cannot start "high-fiving" about its general election prospects, despite Ed Miliband's faltering performance at Labour's conference last week.
Nadhim Zahawi, a member of the No 10 policy board and founder of the polling company YouGov, says MPs and activists gathering for their party conference in Birmingham must resist being jubilant about economic growth and the Labour leader's failure to mention the deficit in his speech.
The call for caution was underlined yesterday by Mark Reckless's shock defection from the Tories to Ukip and the resignation of minister Brooks Newmark over a "sexting" scandal. The Prime Minister will attempt to shift attention away from Ukip by focusing on the economy, jobs, housing and education. Under the slogan Securing a Better Future, Mr Cameron will pitch his final conference speech before the election at "hard-working taxpayers".
The first of a series of new policies was unveiled yesterday, with a promise to extend the Help to Buy scheme to 20 per cent discounts for first-time home-buyers under 40. Mr Zahawi, who sits on the economic affairs committee of the No 10 board, said: "We've done a lot, when you look at where we were in 2010. The UK economy was in a pretty precarious place and I think we've managed to get ourselves to a place now where we're seeing the growth come back in the economy. The mood [in Birmingham] will be one of, we've got a plan, we've got to stick to it, but there's more to do. This isn't a time to start high-fiving and say job done."
The Tory MP for Stratford-on-Avon compared Mr Miliband's failure to mention the deficit to Tesco, whose credibility has been battered by an investigation into its financial affairs. "It speaks volumes, right? If you're the CEO of Tesco and you stand up and give a big speech and completely ignore what just happened in your business, your employees, your clients, the shopper in your store, investors will go, 'Are you in a parallel universe to what we just lived through?' The least you can do is say, 'Look, I'm really sorry and here are the mistakes we've made and here are the lessons and what we're going to do differently.'"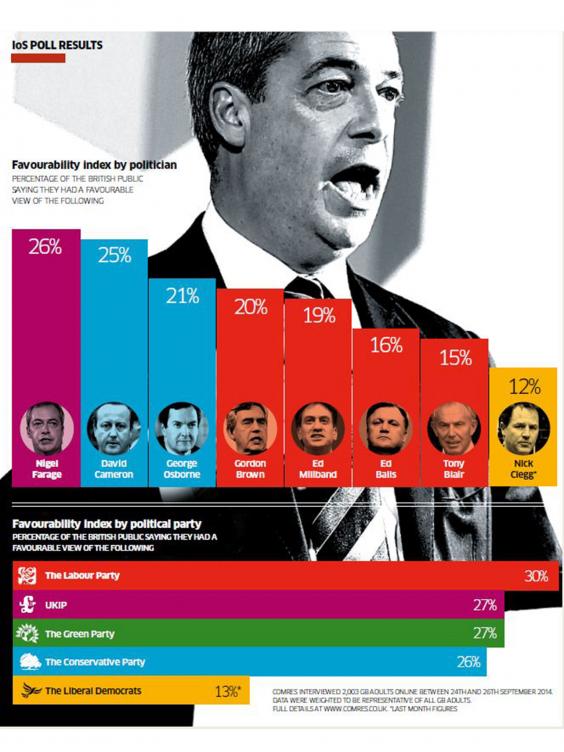 In Wednesday's speech, Mr Cameron is expected to tear into the Labour leader's failure to mention the deficit by reminding activists the coalition has cut it by a third.
A Tory source said: "This conference is about setting out our plan to secure Britain's future. Over the past four-and-a-half years we have worked flat out to get the deficit down, create jobs, cut taxes, cap welfare and give young people the best schools and skills.
"That's our long-term economic plan, and it's working. But the job is far from done. We don't just want more people in work; we want full employment. We don't just want to cut the deficit; we want to get rid of it. We want this to be a country where everyone, whatever their background, can reach their potential.
"That's the scale of our ambition for Britain – and that's the message and case we'll be making this conference."
Senior Tory figures believe that, despite Labour being consistently ahead in the polls and mathematically in a better position to have the largest number of seats next May, Mr Miliband's economic credibility will come under intense scrutiny as polling day nears.
There is mounting speculation that Mr Cameron will announce that Britain is effectively opting out of the European Court of Human Rights (ECHR) by giving the UK parliament a veto of individual judgments.
Dominic Grieve, who was sacked as Attorney General by Mr Cameron in July for being a supporter of the ECHR, told The Guardian: "I have to say that's a very bad idea. It's incoherent, it's a bit anarchic, it breaches our international legal obligations. It's a complete breach of precedent."
Labour said the move would trigger UK expulsion from the Council of Europe and the ECHR. But Mr Reckless's defection to Ukip is likely to make Mr Cameron all the more determined to appeal to the right of his party to stave off more desertions.
The Labour Party last night unveiled a new attack slogan, The Tories – For A Privileged Few, and claimed that working people are now an average of £1,600 a year worse off than they were in 2010, with a fall in wages undermining the Government's claim that the economy is fixed. Shadow Cabinet Office minister Michael Dugher said: "Working people across the country know the truth going in to Conservative Party conference: Britain can't afford five more years of David Cameron.
"The Tory plan has failed. Too many people are working harder just to stay afloat, worried that the next generation are finding it harder to get on than the last.
"Family energy bills have been allowed to rise by over £300 since the election. The average age of first-time buyers has now reached 33. George Osborne once said we were 'all in it together', but in government he and David Cameron have judged success by the satisfaction of a few at the top."
IoS poll results
Nigel Farage is the most popular party leader in a poll for The Independent on Sunday. Some 26 per cent of people, asked about leading politicians, regard the Ukip leader as favourable, compared with 25 per cent for David Cameron and 19 per cent for Ed Miliband. Mr Miliband's rating is beaten by Gordon Brown, on 20 per cent, and George Osborne on 21 per cent.
Despite a difficult party conference for Mr Miliband last week, Labour has extended its lead in voting intention to six points over the Tories – 35 per cent to 29 per cent. Ukip is on 19 per cent while the Lib Dems are on 7 per cent. The poll was taken before the shock defection from the Tories to Ukip by Mark Reckless yesterday. Labour would win a majority of 74 seats if the poll were replicated at the general election.
Labour is the party regarded most favourably, by 30 per cent of people, compared with 27 per cent for Ukip and 25 per cent for the Tories. But the survey reveals continuing doubts about Mr Miliband, who is more unpopular than the EU, which scores 23 per cent.
Mr Miliband and Ed Balls continue to poll poorly on economic competence, with a net rating of minus 32 per cent; Mr Cameron and Mr Osborne have a net rating of minus 17 per cent.
Jane Merrick
Reuse content