Sitting on a park bench with several friends who, like him, recently reached voting age, Aziz made his mind up some time ago about who he will back in this week's re-run election for the scandal-riddled office of Tower Hamlets' mayor.
Six weeks ago, Lutfur Rahman, the charismatic independent incumbent, was unceremoniously cast from office after an excoriating election court report found he had committed multiple electoral frauds and "cynically perverted" the solidarity of his Bangladeshi community to secure power.
Fresh doubt has been cast on the likelihood of unblemished elections taking place in this vibrantly diverse but politically murky east London borough, home to some of the most deprived council wards in Britain.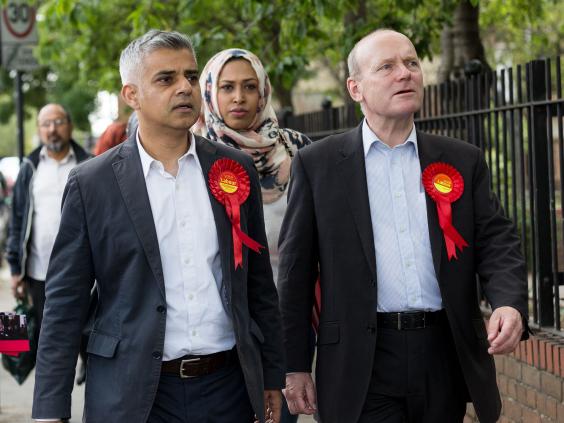 Scotland Yard confirmed that a specialist unit was assessing 16 allegations of electoral malpractice linked to the current contest, including harvesting of postal votes and a claim of improper distribution of leaflets featuring Rabina Khan, the former head of the borough's housing committee under Mr Rahman – and his chosen successor.
But if Ms Khan's opponents were banking on April's damning report by election commissioner Richard Mawrey QC – which banned Mr Rahman from politics for five years and accused him of playing the "race card" to gain office – to put off voters from anyone associated with the former mayor, then Aziz and his friends were defiantly not listening.
The 18-year-old business student, who will vote for the first time in Thursday's election, said: "They kicked Lutfur Rahman out because they couldn't stand having a Muslim guy running things. They cooked up some stuff to make him look bad and make sure he is kept away from politics. It's Islamophobia – they didn't want a brown guy who speaks for his community in charge. I'm voting for Rabina."
A straw poll of Aziz's comrades, sipping from cans of Red Bull during a break from classes in Poplar (a gentrifying quarter in the shadow of the adjacent hub of conspicuous wealth generation that is Canary Wharf) suggested they felt similarly and were likely to support Ms Khan, whose election rallies have been frequently attended by Mr Rahman.
The result is that the third-ever ballot for a directly elected mayor in Tower Hamlets, which pundits had widely anticipated would go to the long-standing Labour candidate, John Biggs, is looking to be a closer-run thing than expected.
Who will be the next Labour leader?
Who will be the next Labour leader?
1/7 Andy Burnham

Andy Burnham has promised to restore the party's "emotional connection with millions of people," if elected

Getty Images

2/7 Mary Creagh

Mary Creagh has called on her party to win back "Middle England"

Getty Images

3/7 Liz Kendall

Shadow health minister Liz Kendall is seen as a Blairite

PA

4/7 Yvette Cooper

Shadow home secretary Yvette Cooper became the fourth person to join the Labour leadership race

AFP/Getty

5/7 Tristram Hunt

Tristram Hunt, the shadow Education Secretary, has said he will not run for the Labour leadership as he had not gathered the required nominations of 35 MPs. He has instead endorsed the moderniser Liz Kendall.

Getty Images

6/7 Dan Jarvis

One of the favourites to succeed Ed Miliband as Labour leader – ex-Army paratrooper Dan Jarvis – has ruled himself out, saying he won't do it because of his children

Getty

7/7 Chuka Umunna

Chuka Umunna dropped out of the Labour leadership contest just three days after he announced he was in the running

YouTube
Mr Rahman took 36,500 first preference votes in the now-annulled election in 2014, compared with 27,600 for Mr Biggs, a former financial analyst in the City and a previous leader on Tower Hamlets council.
On an expected lower turnout, this week's vote is likely to be decided by how many members of the borough's Bangladeshi community, which comprises about a third of its 250,000 residents, decide to stick with Ms Khan or transfer allegiance back to the more traditional choice of Labour.
And opposite those who believe that Mr Rahman is a misunderstood hero – despite Mr Mawrey's finding of overwhelming evidence to the contrary – there certainly are many in the borough for whom the type of personality-led local governance he represented has become a liability and an embarrassment.
Two candidates standing in the election – for Ukip and the Green Party – have pledged to abolish the office of mayor altogether in the event that they win it. Shiraq Haque, a restaurant entrepreneur based in the centre of Tower Hamlets' Bengali cuisine, Brick Lane, and Mr Rahman's former campaign manager, last week disowned his former champion and called for a return to "mainstream politics" in Tower Hamlets.
Speaking at the launch of a Unity Task Force urging the abandonment of "isolationism", Mr Haque said: "Community leaders and businesses want to rid the East End of this divisive personality politics. Lutfur Rahman did not do justice to himself or the community, which has been tarnished."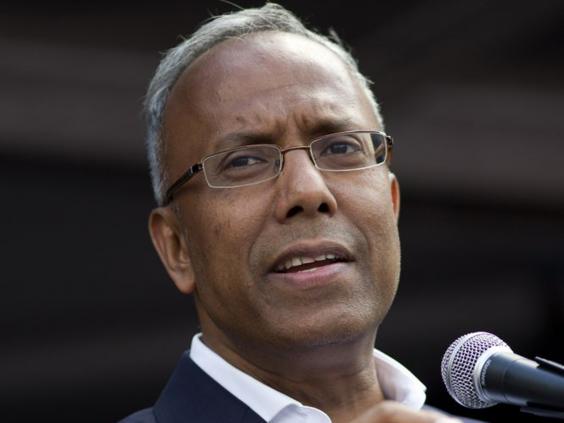 Both Mr Biggs and Ms Khan are doing their best to convey the message that they will change the way politics has been conducted in the borough, after Mr Rahman and his abolished Tower Hamlets First party were found to have effectively bribed Bangladeshi voters with generous council grants and used the influence of a senior imam to tell Muslims it was their duty to vote for him.
Mr Biggs has pledged to establish "maximum transparency". The Labour candidate, who said he would also abolish the mayoral car after Mr Rahman attracted negative headlines for using a chauffeur-driven Mercedes, acknowledged "anxiety" felt by some about a "stitch-up" of Mr Rehman but said there was desire for a less-compromised leadership. Ms Khan, who has also said she will dump the Merc, has trodden a path between defending the record of Mr Rahman's administration and placing him on some of her campaign literature, while insisting she is her own woman and dedicated to greater transparency.
She denied any involvement by her or her supporters in any of the alleged irregularities, including an incident on an estate where her leaflets were distributed with an official council newsletter.
Ms Khan said: "Labour and the Tories' only real message is that they are not Lutfur Rahman – neither am I."
Denying any involvement in or knowledge of electoral irregularities, she added: "I have definitely not used Tower Hamlets Homes staff to distribute leaflets in working hours and I deplore the idea of anyone doing so. When informed of these allegations I immediately referred them to the police and the Returning Officer."
There is little evidence that the re-run election is firing the imagination of voters. On the estates of Poplar  the sole sign of support for one candidate over another was a Ukip leaflet stuck to a pub window.
Brian Boulter, owner of the Eastenders Pie'n'Mash shop in an arcade soon to be demolished to make way for a £200m redevelopment, said: "I think people have got a bit disenchanted and see corruption everywhere. I wouldn't be surprised if they replaced this place with a new Fifa building."
Tower Hamlets: The candidates
Elaine Bagshaw,  Liberal Democrats
John Biggs, Labour Party
Andy Erlam, Red Flag –  Anti Corruption
John Foster, Green Party
Peter Golds, Conservative Party
Vanessa Helen Hudson,  Animal Welfare Party
Hafiz Abdul Kadir,  Independent
Rabina Khan, Independent
Nicholas McQueen, Ukip
Md. Motiur Rahman Nanu, Independent
Reuse content