Labour will lose more than £40m in every electoral cycle as a result of the trade union bill, which Sir Paul Kenny has warned will plunge the party into "financial crisis".  
Sir Paul, the outgoing GMB general secretary, chairs Unions Together, which acts as a link between trade unions and Labour. He said that the reforms, which curb union funding to Labour, would ultimately result in the party getting its revenge because Labour, when it returns to government, would block big business donations to the Conservative Party. 
He said: "Since the 1940s, how politics is funded in the UK has been subject to a bi-partisan approach. Unilaterally the Tories have torn up that approach and if the trade union bill becomes law, it will trigger a financial crisis for the Labour Party affecting its structure, staffing, and ability to fight elections. The Tory party too will pay a heavy price in the long run for this. In due course big business and the multi-millionaire elite will be prevented from funding the Tory Party."
The trade union bill reaches the floor of the House of Lords tomorrow and political funding reforms can only be blocked with support from the Liberal Democrats and independent crossbenchers. It is understood that Lord Tyler, a former Lib Dem MP, does intend to table an amendment proposing to have the political funding issue separately examined by a select committee.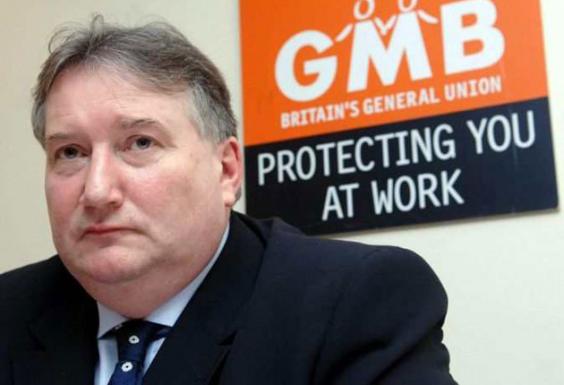 Labour considers the bill to be a cynical attack on its finances so that it can never again fight a general election on even terms. The Tories are already significantly better funded  –  many Labour activists complained that they could not compete with their rivals' financial firepower at last year's election. The bill requires members of Labour-affiliated unions to opt in to paying a levy to the party. At the moment a unionist can opt out, but the change in psychology is significant enough to cost Labour more than £5m a year, according to union estimates. 
Unions Together thinks the changes will result in a £10m shortfall of funds in a general election year, while the Conservatives have also reduced public funds to support opposition parties in Parliament known as "Short money". 
Altogether, this amounts to a loss of more than £40m every five years, which is about a quarter of Labour's funding.  A union source gave a warning that the changes could wreck Labour's finances as early as this summer: "This could be law within a few weeks, followed by a three-month transitional period. That could mean Labour is in financial crisis by the third or fourth quarter of this year." 
UK news in pictures
UK news in pictures
1/19 24 June 2017

Britain's opposition Labour Party leader Jeremy Corbyn addresses revellers from the Pyramid Stage at Worthy Farm in Somerset during the Glastonbury Festival

REUTERS

2/19 23 June 2017

British Prime Minister Theresa May addresses a news conference at the EU summit in Brussels, Belgium, June 23, 2017

Reuters

3/19 22 June 2017

Cosplay fans (L-R) George Massingham, Abbey Forbes and Karolina Goralik travel by tube dressed in Harry Potter themed costumes, after a visit to one the literary franchise's movie filming locations at Leadenhall Market in London, Britain

Reuters

4/19 22 June 2017

Racegoers cheer on their horse on Ladies Day at the Royal Ascot horse racing meet, in Ascot, west of London

Getty

5/19 21 June 2017

A reveller walks among the tipi tents at the Glastonbury Festival of Music and Performing Arts on Worthy Farm near the village of Pilton in Somerset, South West England

Getty

6/19 20 June 2017

A police officer lays some flowers passed over by a member of the public, close to Finsbury Park Mosque in north London, after one man died and eight people were taken to hospital and a person arrested after a rental van struck pedestrian

PA

7/19

The Borough Market bell is seen in Borough Market in central London following its re-opening after the June 3 terror attack

Getty Images

8/19

Two women embrace in Borough Market, which officially re-opens today following the recent attack, in central London

REUTERS/Hannah McKay

9/19

Mayor of London Sadiq Khan attends the re-opening of Borough market in central London following the June 3 terror attack

Getty Images

10/19

People walk through Borough Market in central London following its re-opening after the June 3 terror attack

Getty Images

11/19

News Corp CEO Rupert Murdoch, with one of his daughters, visit Borough Market, which officially re-opened today following the recent attack

REUTERS

12/19

A woman reacts in front of a wall of messages in Borough Market, which officially re-opened today following the recent attack, in central London

REUTERS/Hannah Mckay

13/19

Vivenne Westwood walks the runway at the Vivenne Westwood show during the London Fashion Week Men's June 2017 collections

Getty Images

14/19

Millwall fan and London Bridge hero Roy Larner on 'Good Morning Britain'

Rex

15/19

Richard Arnold, Roy Larner, Piers Morgan and Susanna Reid on 'Good Morning Britain'

Rex

16/19 11 June 2017

England players celebrate after defeating Venezuela 1-0 to win the final of the FIFA U-20 World Cup Korea 2017 at Suwon World Cup Stadium in Suwon, South Korea

AP

17/19 11 June 2017

England players celebrate with the trophy after the final match of the FIFA U-20 World Cup 2017 between Venezuela and England at Suwon World Cup Stadium in Suwon, South Korea

EPA

18/19 11 June 2017

Great Britain's Alistair Brownlee celebrates winning the Elite Men Columbia Threadneedle World Triathlon Leeds

Danny Lawson/PA Wire

19/19 11 June 2017

Two men drink beer outside the Southwark Tavern which reopened for business today next to an entrance to Borough Market which remains closed in London

Getty Images
Answers to parliamentary questions raised by Labour show that ministers did not ask civil servants to assess the likely affect on party finances that the reforms would cause. Baroness Neville-Rolfe, a junior business minister, said: "The trade union Bill is introducing a greater level of transparency into union activities by requiring union members to make an active decision to contribute to a union's political fund. If union members want a political fund they are perfectly free to contribute to one, so, this will not necessarily lead to a reduction in the funds available." 
Labour's financial problems come as the Conservatives prepare to improve their own, already strong, finances by overhauling the party's organisational structure. 
Lord Feldman, the party chairman, and Robert Halfon, the minister without portfolio, will publish a post-election review of the Conservative Party this month. A senior party source said this will look at encouraging more neighbouring local associations to pool their resources, which could involve selling properties and lower running costs. 
The review will also propose that Conservative HQ hold a central membership base which would then be made available to local associations. Some MPs fear both measures, if not properly implemented, could centralise power at a time when the Government is pushing for greater devolution of political power. 
A senior backbencher said the moves were "fraught with danger", with Conservative HQ potentially demanding changes that cover a whole county cover from just one office. Although that would be inexpensive, it would also be difficult for activists to get together and plot campaigns.
Reuse content