David Cameron's promise to slash migration levels is in ruins after official figures revealed another sharp rise in numbers of new arrivals to Britain.
Net migration jumped to 243,000 in the year to March, driven by large numbers of European Union nationals coming to the UK, the Office for National Statistics (ONS) said.
A total of 560,000 immigrants arrived over the period, an increase of 68,000, while an estimated 316,000 people left the country.
Mr Cameron and the Home Secretary Theresa May have set a target of reducing the figure to "tens of thousands" by the general election next May. They have refused to abandon the goal despite evidence that migration flows are increasing rather than decreasing.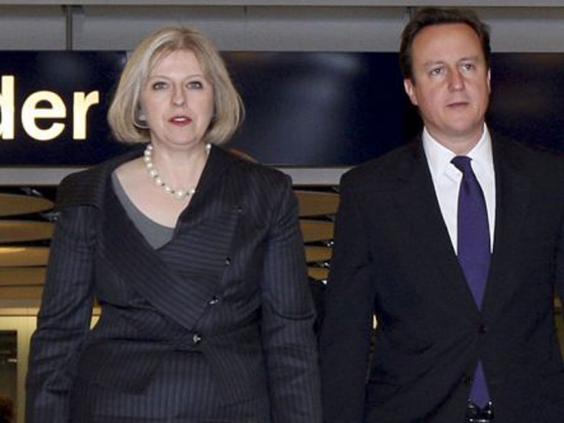 The ONS said the figure represented a "statistically significant increase" from the net migration total of 175,000 the previous year. A total of 560,000 immigrants arrived in the UK over the period, while an estimated 316,000 people left.
Arrivals from within the EU increased by 44,000, or 25 per cent, to 214,000. They included 28,000 Romanians and Bulgarians, more than double the number over the previous year. Restrictions to the British labour market were lifted for the two countries in January.
There was also an increase, from 246,000 to 265,000, in the total of non-EU citizens arriving in the UK.
The statistics will add to the pressure on the Coalition parties over immigration following a surge in support for the UK Independence Party over the last two years.
Mark Hilton, head of immigration policy at non-profit organisation London First, said the net migration target must be "put out of its misery".
He said: "With the general election fast approaching, the Government is running out of time to hit its 'tens of thousands' target."
The immigration minister James Brokenshire said: "Uncontrolled, mass immigration makes it difficult to maintain social cohesion, puts pressure on public services and forces down wages. That's why our focus remains on controlling migration at sustainable levels.
"Our reforms have cut net migration by a quarter since the peak under the last government - and have led to net migration from outside the EU falling to levels not seen since the 1990s.
"We are creating a system that is fair to British citizens and legitimate migrants but is tough on those who flout the rules."
Reuse content