North Koreans who risk their lives fleeing the country's fiercely oppressive regime could be refused asylum in the UK after a court judgment backing the Home Secretary Theresa May.
Human rights activists warn that a recent tribunal ruling could see hundreds of North Koreans automatically turned away from the UK and sent to South Korea – where refugees often complain of discrimination – even if they have never lived in the country before.
It comes as the Prime Minister David Cameron attempts to adopt a more hard-line stance on immigration levels following a surge of support for Ukip. In a recent asylum appeal decision, several North Koreans fighting the Home Office over their deportation to South Korea were told that legally "all North Korean citizens are also citizens of South Korea".
The anonymous appellants included a couple who were detained and beaten by North Korean authorities after an initial escape to China failed when they were unable to find work, but who successfully fled a second time in the wake of a show trial that left them shunned and abused in public. The family have no ties to South Korea, having never visited South Korea.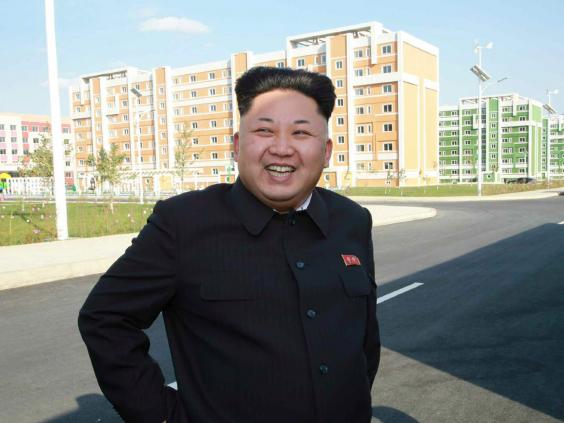 They arrived in the UK illegally in 2007 seeking asylum and have since had two children in Britain, but they are considered to be Korean rather than British.
The appeal decision, made in September, ruled that the "appellants are South Korean citizens and their asylum appeal must fail".
A 33-year-old man who also appealed was deemed to have no "entitlement to international protection as a refugee, by way of humanitarian protection or on human rights grounds".
Lord Alton of Liverpool, co-chairman of the All Party Parliamentary Group on North Korea, told The Independent immediate deportation for those who have escaped from Kim Jong-un's totalitarian state is all the more likely given the "present climate" of anger over immigration.
He argued that the UK's "tradition of accepting North Koreans" is now under threat. He added: "I'm concerned that we're going to automatically turn down people coming to the UK."
Refugees in the South are granted largely the same rights as those born there and are given financial support, including around £5,650 for a deposit on a flat.
In pictures: Life in North Korea
In pictures: Life in North Korea
1/10 North Korea

Boys play soccer in the town of Hyesan in North Korea's Ryanggang province.

AP

2/10 North Korea

Young North Korean schoolchildren help to fix pot holes in a rural road in North Korea's North Hamgyong province

AP

3/10 North Korea

A group of young North Koreans enjoys a picnic on the beach in Wonsan, North Korea

AP

4/10 North Korea

Portraits of the late North Korean leaders Kim Il Sung and Kim Jong Il are illuminated on a building side as the sun rises over Pyongyang.

AP

5/10 North Korea

North Korean men share a picnic lunch and North Korean-brewed and bottled Taedonggang beer along the road in North Korea's North Hwanghae province.

AP

6/10 North Korea

North Korean people rest next to the railroad tracks in a town in North Korea's North Hamgyong province

AP

7/10 North Korea

A North Korean man pushes his bicycle to a village in North Korea's North Hamgyong province.

AP

8/10 North Korea

North Korean residents walk on a road along a river in the town of Kimchaek, in North Korea's North Hamgyong province.

AP

9/10 North Korea

The remains of lunch sits on a restaurant table in the city of Wonsan, North Korea

AP

10/10 North Korea

Farmers walk in a rainstorm with their cattle near the town of Hyesan, North Korea in Ryanggang province.

AP
But the International Crisis Group has warned that South Korea is struggling to handle the refugees who are often shocked by "a bewildering rush of modernity, consumption and choice that rapidly overwhelms them".
Poorly educated, they struggle to find work and "complain of discrimination by Southerners, who have stereotyped them as heavy drinkers, prone to crime, shirking work and relying on state hand-outs."
James Burt, research and policy officer at the European Alliance for Human Rights in North Korea, said the decision set a "dangerous precedent".
He argued: "This ruling would seem to stand even if a North Korean refugee in the UK has never been to South Korea, has no wish to be a South Korean citizen, has no links to South Korea. We believe that North Korean refugees should be given a choice as to where they settle, bearing in mind the horrific journeys that many have faced in fleeing their homeland."
It is thought that there are more than 1,000 North Koreans living in the UK, and in 2010 there were 581 refugees.
In an answer to a parliamentary question on the ruling,  the Home Office minister Lord Bates said: "All asylum claims from North Korea continue to be considered on their individual merits in accordance with the 1951 UN Refugee Convention and the European Convention on Human Rights against the background of the latest country information and relevant case law."
Case Study: Still haunted by images of the camps
Rachael Pells
Kim Joo-il, 41, is a former North Korean army captain turned democracy activist. In August 2005, he seized a chance to escape and swam for hours across a river to the Chinese border. Struggling to find freedom in Vietnam, Cambodia or Thailand, Mr Kim arrived in the UK to claim asylum in 2007.
For North Koreans who do not have any information about the outside world when they escape the country, an option to choose another country should be guaranteed", he said, on being told of the recent court ruling that means Britain regards all North Koreans as South Korean citizens and is likely to refuse them asylum.
"This should be the official position of the United Kingdom, a country where human rights are respected."
"Forcing North Koreans to go to South Korea regardless of their opinions is a way of oppressing refugees."
Now the director of the North Korean Residents Society, Mr Kim is one of an estimated 1,000 registered North Korean refugees living in the UK. Despite being happily married and settled in south-west London, Mr Kim said he is still haunted by images of prison camps and North Korean friends and family left suffering from severe malnutrition.
He doubts any refugees are left untroubled by the conditions they have escaped from. "There are a few North Koreans here who are worried about repatriation," he said.