The flooding crisis will get worse before it gets better, David Cameron has admitted as stricken communities were warned that the waters may not recede until May.
After returning from visiting the worst-hit areas in the South-west and along the Thames, the Prime Minister said the country was "in for the long haul" to repair the storm damage wrought by the wettest winter since the 18th century.
Click image above to enlarge graphic
He pledged "money would be no object" in the drive to restore normal life to flood-hit towns and villages and vowed the Government would "go after" insurance companies which failed to pay out to householders whose properties had been wrecked.
Risking claims that the Government is rewarding the reckless, he said people without proper insurance would be entitled to emergency help to repair their homes through "hardship funds".
He said: "That is where every local authority affected needs to have a hardship fund, and if there is a need to top up those hardship funds then they can come to us and we can have a look at that."
Some 1,000 properties, including 800 along the Thames, have been flooded in recent days, with thousands more at risk. Attention is also focusing on properties alongside the Severn and Wye where waters are rising rapidly. Large sections of Worcester, which is on the Severn, were under water.
Calling for a "great national effort" to respond to the emergency, Mr Cameron said thousands more troops could be drafted in to bolster flood defences and protect homes, businesses and power supplies.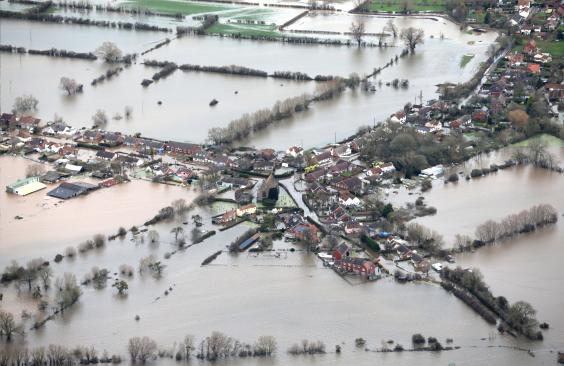 But with yet more rain forecast today in southern England and Wales, the Prime Minster conceded it would take a "depressingly long period of time" for affected areas to return to normal. "There's absolutely no sign of this threat abating. Things may well get worse before they get better," he told a hastily-arranged press conference in Downing Street.
And he warned: "It will be a long haul and it will require a stepped-up national effort with the whole country pulling together."
The Prime Minister said homeowners would be given taxpayer-funded grants to build flood protection measures around their properties. He challenged insurance companies to "pay up fast" and warned they would they would be taken to task by the Government if they delayed payments.
Flooding in England
Flooding in England
1/20 Flooding in Shepperton

The Three Horseshoes Pub in Shepperton. Properties along the Thames Valley were affected by power cuts as the river burst its banks

Charlie Forgham-Bailey

2/20 Flooding in Shepperton

People wade through floodwaters in Thames Meadow, near Shepperton

3/20 Flooding in Shepperton

Sandbags to stop flooding at the Warren Lodge Hotel in Shepperton

Charlie Forgham-Bailey

4/20 Flooding in Shepperton

A Land Rover drives along a flooded street in Shepperton

Getty Images

5/20 Flooding in Shepperton

Dr James Andrews was stranded in his home without electricity since Sunday, but he was rescued yesterday by soldiers

Charlie Forgham-Bailey

6/20 Flooding in Shepperton

Soldiers from the Royal Engineers pull a boat through floodwaters in Thames Meadow, near Shepperton

7/20 Flooding in Shepperton

Many residents' homes in Shepperton are now only accessible by boat.

8/20 Flooding in Bridgwater

Water surrounds flooded propeties in the village of Moorland on the Somerset Levels near Bridgwater

Getty Images

9/20 Flooding in Chertsey

A resident wades through the floodwater that has swept into Chertsey, which lies just west of London

Getty Images

10/20 Flooding in Wraysbury

Firefighters driving through flooding in Wraysbury, Berkshire

11/20 Flooding in Wraysbury

In the normally tranquil village of Wraysbury, residents have rallied round after houses were swamped by floods

12/20 Flooding in Wraysbury

Services personnel assist in the evacuation of a family from their home in Wraysbury

13/20 Flooding in Wraysbury

Members of Royal Berkshire Fire & Rescue squad evacuate a family

Getty Images

14/20 Flooding in Wraysbury

Floodwater reaches a children's playground in Wraysbury

Getty Images

15/20 Flooding in Wraysbury

Labour party leader Ed Miliband talks with resident Peter Horner

16/20 Flooding in Wraysbury

A member of the 1st Battalion of the Royal Regiment of Fusiliers leads his vehicle through flood water in Wraysbury

Getty Images

17/20 Flooding in Worcester

The Severn View Hotel in Worcester surrounded by flood water

18/20 Flooding in Worcester

Swans swimming through a flooded car park at Worcester Racecourse

19/20 Flooding in Datchet

Residents carry sandbags to protect their property from the floods, in the centre of the village of Datchet

20/20 Flooding in Datchet

A man is pulled in a kayak through a flooded street in the village of Datchet
The Prime Minister tore up his schedule over the last 48 hours, including postponing today's planned cabinet meeting, to take charge of the response to the emergency following accusations that ministers too slow to react to the flooding.
He announced he was cancelling a planned visit to the Middle East next week to focus on the crisis. Ed Miliband, the Labour leader, is expected to follow suit and scrap a planned visit to Asia.
Further rainfall is expected today in the South-west of England and across Wales, along with winds that could reach up to 80mph. In addition, groundwater could turn to ice as temperatures drop.
Sixteen severe flood warnings were in place tonight, 14 along the Thames and another two in the Somerset Levels. The Environment Agency has also announced 133 flood warnings and 225 flood alerts.
In some parts of England the water table has reached record levels following the extreme rainfall in recent weeks and ancient buried rivers could start to flow, causing flooding in communities which are miles from major rivers. The British Geological Survey said parts of the Thames Valley in Wiltshire, Oxfordshire and Berkshire were at risk of localised flooding until May.
Andrew McKenzie, a water expert with the survey, said: "What we saw [in the floods] of 2000-2001 was groundwater flooding persisting well into the spring and the last remnants of groundwater flooding finished in about May of 2001. So we certainly are expecting to see many more months of groundwater issues."
Hundreds of troops have been already been deployed to help residents flooded out of their homes.
In Shepperton, Surrey, an elderly doctor was rescued from his home after being trapped without electricity for three days after the level of the Thames rose dramatically.
Emergency shelter for residents flooded out of their homes in Chertsey was set up at the Thorpe Park theme park in Surrey.
Upstream in the Berkshire town of Datchet, fire officers came to the aid of Joy Levinson and her pet dog after her home became surrounded by water. She said: "We've got 10 acres of fields and it's like a lake."
Visiting the flood-hit village of Wraysbury, where the army was deployed to distribute sandbags, Mr Miliband told The Independent the response from the military and Environment Agency had taken "too long" for some residents.
He said: "There's been a fantastic effort by local people here, but this is a wake-up call to the issues of flooding, the impact of climate change and the Government's policy on flood prevention."
Speaking to reporters and residents while ankle-deep in floodwater, the Labour leader added that Government response to the flooding crisis had been "too slow" and that Prime Minister David Cameron "needed to get to grips with the situation".
Mr Miliband postponed a visit to India next week because of the floods. A Labour source said: "He felt that given what is happening in the country he needed to be here."