The Ukip MEP hospitalised after an altercation in the European Parliament was injured after he "fell over his own feet", the other MEP involved in the altercation said.
Mike Hookem said Steven Woolfe "came at me" after having taken his jacket off and beckoned him outside a room they were having a meeting in.
He said the pair went outside expecting a fight but that in the end there was no pushing or punching involved in a "two or three second tussle".
"Steven Woolfe came at me, it was a tussle, it lasted two or three seconds before other MEP colleagues came into the ante-room," he told Channel 4 News.
"I'd backed off, the door opened, Steven Woolfe somehow fell over his own feet and fell into the room, and that was basically it."
Asked for more details on how Mr Woolfe fell over Mr Hookem said "I have no idea".
"More importantly I did not punch Steven Woolfe," he added, also clarifying that "there was no violence" during the tussle.
Mr Hookem also explained that he left the same meeting early and immediately flew back to the UK from Strasbourg for reasons completely unrelated to the altercation. 
"The day before one of my assistants was taken very ill, she was in hospital, I was told by the doctor that she had to be taken home and she had to be accompanied on the aircraft," he told the channel.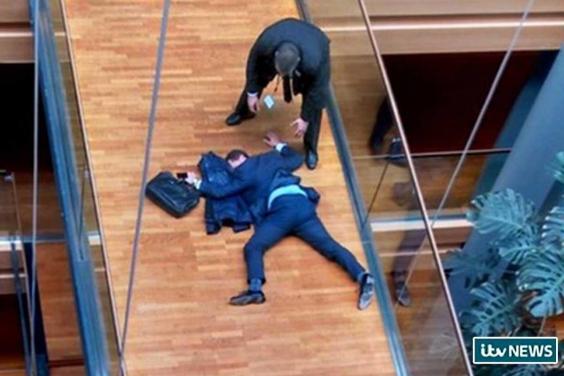 "I had to change all of my travel plans, and I accompanied her, I had to go pick her up from the hospital. So I left that meeting early, at 10.30, to go pick this lady up, to take her back to her parents.
"I accompanied her back from the aircraft. At about 3 o'clock in the afternoon I got a text saying Steven had collapsed. That's all I knew."
Key Faces of UKIP
Key Faces of UKIP
1/11

Nigel Farage

Getty

2/11

United Kingdom Independence Party (UKIP) Migration spokesman Steven Woolfe addresses supporters and media personnel in central London

Getty

3/11

Robert Kilroy-Silk, former television presenter and newly elected member of the European Parliament for the UK Independence Party (UKIP), shows a placard against the European Constitution in front of the Houses of Parliament

Getty

4/11

Mark Reckless, Director of Policy Development addresses party members during the UK Independence Party annual conference at Doncaster Racecourse

Getty

5/11

Gerard Batten MEP poses with protesters outside parliament

Creative Commons

6/11

Diane James gives an address at the UKIP Autumn Conference in Bournemouth

Getty

7/11

Douglas Carswell MP speaks to party members and supporters during the UK Independence Party annual conference

Getty

8/11

Suzanne Evans, Deputy Party Chairman of UK Independence Party (UKIP) speaks during the launch of UKIP's election manifesto

Getty

9/11

Peter Whittle, the UK Independence Party Member of the London Assembly, is interviewed in central London

Getty

10/11

MEP Mike Hookem during a visit to Concept Metal Products & Co Ltd

Getty

11/11

Paul Nuttall, Deputy Leader of the UK Independence Party speaks at a Say NO, Believe in Britain debate at Carn Brea Leisure Centre in Pool near Redruthon

Getty
Mr Woolfe is the favourite for next Ukip leader, Mr Hookem is the party's defence spokesperson. They are both members of the European Parliament.
Mr Woolfe was rushed to hospital with suspected bleeding on the brain after he later collapsed but he is now apparently making a recovery.
Reuse content