MPs from Ukip, Labour and the Conservatives have united to kick-start the campaign for Britain to leave the European Union.
The cross-party group of seven eurosceptic MPs, which includes former Tory Cabinet minister Owen Paterson, has been formed in order to ensure the Out campaign in the referendum is properly organised and co-ordinated.
Calling itself the "exploratory committee for the EU referendum," it will aim to "provide resources for crucial thinking" and follows the news that the Out campaign will deploy small firms to counter the pro-EU views of big business.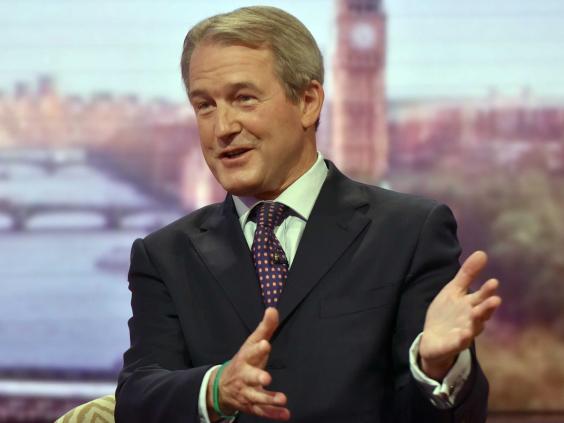 The group includes three veteran Labour MPs - Kate Hoey, Kelvin Hopkins and Graham Stringer, while Ukip's only MP Douglas Carswell is also a member.
Making up the Tory members are Bernard Jenkin, a veteran eurosceptic, and Steve Baker, chairman of the Conservatives for Britain group, which claims to include more than 100 Conservative MPs who say they are ready to leave the EU unless David Cameron secures wide-ranging reforms to the UK's relationship with the 28-state bloc.
A mirror Labour for Britain group has also formed and is backed by influential donor John Mills, who donated £1.6 million worth of shares to Labour last year.
The cross party group has met in secret each week since the election. It is backed by a number of cross-party donors, including major Ukip donor Stuart Wheeler, while Michael Gove's former adviser Dominic Cummings has been drafted in to oversee the committee.
It says it is "urgently" looking to "promote co-operation amongst those who might contribute to an Out campaign".
Launching the group, the MPs said they could see no hope for Mr Cameron to succeed in delivering the fundamental reform of Britain's relationship with the EU.
Eurosceptic Tory MPs
Eurosceptic Tory MPs
1/7 Owen Paterson

Formerly a cabinet minister, Owen Paterson is now free to make his opinion known on the backbenchers. On the subject of Europe, he does so regularly – claiming recently that the EU referendum was "rigged" in favour of staying in

Getty

2/7 John Redwood

A longstanding eurosceptic, Mr Redwood warned last year that businesses that spoke out in favour of EU membership would be punished at the check-outs by anti-EU

Getty

3/7 Bill Cash

Awkward squad rebel Bill Cash said last year that he thought the EU had become an undemocratic, German-dominated project. "An increasingly assertive German Europe is at odds with British national interests," he wrote in the Daily Telegraph

Getty

4/7 Philip Davies

From the Conservative party's hard right wing, Philip Davies has been a longstanding critic of the EU. He founded the Better off Out campaign and is so eurosceptic that Ukip decided not to stand a candidate against him in 2010 because they agreed with him

Rex

5/7 Nadine Dorries

Outspoken Tory MP Nadine Dorries has previously advocated an alliance with Ukip. At the height of the Greek crisis in 2013 she said that the EU was "dying on its feet"

Rex

6/7 Liam Fox

The former defence secretary is a central figure on the right wing of the Conservative party. He's long put pressure on David Cameron over EU negotiations

Getty

7/7 Zac Goldsmith

A socially liberal eurosceptic, Goldsmith was one of the founding members of the People's Pledge campaign to get MPs to sign up for an EU referendum. His father ran the Referendum Party, a precursor to Ukip

Getty
"There must be reform of the EU and fundamental change in our relationship with the EU," the group said in a statement.
"The prime minister set this objective when he described the renegotiation in his Commons statement of March 23 as 'an opportunity to reform the EU and fundamentally change Britain's relationship with it'. However, there is little if any indication that the government is even asking for significant reform or fundamental change.
"In particular, there is no sign of any proposals either to end the supremacy of EU law over UK law on ever wider matters, or to resolve the question of what should be the relationship between the eurozone and non-eurozone states."
Reuse content