The list of seats likely to be targeted by Ukip at next year's general election have been disclosed.
Nine of them are currently held by the Conservatives with one represented by a Liberal Democrat MP, another by Labour and one independent, according to internal polling that was seen by Sky News
Nigel Farage will stand in South Thanet in Kent for a second time, following his failed attempt in 2005, after being formally selected to run by party members on Tuesday night.
Many of the constituencies highlighted have seen political turmoil in recent years, with incumbent MPs resigning or being ousted.
Ukip is believed to be hoping to win between three and five seats but after its landslide victory in the European elections, the main parties will not be underestimating the challenge.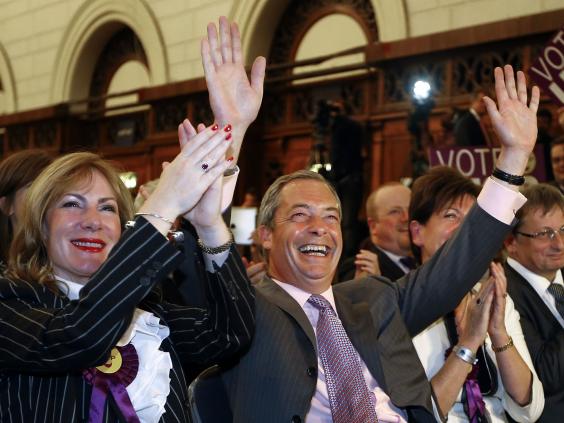 Mr Farage hailed the huge Ukip gains as a "political earthquake" after winning more than 27 per cent of the vote in May.
"Our game is to get this right, to find the right candidates, and focus our resources on getting a good number of seats in Westminster next year," he said.
Last year's Eastleigh by-election, sparked by the resignation of Chris Huhne during the speeding points scandal for which he was later jailed, saw Ukip's best-ever result in a Westminster poll.
The party's candidate Diane James came second with 11,571 votes, fewer than 2,000 behind the winner, another Liberal Democrat.
Nick Clegg's party is also expected to struggle in another constituency targeted by Ukip, Portsmouth South, where the incumbent MP Mike Hancock was suspended from the Lib Dems over accusations of sexual misconduct with a constituent and will stand down.
Ukip's rising stars
Ukip's rising stars
1/7 Suzanne Evans

A Tory defector who has only been in the party for a year. She was rapidly appointed national communities spokesman. A former BBC reporter who now runs a PR agency, she has won plaudits within the party for her confidence in front of the camera.

2/7 Steven Woolfe

A barrister from Manchester whose father was mixed-race and mother was white. He was invited to become financial services spokesman before he had even joined Ukip. Now an MEP, his ethnicity and northern upbringing are in strong contrast to the Ukip stereotype.

3/7 Margot Parker

A local businesswoman who impressed Ukip's hierarchy with her spirited campaign in the Corby and East Northants by-election 18 months ago. She was elected as an MEP for the East Midlands last week. She has a no-nonsense style which party chiefs believe will be persuasive on the national stage.

4/7 Patrick O'Flynn

A former Daily Express journalist who became Ukip's director of communications and was a strategist behind the Euro-elections campaign. An experienced performer on television who is close to Mr Farage. With his media background he could become a culture spokesman.

Rex

5/7 Amjid Bashir

A restaurateur of Pakistani lineage who is one three Ukip MEPs representing Yorkshire and the Humber and currently speaks for the party on small business. After his election he said: "Here I am... of Asian birth, of Asian parentage, Muslim, and I have been selected by this so-called racist party. It disproves that completely."

Rex

6/7 Louise Bours

Until her combative appearance alongside Piers Morgan and Joey Barton on Question Time last Thursday, she was one of Ukip's lesser-known faces. The new MEP for the north-west is a former actress whose full name is Louise van de Bours. Her northern credentials could come in handy in wooing Labour-leaning voters.

7/7 Paul Nuttall

Long serving activist from Merseyside who became Ukip's chairman in 2008 and deputy leader two years later. He is a key weapon in the party's attempts to broaden its appeal to working-class voters in the North of England.

PA
The only Labour seat on the list of Ukip targets is Grimsby, where the veteran MP Austin Mitchell is retiring after 37 years.
Another target losing its incumbent MP is Boston and Skegness, where Mark Simmonds is stepping down following his resignation as a Foreign Office minister over the "sacrifice to his family life".
Perhaps the most ambitious aim is Aylesbury, which has been held by the Tories since 1924 and has been represented by Europe minister David Lidington for 22 years.
Video: Ukip outlines plans in June
The party will be crossing swords with Labour in some of the more marginal seats, including Thurrock in Essex, where the Conservative majority is just 92.
Ukip's official list of targets has not yet been completed or approved by the national executive, a party source told The Independent, but there is likely to be a lot of overlap with the constituencies listed below.
Probable Ukip targets:
Grimsby (Labour)
Sittingborne and Sheppey (Cons)
Aylesbury (Cons)
East Worthing and Shoreham (Cons)
Great Yarmouth (Cons)
Thurrock (Cons)
Boston and Skegness (Cons)
South Thanet (Cons)
North Thanet (Cons)
Eastleigh (Lib Dem)
Portsmouth South (Independent)
Reuse content