Ukip voters are either racist or desperate, according to one of the Labour leadership contenders hoping to replace Ed Miliband as the party's next permanent leader.
Left-wing candidate Jeremy Corbyn said Nigel Farage's party is "motivated to some extent by racism," while others voted for Ukip out of "despair," believing they were "some kind of anti-establishment party".
The Islington North MP later sought to clarify his comments, insisting "only in some cases" were Ukip voters motivated by racism.
Mr Corbyn is standing on a platform of opposing cuts to public services, insisting it was "essential that there is a left, anti-austerity candidate in the leadership election".
Giving his verdict on the election, he told BBC 2's Newsnight: "Some people went off in despair, perhaps and voted for Ukip believing it was some kind of anti-establishment party. Ukip is a devil may care vote; it is also motivated to some extent by racism in it, in my view.
"Had Labour, in my view, been a lot clearer about what we're going to achieve in five years' time, what we could do in local government, what we could do in health – I just think we weren't clear enough about what is austerity, because what is austerity really about?
"It's about reconfiguring our society in the mirror of the wealthy getting wealthier, the poorest getting poorer."
Who will be the next Labour leader?
Who will be the next Labour leader?
1/7 Andy Burnham

Andy Burnham has promised to restore the party's "emotional connection with millions of people," if elected

Getty Images

2/7 Mary Creagh

Mary Creagh has called on her party to win back "Middle England"

Getty Images

3/7 Liz Kendall

Shadow health minister Liz Kendall is seen as a Blairite

PA

4/7 Yvette Cooper

Shadow home secretary Yvette Cooper became the fourth person to join the Labour leadership race

AFP/Getty

5/7 Tristram Hunt

Tristram Hunt, the shadow Education Secretary, has said he will not run for the Labour leadership as he had not gathered the required nominations of 35 MPs. He has instead endorsed the moderniser Liz Kendall.

Getty Images

6/7 Dan Jarvis

One of the favourites to succeed Ed Miliband as Labour leader – ex-Army paratrooper Dan Jarvis – has ruled himself out, saying he won't do it because of his children

Getty

7/7 Chuka Umunna

Chuka Umunna dropped out of the Labour leadership contest just three days after he announced he was in the running

YouTube
He launched a leadership challenge to ensure the left of the party is given a voice in a contest dominated by candidates promising to move the party towards the centre-ground of British politics.
Each of the leadership contenders need to secure the nomination of at least 35 Labour MPs and although Mr Corbyn is trailing on just 11 nominations, he is confident of securing the required number needed to enter the one-member, one vote election. Nominations opened today and will close on Monday 15 June.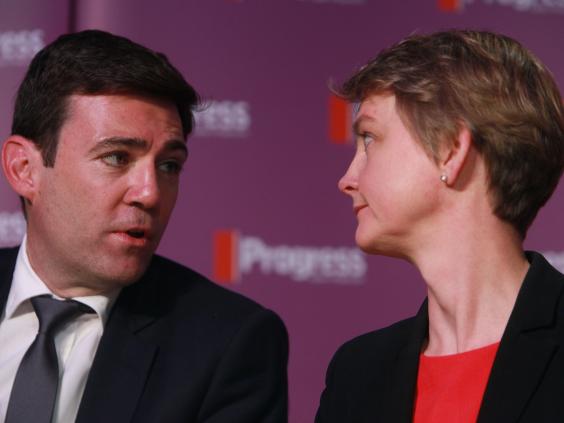 He is currently ahead of Mary Creagh, another outsider in the race. She has won the backing of just seven colleagues so far, but with around 80 MPs yet to declare who they are backing and some in the party willing to lend their support to an underdog in order to have as wide-an election as possible, she is hopeful of reaching 35.
The three leading candidates - Andy Burnham, Yvette Cooper and Liz Kendall - have all secured the required number of nominations.
Labour will publish an updated list of nominations twice a day until next week's deadline. The new leader will be announced on September 12.
Reuse content