The Welsh Assembly must be given the same new powers as the Scottish Parliament if Wales ever wants to be more than a "spectator" in the United Kingdom, the leader of Plaid Cymru, Leanne Wood, warns.
The socialist, republican and pro-Welsh independence party leader says, the Welsh face domination by an "increasingly right-wing England", unless they fight for the same level of devolution as Scotland.
Ms Wood, 41, became a leader of her party in 2012 on an independence platform. She spent much of the past month in Scotland campaigning for a Yes vote, in what she describes as a "David versus Goliath battle" with the SNP on one side and the "entire Westminster establishment and the corporate media" on the other.
Ms Wood is unable to hide her "disappointment" over the outcome of the vote; Plaid Cymru hoped to follow the SNP's route to self-rule and eventual independence.
"The referendum has opened up a different set of politics on these islands," she told The Independent on Sunday. "Given that the vow for increased devolution, made in a panic and at the 11th hour of the campaign, is already unravelling, there will be serious implications for Wales.
"The big three Westminster leaders gave no thought to Wales when they made that promise. It was a knee-jerk reaction to one poll, which in a way is ironic, because here in Wales we have long been calling for a more just constitutional settlement. It's frustrating, though, that a referendum about Scotland's future very quickly became a vote about England and the next general election."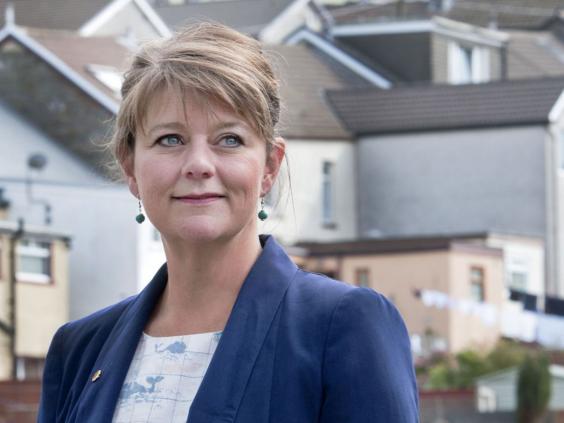 Ms Wood believes that if the English want devolution they must hold their "own referendum on the matter". She is also concerned that devolution for England or "allocated budgets for British cities" would be unfair on Wales. "There is an important point of principle here that Wales is a nation and should be treated as a nation. We should in no way be treated with parity with any of the English regions."
Many of Ms Wood's political opponents say that despite the Scottish campaign, the spirit of independence isn't flourishing in Wales. And last week a BBC Wales poll showed that only 3 per cent of the population favoured full independence.
Despite this, Ms Wood remains convinced the Welsh want more powers. She said: "That poll took place after the British establishment put out its biggest scaremongering campaign ever [in Scotland]. And when you consider that 49 per cent of people said that they wanted more powers for Wales, and 3 per cent said they wanted independence, that's 52 per cent of the Welsh who want to take the settlement on and push the boundaries."
Her party is still a long way from the two "terms of office" that the SNP gained before they put the question of independence to the Scottish people; it has only three MPs at Westminster and one representative in Europe, though at the Assembly in Cardiff it has 11 members, making it the third largest party.
However, during the Scottish campaign an ITV poll had put the figure of those supporting Welsh independence as high as 17 per cent before it dropped to its current "historic low". In response, Plaid Cymru last week launched a Bring our Government Home policy document.
The document isn't a call for independence, but a step on the way to self-government. It is then that Ms Wood favours "putting the big question" to the Welsh. In this, it is clear she is frustrated by how "other smaller parties", such as Ukip, get so much media attention, while Plaid Cymru, which "actually has MPs", is rarely mentioned; she is "very rarely" interviewed by the "London-centric Westminster media".
"We need fresh constitutional and financial arrangements for Wales so we can protect communities from the politics of austerity and privatisation that is coming from Westminster," Ms Wood said.