George Osborne has been appearing across broadcast media on Thursday morning to defend the missed targets and cuts made in his Budget, in particular the decision to slash £4.4 billion from disability benefit payments over the course of this Parliament.
Speaking to Sky News, the Chancellor defended his decisions against accusations that he was acting like "a back-to-front Robin Hood – taking from the poor to give to the rich".
He largely stuck to his lines, extolling the benefits of his sugar tax on soft drinks and saying that the Government had been able to give away tax breaks "because we've got an economic plan".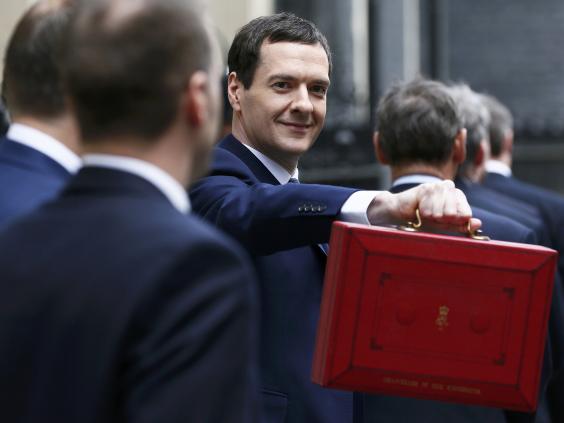 But he also looked uncomfortable as he was forced to listen to an earlier interview with a Conservative activist who shut down his disability support group yesterday because he was so disgusted by what his party was doing.
Mr Osborne remained stony-faced as he heard disability campaigner and life-long Tory Graeme Ellis say: "I was actually supporting a party that's out to destroy disabled people's lives.
"People have committed suicide over benefit decisions, and it's frightening because it's going to get worse."
Sky presenter Sarah-Jane Mee asked the Chancellor if he would admit his cuts were "ruining people's lives".
George Osborne 2016 budget at a glance
George Osborne 2016 budget at a glance
1/8 Debt forecasts up, growth forecasts down

The OBR's new forecasts have downgraded growth in all of the next five years to 2020. The watchdog says the economy will only grow by 2 per cent in 2016, as opposed to the anticipated 2.4 per cent. Borrowing and productivity growth are also down – with forecast borrowing in 2018-198 £16 billion higher

2/8 New tax on sugary drinks

The Chancellor announced a new tax on sugary soft drinks, which is projected to raise £520 million. At least some of the money will be spent on doubling funding for school sport, the Chancellor says. Labour leader Jeremy Corbyn welcomed the levy

3/8 Tax cut for higher earners paying the 40p rate

The Chancellor has raised the threshold for paying the higher rate of income tax to £45,000. The higher rate is paid by roughly the richest 15 per cent, currently people earning over £42,386

4/8 Increase in tax-free income tax threshold

The tax-free allowance increase to £11,500 in April 2017 – up from £10,600 now. The Chancellor previously raised the allowance from £6,475 in coalition with the Liberal Democrats. The Conservative manifesto pledges to put the allowance up to £12,500 by the end of the Parliament

5/8 New devolution for counties and powers for London and Manchester

The West of England, the East of England and Greater Lincolnshire will all get elected mayor-led combined authorities with new powers. The Chancellor says they are backed by £1 billion new funding. Greater Manchester will get new powers of criminal justice while London will keep its business rates – giving whoever is elected Mayor a lot more spending power

6/8 Fuel duty frozen for sixth year running

The Chancellor had planned to end the fuel duty freeze he had put in place for the whole previous parliament. In the event, he has announced a freeze for another year

7/8 All schools to become academies

As reported yesterday the Chancellor unveiled legislation to turn all schools into academies. He said all schools would either be academies or on their way to being academies by 2020, and that funding had been set aside to fund the change

8/8 Lifetime ISA

The Chancellor announced a new savings account to encourage under-40s to save for retirement – for every £4 saved, the Government will top this up by £1 up to the value of £4,000 a year. Tax-free ISAs will also be increased from £15,000 to £20,000
Mr Osborne said: "Well what I would say is… we are increasing… increasing the amount of money going to disabled people.
"These decisions, announced last week, and you can see the numbers in the Budget, these decisions are increasing the support given to disabled people."
The Chancellor insisted the Government was spending more in total on disability benefit in each year of this Parliament, saying an "independent report" had recommended diverted money from hundreds of thousands of people who struggle with more minor disabilities to "the people who need it most".
"We can do that only because we've got an economic plan that enables us to have great public services… and deliver the support that the most vulnerable in our society need," he said.
Reuse content