A video has emerged of an angry Jeremy Corbyn taking on Margaret Thatcher at Prime Minister's Questions in the 1990s.
It gives us a taste of things to come if the radical left-winger wins the Labour leadership contest next month and is given six questions to grill David Cameron on a weekly basis.
Mr Corbyn, who was first elected as MP for Islington North in 1983, tore into the then Tory Prime Minister in 1990 for presiding over an increase in homelessness in London. It is believed to be the first time Mr Corbyn was captured on TV.
Speaking through a much wilder beard than the one he boasts now, he is seen shouting at Mrs Thatcher about the tenfold increase in the number of people living without permanent accommodation in London under her watch and accused of her of only providing one sixth of the funding required to tackle homelessness in the capital.
Mr Corbyn said it was "a disgrace to a civilised country" that children were being brought up in Bed and Breakfast accommodation and that 2,000 were sleeping on the streets, while attacking Mrs Thatcher for the "exorbitant rents" being charged on tenants, an attack he is likely to use against Mr Cameron if elected leader on September 12.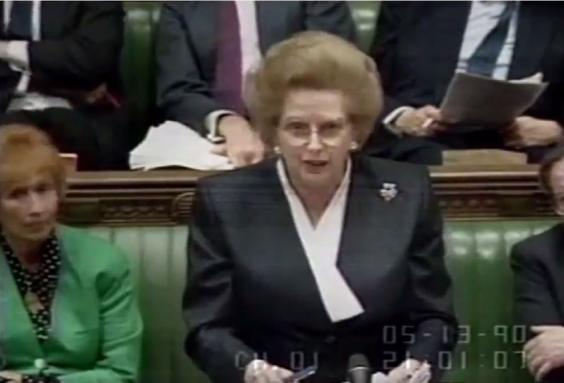 Mr Corbyn said: "Will the Prime Minister accept that ten years ago in 1979 there were 2750 households in temporary accommodation in London? The current figure is over 25,000 and a further 2,000 people are sleeping on the streets.
"And that when her government asked the local authorities what resources they required to deal with the homeless problem in London they asked for at least £480m? They were given less than one sixth of what they wanted.
"Does she agree that people sleeping on the streets of our capital city, being charged exorbitant rents and children being brought up in bed and breakfast hotels is a disgrace to a civilised country?"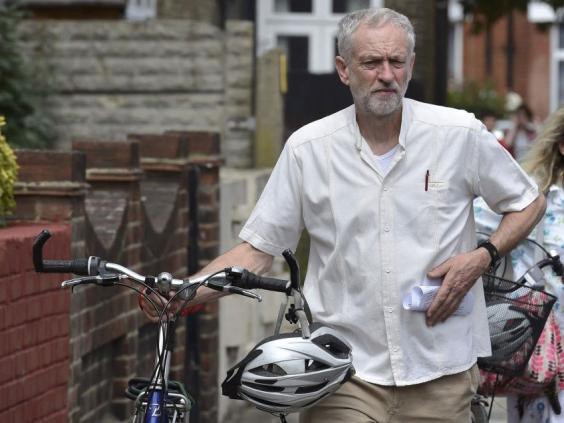 Mrs Thatcher insisted she had approved "very considerable extra expenditure to relieve homelessness" in London and blamed the backlog of empty council house properties that were taking too long to fill. These were the same properties that ended up being sold under the Conservative party's Right to Buy legislation.
She said: "Mr Speaker, I announced very considerable extra expenditure to relieve homelessness. The honourable member will also be aware there are considerable numbers of empty council properties, which if they were brought into use much more quickly could reduce the number of homelessness.
"For example in Islington [part of Mr Corbyn's constituency], there are 1,162 empty properties. If these were brought round much more quickly these would make a great contribution to relieving the homelessness."
Labour leadership: The Contenders
Labour leadership: The Contenders
1/4 Jeremy Corbyn

Jeremy Corbyn readily admits he is only standing to ensure the left of the party is given a voice in a contest dominated by candidates promising to move the party towards the centre-ground of British politics

Profiles by Matt Dathan

BBC

2/4 Andy Burnham

Andy Burnham is the current front-runner to win the leadership election according to bookmakers, but the fact that the Conservative party leadership hopes he wins shows the task that awaits if he is Ed Miliband's successor. He will have to find a way of distancing himself from both the last five years under Mr Miliband and the Blair and Brown years, during which he served in the Cabinet

Jon Super

3/4 Yvette Cooper

Yvette Cooper will also face a battle in convincing voters she offers a sufficient break with the past, having served in Gordon Brown's Cabinet and she played a key role in Mr Miliband's team as shadow home secretary. The fact that her husband is Ed Balls will not have a negative impact internally but voters are not likely to look favourably on the prospect of Mr Miliband's ousted shadow chancellor entering Downing Street if Ms Cooper wins in 2020

Getty Images

4/4 Liz Kendall

Liz Kendall faces criticism over her lack of experience – she was only elected in 2010 and has no experience of serving in government and wasn't even in Ed Miliband's shadow cabinet. But that very lack of experience means she can make a pitch as the only candidate offering real change and a real break from the Blair/Brown/Miliband years

Getty Images
Reuse content