Lord Sewel has been filmed allegedly giving damning opinions on the Prime Minister, Boris Johnson, and a number of other senior political figures.
In footage obtained by The Sun, Lord Sewel is heard calling David Cameron the most "facile, superficial Prime Minister there has ever been" and Boris Johnson an "upper-class twit," while he called Alex  Salmond a "silly pompous prat".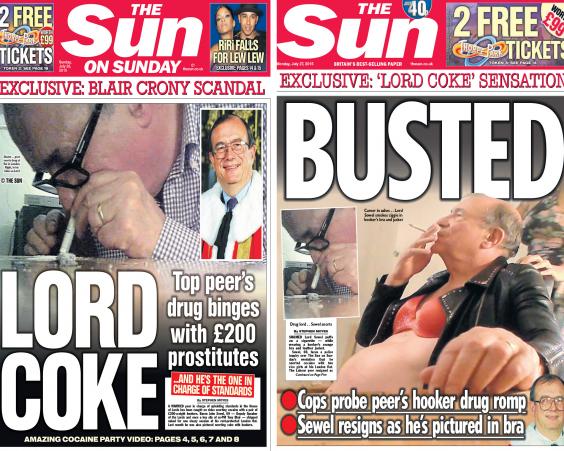 This is what he said:
On David Cameron: "He's the most facile, superficial Prime Minister there has ever been," claiming that "he just shoots from the hip" and makes one-off commitments that "he cannot deliver on".
On Boris Johnson: He called the MP a "joke," and said the Mayor of London plays well in the capital in the same way that Ken Livingston did, because people like a "cheeky chappie," but claims this popularity does not translate across the country.
"Can you present Boris Johnson in Preston, in Birmingham, in Manchester? No, they just think he's an a***hole," adding that the Mayor is a "public school upper-class twit".
On Tony Blair: Lord Sewel claimed that the former Prime Minister went "seriously wrong" towards the end of his time in Parliament and claimed his decisions on Iraq were made "because he fell in love with George Bush".
On George Bush: He called the former President a "crap" artist.
On Alex Salmond: Lord Sewel called the politician a "silly pompous prat".
On Labour: The Sun further reported that Lord Sewel also ran through the list of Labour leader contenders, and deemed Jeremy Corbyn a "typical romantic idiot," claimed Andy Burnham goes "whichever way the wind is blowing," said Yvette Cooper was "not strong" and was unable to remember Liz Kendall's name, whom he instead called "a Blair supporter who is just too naïve".
On George Osborne: Lord Sewel called Chancellor George Osborne a "very consummate politician" however, believing that he could one day become Prime Minister.