The deficit
Anyone who'd listened to the new Labour leader during his election campaign would have assumed that eliminating Britain's structural deficit was not at the top of his 'to do' list. "You just cannot cut your way to prosperity," Jeremy Corbyn told the faithful during one campaign rally.
But now John McDonnell, his Shadow Chancellor has made clear that Labour is in favour of delivering an overall surplus by 2020 and then running a budget surplus in "normal times".
But the big difference between Labour and the Tories will be in how that surplus is achieved and then spent. 
Labour's deputy leader Tom Watson said on 27 September that the party is now "united" against austerity and by implication will suggest that the deficit must be closed by tax rises.
After the deficit is closed Labour says the proceeds of growth will be "shared more equally among all sections" on society. Translated that means higher taxes and greater spending.
Taxes
The Tories have suggested that under Mr Corbyn income taxes would go through the roof – and the new Shadow Chancellor is on record as supporting a 60 per cent top rate of tax. But on 27 September Mr Corbyn announced more modest proposals. He said Labour would stick with Ed Miliband's plan to raise the top rate of tax to where it was in 2010 at 50 per cent.
One area of difference is on inheritance tax. Mr Corbyn said while families should be able to pass on a "normal" family house tax free – anything else should be taxed. This suggests that Labour would reverse George Osborne's new £1 million inheritance tax threshold and potentially reduce it to under £300,000 that is currently the price of an average house.
The other area where the thinking of the new Labour leadership is becoming clearer is on company taxes. Mr McDonnell said Labour would reverse George Osborne's corporation tax cuts – using the money to scrap tuition fees.
He has also muted plans for a new crackdown on multinational businesses who don't declare profits in the UK.
"Income tax is not the big issue for me," he said on 27 September. "The big issue for me is getting the corporations to pay their taxes and getting a taxation system that is effective and works.
Trident
This is the most contentious issue facing the party as a result of Mr Corbyn's election. Corbyn himself is a unilateralist and does not want to replace Trident. But the vast majority of his shadow cabinet do not agree – and for some it is a resigning matter. The issue was meant to be debated at conference later this week but a backroom deal was done with the unions (who have 50 per cent of the votes at conference) and some constituency parties to keep the issue off the floor. This buys the party time to try and resolve their differences ahead of a Parliamentary vote on renewing Trident which is likely to come next year.
But most people think that these differences are too wide to bridge. Mr Corbyn held out the prospect that MPs might be given a free vote on the subject and this was also backed up by his deputy Tom Watson. 
But Mr Corbyn added that he would try and use all his powers of persuasion to get the rest of his Parliamentary colleagues to come round to his point of view. That could prove an uphill struggle.
Syria
This is another potential flashpoint: What will Labour do if David Cameron calls a vote in Parliament asking for permission to carry out airstrikes against Isis in Syria. 
And on 27 September the party found an answer – try and fudge it.
Following a meeting between Mr Corbyn and his Shadow Foreign Secretary Hilary Benn, the pair announced that Labour might back airstrikes if they approved by the UN Security Council – but not necessarily.
Instead Mr Benn called on David Cameron to push for the new resolution on Syria including the creation of safe zones for those who have fled their homes from both Isis and the Assad regime. Obtusely, he said the resolution should also call from "effective action to end the threat from Isil".
Asked if that meant Labour would back airstrikes, as part of a UN Security Resolution, aides refused to confirm that it would. They said the onus was on David Cameron to help build an international consensus around solving the whole conflict in Syria and not just action against Isis.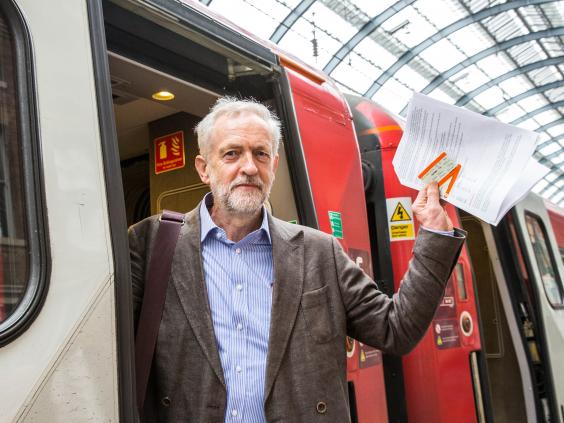 Railways
This is one area where Labour, under Mr Corbyn, has a new policy around which the party is generally united. Under the proposals rail franchises would return to public ownership when they run out should the party win power in 2020. This is not full-blooded nationalisation and would take a decade or more to complete – but neither does it require public funds to compensate those private companies who currently hold the franchises.
De-selecting MPs
Some people have speculated that Mr Corbyn would agree to bring in mandatory reselection of MPs – a move that could result in some Blairite MPs being de-selected by their local parties. 
Mr Corbyn made clear that he is not in favour of this – as has his deputy Tom Watson.
But on the very same day his Shadow Chancellor John McDonnell raised the prospect again saying he would not oppose the move. Ominously he declared it was "for the party to decide".
Reuse content