With the role of women in British politics again coming under the spotlight this week, MPs and former ministers have warned that there is a "real problem" with the issue of gender in Westminster.
David Cameron is expected to reveal a major Cabinet reshuffle tomorrow with younger women promoted to senior roles in place of aging men, but Labour says it is an effort that comes so late as to seem like a "last-minute worry about votes".
Today has also seen the publication of a report from the a committee of women in Parliament, which recommends a system of penalties and functions be put in place to stop MPs acting like "gangs and bullies".
Speaking to Sky's Murnaghan programme on Sunday, the former culture minister Mariah Miller said she wouldn't rule out all-women shortlists if the Conservative Party particularly continued to not recruit enough women.
She said that despite women consistently coming out of university with better degrees than their male counterparts, Parliament was "struggling to attract women either as a first career or even as a second career".
"There is a real problem there," she said.
Mr Cameron's Cabinet currently includes three women out of a possible 23 posts – after Ms Miller's own resignation in April – the lowest ratio since the government of John Major. That number could double to six tomorrow.
Women in Politics 2014: Females in Parliaments across the world
Women in Politics 2014: Females in Parliaments across the world
1/9 4th: Sweden

Swedish European Affairs Minister Birgitta Ohlsson pictured at the EU headquarters in Brussels. After Nicaragua, Sweden has the highest number of women in cabinet, with 56.5 per cent of Swedish ministers being female. 157 of the 349 seats in the single parliamentary house are held by women.

JOHN THYS/AFP/Getty Images

2/9 Afghanistan: 41st

Leading Afghan women's rights champion, author, lawmaker and former presidential hopeful Fawzia Koofi talks during an interview with AFP in Kabul. Not well known for its women's rights record, Afghanistan beats the UK. Of the 249 seats in the Afghan lower house, 69 are held by women. 28 of its the 102 seats in its upper chamber are taken by women.

JOHANNES EISELE/AFP/GettyImages

3/9 64th: UK

Home Secretary Theresa May leaves Downing Street in London, England. 147 out of 650 seats in the House of Commons are held by women, compared to 182 of 778 in the House of Lords.

Oli Scarff/Getty Images

4/9 1st: Rwanda

Rwanda Minister of Agriculture and Animal Resources Dr Agnes Kalibata, speaks at the African green Revolution Forum. 39 per cent of ministers in Rwanda are women, holding 51 out of 80 seats in the lower house. 10 of the 26 seats in the upper house are taken by women.

ISSOUF SANOGO/AFP/Getty Images

5/9 China: 61st

Chinese Vice Premier Liu Yandong pictured at the People-to-People Exchange at Diaoyutai State Guest House in Beijing, China. Outdoing the UK by three places, women hold 699 seats in the country's 2987-member-strong single house.

Feng Li/Getty Images

6/9 US: 83rd

Republican Senator Susan Collins speaks onstage at the FORTUNE Most Powerful Women Summit in Washington, DC. Hold its ranking joint with San Marino, only 79 of the 432 lower house members are women. 20 members of the 100-strong upper house are women.

Paul Morigi/Getty Images for FORTUNE

7/9 France: 47th

French minister Aurelie Filippetti attends the Opening ceremony and the 'Grace of Monaco' Premiere during the 67th Annual Cannes Film Festival. Sharing its ranking with El Salvador, 151 members of the 577-member-strong lower house are women. Meanwhile, female members hold 78 of the 347 seats of the upper house.

Pascal Le Segretain/Getty Images

8/9 Italy: 31st

Italy's Integration Minister Cecile Kyenge poses as she arrives for a lunch at the French embassy in Rome. 198 women of a possible 630 seats in the lower house are filled by women. 92 women hold seats in the 317-member-strong upper house.

GABRIEL BOUYS/AFP/Getty Images

9/9 South Sudan: 45th

South Sudan's Water Minister Jemma Nunu Kumba at the 10-nation Nile River forum in the Sudanese capital Khartoum. The world's newest country has 88 women in its lower house of 332 members. Of 50 seats in its upper house, women hold 5.

EBRAHIM HAMID/AFP/Getty Images
Addressing the lack of women MPs generally, the report by the All Party Group for Women in Parliament calls for a series of measures that include "zero tolerance" of rudeness and unprofessional behaviour in Parliament, a more regular Parliamentary calendar that will allow mothers to plan better, and an investigation by MPs into sexism in the traditional media and online.
The Tory MP Mary Macleod, who chairs the committee, said: "I believe really strongly that Parliament needs to represent the country it seeks to serve and therefore it should absolutely show that it represents people from every corner of this country, from any background, and certainly there should be more women in it."
Figures for 2014 from the United Nations Entity for Gender Equality and the Empowerment of Women paint a damning picture of the UK's place in the world for women's representation in politics.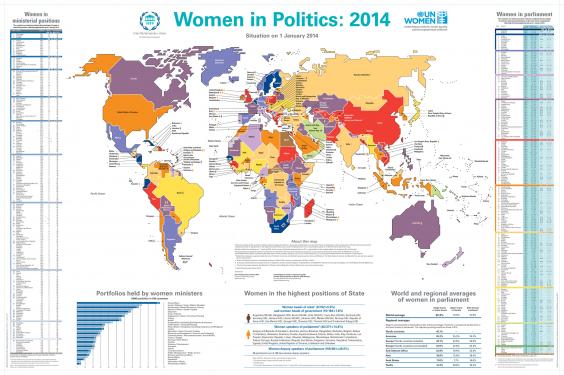 Click here for the UN's infographic based on data for women in politics around the world
Just 15 per cent of the 32 broader positions for British ministers went to women as of the start of this year – putting the UK joint-54th with the Ivory Coast out of the 104 countries for which such data was available.
It puts Britain a world behind many of our close neighbours like Sweden, Norway, Finland, the Netherlands, Denmark and France – all of which have more than 45 per cent of their ministerial positions filled by women.
In the wider context of women in parliaments around the world, Britain again performs badly. Its 147 women MPs for a possible 650 seats puts the UK 64th in the world, behind China, Italy, Argentina, Spain, Germany and many others.