Yvette Cooper insisted that she was not the "no change" candidate in Labour's leadership race as she said the party would need to win back many people who had voted Conservative in order to regain power in 2020.
The shadow Home Secretary criticised Ed Miliband's strategy at last month's election as "too narrow." She said Labour had won over former Liberal Democrat voters in cities but failed to do so in towns, particularly coastal areas where people felt "left behind." Speaking to Westminster journalists, she also took a sideswipe at her two main rivals Andy Burnham and Liz Kendall.
Ms Cooper said: "I strongly believe that Labour can win the 2020 election but…it does mean we have to reach out, it does mean having the strength to change, it does mean we can't just run on the 2015 manifesto. It also means being able and ready to take David Cameron on and it means not just thinking we should swallow all the Tory lines because that's not the way to get a Labour government and a Labour prime minister and the values that we need."
Ms Cooper will make her top priority wooing voters who considered voting Labour last month but opted for the Tories. She believes that one way to win their trust on the economy is to drop Mr Miliband's "anti-business" rhetoric, which gave the impression Labour was against the companies needed to secure economic growth. She will seek to fight back among pensioners, among whom the Tories enjoyed a huge lead last month.
The shadow Home Secretary, whose opponents have portrayed as being against radical change, will suggest Mr Burnham is the "continuity Miliband" candidate after he said that this year's Labour manifesto was "the best" he had stood on. She pledged to put "the country" before "the party," after Mr Burnham said in the first TV debate between the candidates that he would always put the party first.
She hit back at Ms Kendall's remark in the debate that she did not carry the same "baggage" as Ms Cooper and Mr Burnham because she had not been a Cabinet minister.  Ms Cooper insisted  that being Opposition leader and prime minister  were "difficult" jobs that required "experience" – a dig at Ms Kendall, an MP for only five years.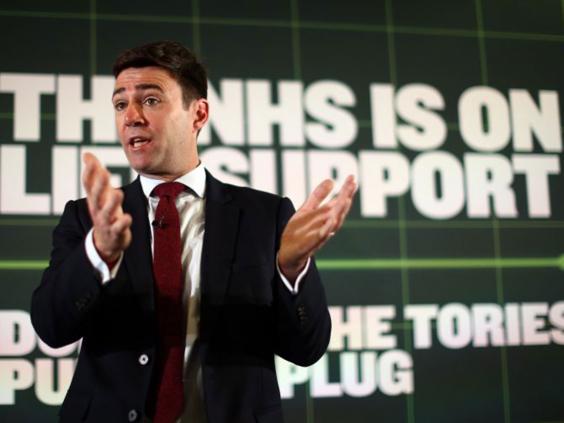 Mr Burnham said: "We need a leader who can convince voters that competence and compassion can go hand in hand. We need to select someone whose voice will carry into every nation and region of our country. I believe I am that leader.
On a visit to the Scottish Parliament in Edinburgh, Ms Kendall rejected calls for Labour to launch a separate party in Scotland so it could fight back against the SNP.  "My priority as Labour's leader will be to rebuild trust, reconnect with voters and to set out a compelling vision of a better, fairer life for all," she said.  "I am not in favour of an independent Scottish Labour Party as I am not in favour of an independent Scotland, because I believe in solidarity."
She added: "We need a strong partnership, there needs to be greater autonomy throughout Scotland, Wales and throughout England, but I believe in being a United Kingdom Labour Party."
Reuse content