The Queen will lead celebrations of the Magna Carta's 800th anniversary, attending a ceremony on the River Thames.
Members of the Royal family will arrive in Runnymede, where King John sealed the charter in 1215. A new art installation will also be revealed in the nearby meadows, where a statue of the Queen was unveiled this weekend.
The Magna Carta – or Great Charter in English – laid down the foundations for today's political and legal system. It also denotes that the Monarch is not above the law.
A flotilla of boats has been leading a copy of the book down the river to Runnymede over the weekend, led by the Royal Barge Gloriana which was used in the Jubilee pageant.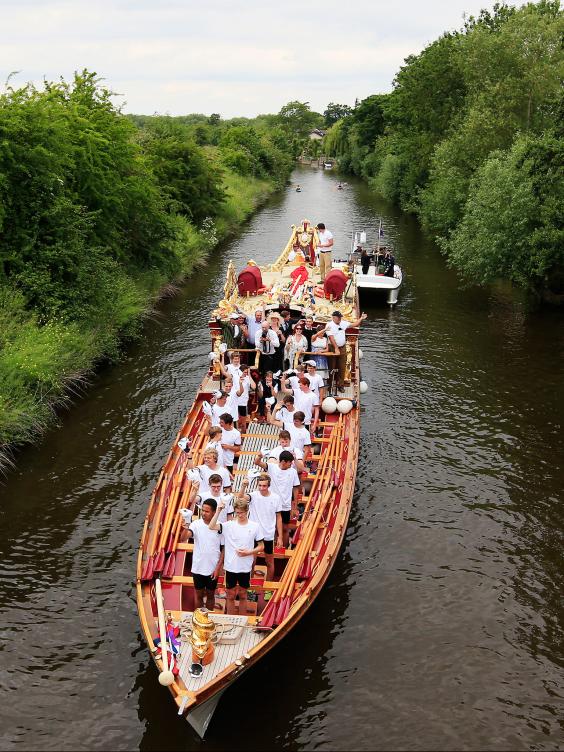 Over 3,000 people are expected to turn up for the rededication of the American Bar Association's Magna Carta Memorial ceremony, as well as the Duke of Edinburgh, Duke of Cambridge and Princess Royal, ITV reported. There will be spoken word and musical performances.
A pageant will also be held on Monday night in Salisbury cathedral, which has one of the remaining four copies of the book.
In pictures: Magna Carta anniversary
In pictures: Magna Carta anniversary
1/4 Magna Carta anniversary

Image of King John from the British Library exhibition

The British Library

2/4 Magna Carta anniversary

The first printed Magna Carta, from 1506

The British Library

3/4 Magna Carta anniversary

Lincoln Cathedral

4/4 Magna Carta anniversary

Temple Church, a stop on the celebratory London walk

Chris Christodoulou
The commissioned artwork is called The Jurors and is, the
BBC reported
, inspired by the 39th clauce of the document which outlines the right to a fair trial. It has been created by artist Hew Locke.
Ahead of the celebrations, researchers from the universities of East Anglia, Cambridge and King's College London revealed that King John was so reluctant to publicize the now world-famous document that the church had to step in to ensure that sufficient copies were made and distributed.
Reuse content