Children suffering from a bout of glandular fever, conjunctivitis or tonsillitis should still attend school according to a health guide that has been rubbished by parents as a "joke".
The ostensibly two-page guide to "managing sickness absence from school" was handed out in schools across South Wales this week.
But its advice has been branded "nonsense" by critical parents after it recommended children did not take time off school for six out of the 18 illnesses listed, some of which are highly contagious.
Speaking to Wales Online, dad-of-two Gareth Whittle, from Cardiff, said: "I thought it was a joke.
"I think as parents we are responsible enough to know when and for how long we should keep our children away from school."
Among the illnesses listed on the booklet as not needing time off school are head lice, threadworm and hand foot and mouth disease (not to be confused with foot and mouth disease).
The latter is a viral infection described on the NHS DIrect website as a "contagious" and "unpleasant condition". The site even advises adults who have contracted it to "stay away from the workplace".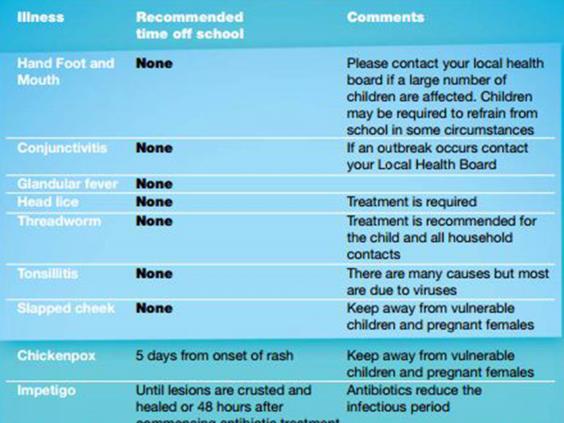 Another parent, who was not named by the paper, said her daughter couldn't eat for five days "due to the ulcers in her mouth" when suffering from the disease.
"If she talked she would dribble as it was too painful to swallow her saliva, so there was no way she could have gone to school," she said, adding: "Who makes up this rubbish?"
Glandular fever brings out symptoms including loss of appetite, extreme tiredness, a sore throat, muscle aches and swollen glands in the neck, armpits and groin areas.
On its website, Great Ormand Street Hospital describes it as an "infectious condition", adding: "Recovery can be a slow process. It is important for the child to rest when they are feeling tired or running a fever."
The guide was published by the Central South Consortium, a joint partnership between Cardiff, Vale of Glamorgan, Rhondda Cynon Taf, Bridgend and Methyr county councils.
Local authorities are said to be under pressure from the Welsh education watchdog Estyn to improve attendance levels across the region.
The guide claims to only offer "guidance" for parents and urges them to consult the NHS Direct website and their local GPs for further advice.
A spokesperson for Rhondda Cynon Taf Counci told Wales Online: "The medical advice printed has been obtained directly from the Health Protection Agency in England in conjunction with the Royal College of Paediatrics and Child Health.
"Consultation was carried out with Cwm Taf, Cardiff and the Vale and Abertawe Bro Morgannwg University Health Boards and Public Health Wales who all approved the content of the advice table."
Reuse content