At Glasgow's busiest polling station off Byres Road in the city's West End, located between the student population of Glasgow University, middle-class Hyndland and the once traditional Labour voting of Partick, almost 40 percent of registered voters had marked their ballot papers before 3pm. Both the Yes and No campaigners visible at the gate of the red sandstone primary school said they had been involved in general and Holyrood elections. "This like nothing we've seen before, astounding," said the woman holding up a No poster.
She said the climate of intimidation that had been evident in the neighbourhood over the last two weeks had meant No voters were reluctant to show their colours. "But we've had plenty of quiet thumbs-up as people left the school," she said.
On the bridge from the gate to the school's entrance, in which the main voting hall was, voters told The Independent how and why they'd voted.
Brothers Ben and Leon, one a freelance journalist, the other a would-be music sound engineer, held opposing views but nevertheless marched to the poll together and still smiling. Ben was voting Yes because "this might be a one-off opportunity". Leo described the Yes campaign as idealistic and over-optimistic. "Governments all over the world say the same thing and fail to deliver on the promises they make. A government in a separate Scottish state will be no different. Britain and every country has finite resources. We should be sharing them, not putting barriers up."
Scotland goes to the polls
Scotland goes to the polls
1/20 Scotland decides

Piper Ryan Randall leads a pro-Scottish independence rally in the suburbs of Edinburgh

Getty Images

2/20 Scotland decides

A "No" campaigner bursts into song as the BBC's Nick Robinson walks past

Getty Images

3/20 Scotland decides

Chris McAleese holds a Saltire flag as he speaks with Gerrard Corrigan, left, and Robbie Devine outside Bannockburn Polling Station in Scotland

AP

4/20 Scotland decides

George Mackay and his daughter Anne Mackay run a polling station from their caravan at Coulags near Lochcarron

PA

5/20 Scotland decides

Voters arrive at the polling station in the village hall in the remote Highland area of Lochcarron, Scotland

PA

6/20 Scotland decides

A No campaign supporter and Yes campaign supporter debate with each outside the Scottish Parliament building in Edinburgh, Scotland

AP

7/20 Scotland decides

Martin Greenhouse arrived at Partick polling station wearing a Scottish football jersey with the number 14 - for 2014 - on the back. Martin said that he'd lived in Scotland for years and would be remaining north of border regardless of the outcome tonight. "Westminster does London very well. But not the rest of Britain. Devolution works, independence will work better and the regions of England will take note. That's why my wife and I are voting YES."

James Cusick/The Independent

8/20 Scotland decides

A supporter of the 'Yes' campaign stands outside a polling station

Reuters

9/20 Scotland decides

A yes supporter talks with a man and a woman with a Union flag in George Square, just a few hours before polling stations will close in the Scottish independence referendum

Getty Images

10/20 Scotland decides

Chris McAleese at Bannockburn Polling Station, as voters go to the polls in the Scottish Referendum

PA

11/20 Scotland decides

Ryan Randall plays the bagpipes outside a polling station in Edinburgh, Scotland

Reuters

12/20 Scotland decides

Fashion makes a point on voting day in the Scottish Independence referendum in Stirling

EPA

13/20 Scotland decides

Voters come to Notre Dame Primary School polling station as the people of Scotland take to the polls to decide their country's fate

Getty Images

14/20 Scotland decides

Voters come to Notre Dame Primary School polling station as the people of Scotland take to the poles to decide their country's fate in a historic vote

Getty Images

15/20 Scotland decides

First Minister of Scotland Alex Salmond chats to school children at Strichen Primary School in Strichen

PA

16/20 Scotland decides

Former Prime Minister Gordon Brown with No campaigners outside the polling station at North Queensferry Community Centre as polls open

PA

17/20 Scotland decides

Scottish First Minister Alex Salmond gives the thumbs up after voting in the Scottish referendum in Aberdeenshire, Scotland

EPA

18/20 Scotland decides

Residents take part in a "short walk to freedom" march in Edinburgh

Reuters

19/20 Scotland decides

Young voters leave a polling station in Charlotte Square, Edinburgh

Reuters

20/20 Scotland decides

David Aguilar, left, and Aleix Sarri from Catalonia, who are visiting Scotland to support the Scottish independence referendum, gesture and hold up a placard supporting a Yes vote at passing motorists in Edinburgh, Scotland

AP
One Glasgow University psychology student, with parts of her hair coloured red and blue – not intentional apparently – said: "I'm not from Scotland. And not from England either. I was brought up in France and elsewhere. And though I'm not entirely sure why, I feel No is my answer. That's been criticised by my friends at university – most of them voting Yes – as not a good enough reason. But it's the way I feel."
Another women, walking with her young daughter admitted "I really don't understand all this. I don't. But when I look at all the stuff I don't understand and all the risks I'll be taking – it's No. That's not complicated, but its what I feel."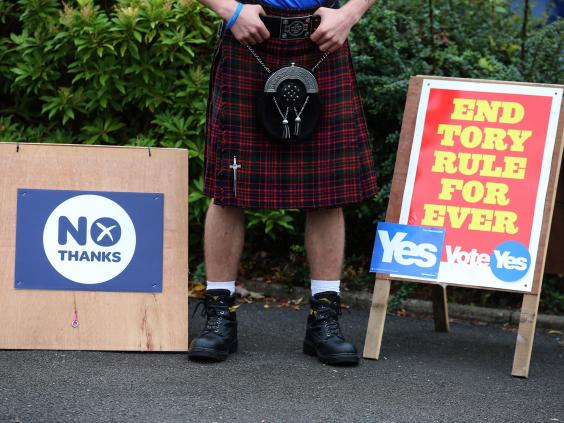 Others making their way out of the school, with police at the gates and inside the school, offered almost monosyllabic reasons for their choice. These consisted of "Pensions - I'm near retirement. And an independent Scotland can't guarantee my future or that of my family's." Other words rattled off at Partick included: "not enough guarantees", "why are doing this?", and "I don't trust politicians but I distrust Salmond the most."
Outside the polling station a CNN camera crew were broadcasting the views of this part of Glasgow to the world. One elderly woman, who said she'd lived in Partick all her life said :"It's about time the world learned what I think. My wisdom's been ignored for too long." Her pals were laughing through her joke.
The official sitting on a small stool at the school, said that while the steady flow coming through from 8am had been mostly peaceful, there had been the odd incident. "We had one man who started shouting at everyone over the need to get rid of the nuclear base at Faslane. And one person was angry that his car, which had a few No stickers on its back window had been completely vandalised. "The man said they'd taken keys and rocks and destroyed the outside of his car, scratched it to hell. That shouldn't be happening – not here."
Reuse content