There are few villages in Scotland more steeped in history than Scone. Formerly the capital of the old Scottish Kingdom of Alba, it was where many ancient monarchs including Macbeth and Robert the Bruce were crowned.
It also gave its name to the Stone of Scone, or "Stone of Destiny", an unprepossessing block of red sandstone upon which the Scottish kings were crowned, until it was captured by Edward I in 1296 and taken to Westminster Abbey. Since then, it has crossed the border several more times and now sits in Edinburgh Castle.
The Stone of Scone used to rest on Moot Hill – a fitting location given the current state of the Union. Like the rest of Scotland, in exactly one week's time the residents of this Perthshire village will have to decide whether or not they would like their country to become independent. And where better to discuss the implications of this than with the residents of Union Road?
According to the local postmaster and Liberal Democrat councillor Lewis Simpson, the referendum has "polarised opinion" in the village. On the way into Scone from Perth, visitors are confronted with two large wooden Yes signs, demonstrating that here, like elsewhere in Scotland, the campaign for independence is more visible than the campaign to remain in the Union.
In pictures: Politicians scramble for Scotland
In pictures: Politicians scramble for Scotland
1/6 Politicians scramble for Scotland

Labour Party leader Ed Miliband speaks during a campaign meeting in Cumbernauld in Glasgow

Reuters

2/6 Politicians scramble for Scotland

British Prime Minister David Cameron gestures as he speaks during a visit to Scottish Widows offices in Edinburgh

Getty Images

3/6 Politicians scramble for Scotland

Scotland's First Minister Alex Salmond campaigns for a Yes vote in east Edinburgh, Scotland

EPA

4/6 Politicians scramble for Scotland

John Prescott campaigns for a 'No' vote in the referendum on Rutherglen main street in Glasgow

Getty Images

5/6 Politicians scramble for Scotland

Liberal Democrat Deputy Prime Minister Nick Clegg talks to the media during a campaign visit to the market place in Selkirk

Getty Images

6/6 Politicians scramble for Scotland

Better Together campaign leader Alistair Darling speaks to the public in Glasgow

Getty Images
But Mr Simpson, who has been canvassing the area on behalf of Better Together for many weeks alongside his Conservative counterpart and "new best friend" Dennis Melloy, says this does not quite tell the full story. "There's an understandable reluctance, particularly among elderly people, to put a No notice in their window. It's not a climate of fear exactly, but there's an uneasiness among people that they don't want to draw attention to their views," he said.
Video: David Cameron urges Scotland to stay in the union

"I've been bothering voters for about 50 years – I used to help my dad deliver leaflets – and I've never had people beckon me into their house before to whisper in my ear their voting intentions. There's a general reluctance, particularly from No voters, to nail their colours to the mast where everybody can hear, which is unfortunate."
Union Road is a short, quiet street of only 11 houses containing 23 voters. Understandably, some of the residents did not want to discuss their voting intentions in public, regardless of which side of the debate they were on.
But from The Independent's conversations with those that did, a picture emerged of a tiny community struggling to reach a consensus on the issue. It is a pattern which, according to the week's polls, is being repeated across the length and breadth of Scotland.

Duncan Mackenzie, 56, a retired mental nurse, has lived in Scone for 24 years. Although he is intending to vote Yes, he has placed a £2,000 bet on Scotland rejecting independence because he is convinced of the result. "I'd never vote for [Alex] Salmond in a million years and I don't like Labour – in fact if I was English I'd vote Conservative. There's no reason you can't be right wing and still want independence. Everyone assumes that all the people who are going to vote yes have got tartan on their heads and are communist – not at all. But I'll still vote Yes, because I'm sick of Westminster," he said.
"The last time we voted on it in 1979 they said if Scotland voted No, we'd get X, Y and Z – but that never happened at all, nothing ever happened. It was a bit of a slap in the face. Scotland has been the bread basket of Britain for so long, I don't see any reason why we couldn't go it alone."
A few doors down lives Katie Thomson, 46, and her two children. A communications manager who has lived in Scone for 15 years, she says she is undecided on independence, but is gradually "verging towards Yes" based on the research she has done. "I'm looking at both sides quite objectively. There are a lot of No people saying we shouldn't leave the Union, but they're not giving us enough answers on what they'd do to make it better. They're using more scare tactics than real facts and figures. There's clearly something needed for Scotland – we're governed too much by England, I do believe that.
"I don't think the Government in England speak for the nation, I think they speak for the larger towns and cities. I don't think we've got enough of a voice as a Scottish nation in Europe either. I'm not entirely sure that we should actually leave [the Union] completely, but I do think there needs to be changes. I don't think we'd just 'manage', I think we'd get on fine, even without the oil revenue that we'd get."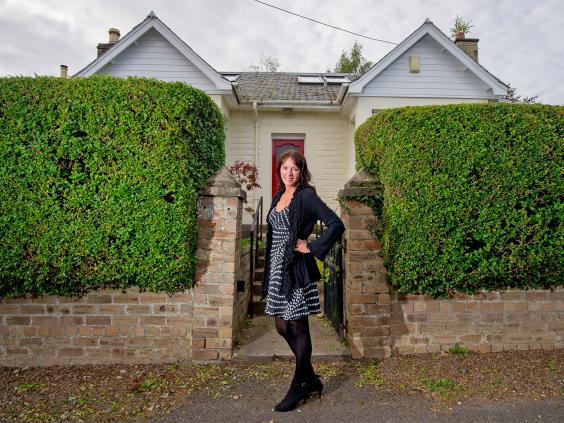 Across the road, Ian and Louise Hastie are putting out the recycling. The couple, who are both in their 30s, have lived in Scone for nine years and are intending to vote No. "It feels like somebody's offering me a job, but they don't know where it is, how much money I'm going to get paid, my terms and conditions or what my holiday's going to be – but it's the best job I'll ever have," said Louise, who runs a small shop in Perth and jokes that she is getting tired of peeling Yes stickers off the window every morning.
"It seems like quite a big leap of faith, it's so uncertain. We don't seem to know much about how it's going to affect us – how it's going to affect money, mortgages, people's pension funds. It seems that we've been bombarded in the last few weeks – but there's no clear answers."
Ian is not convinced that Scottish society is ready to tackle the risks associated with independence. "The nice idea is that we're this nation of inventors and people who are artistic and waiting to do all these wonderful things, but in reality I'm not sure that's where we are at the moment," he said. "I walk though the town these days and it's quite an eye opener, the amount of people who are on drugs, drink or homeless. On the Yes side there also haven't been enough people to say clearly: 'This is what'll happen' – and once you go, that's it, there's no going back."
Their concerns are echoed by the Halkerston family, who live directly across the road. Graeme, an area sales manager, his wife Lisa, a biomedical scientist, and their daughter Lauren, a student at the University of Edinburgh, all believe in preserving the Union.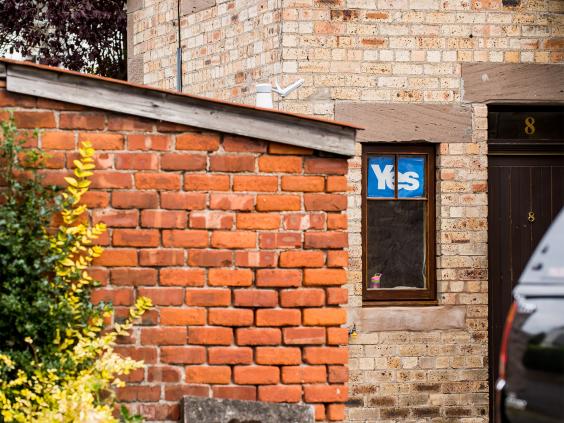 "The currency is obviously the major issue that there's no answers on, so that's a big risk," said Graeme, who has voted SNP in the past but admits he probably wouldn't any more. "Essentially if there was no currency union, and Scotland had to get its own currency, interest rates would go up and costs would go up – so that destroys the whole independence argument for me."
For Lisa, it comes down to a matter of trust. "If I could trust Salmond, I would be putting Yes down, but I don't. They quite often say that there's 50 years' worth of oil revenue, but what about my children, my children's children – how are they going to pay for all the things that they've promised?"
Lauren is put off the idea of independence by "too much uncertainty" facing her when she graduates, admitting that the whole idea makes her "quite nervous". She said: "If you stay in the Union, OK it might not get better, but it might do. It just makes more sense to stay."
The one thing that all the residents of Union Road have in common is avoiding the topic of the referendum with their neighbours. As Graeme Halkerston puts it: "We swap vegetables but we don't talk about politics." It seems that whatever happens on 18 September, traditional British reserve is alive and well – on Union Road at least.
Reuse content