Gail Jones pings opens the till of the shop she runs with her husband Gavin in the English border town of Berwick-upon-Tweed, selects one of the many blue Scottish £5 notes rubbing up against the English ones inside, and passes it to her husband.
"If you hand someone a fiver like that in London, you get: 'What's that, Monopoly money?' Whereas here it's interchangeable," says Gavin.
"We can tell what the different notes are worth to us – a £20 note is 20 pounds. But if you've got 20 Scottish pounds versus 20 English pounds, we'll have to do some sort of conversion."
The border with Scotland is only three or four miles away, but the premises of Jones & Jones, which sells tea and coffee hampers, could just as easily be on the other side due to the number of tartan teddies and other Scottish paraphernalia on display.
The debates might rage in Edinburgh and Glasgow, but it is people living on the border like Gail and Gavin who have arguably the most to lose – or gain – from independence.
The couple have run the business for six years. Despite being unable to vote on 18 September, they are naturally concerned about the impact of a Yes vote on their livelihoods – and their biggest worry by far is the question of the currency.
"A Yes vote would be negative from a business perspective, particularly if the currency changes, because it introduces hassle," says Gavin. "Do we accept two currencies? Is there a cost of changing the currency?
"The Scottish currency might be worth more than the English, or vice-versa. It's a hassle, and banks love to charge fees, so it then becomes a cost. If the bank's going to charge a fee for converting a different currency, then that impacts our margin, which might mean we have to look at our pricing – if not, we eat less food."
The issue of currency is perhaps the most bitter source of dispute between the Yes and No campaigns. George Osborne has ruled out a currency union – a stance backed by Labour and the Liberal Democrats – but the Yes campaign insists this is merely a scaremongering tactic and that negotiations on Scotland retaining the pound would be bound to take place.
But whatever happens around Westminster or Edinburgh negotiating tables, those who will feel the effects of independence the soonest and the sharpest are living in communities on either side of the border.
Alex Salmond's promise to cut corporation tax, for example, might be devastating for Berwick if it prompts the town's larger businesses to move north, Gavin says.
A few miles away, outside the village of Foulden on the Scottish side of the border, Harry and Trish Frew are looking wistfully southwards. Since 1991 they have been the owners of Cheviot Trees, a plant-growing business which used to be based in Northumbria.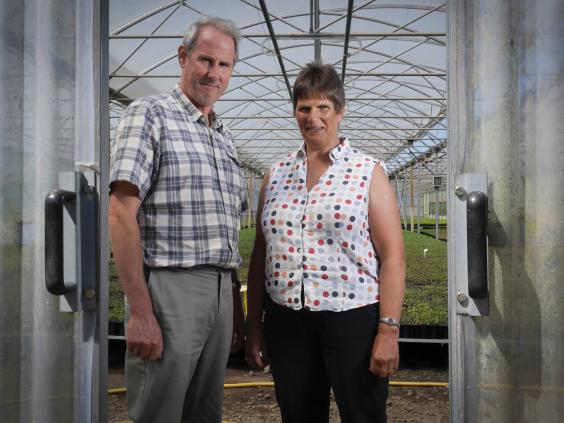 The couple now wish they had retained land in England to use as registered offices in case of any punitive tax changes that might be lurking in an independent Scotland.
Such is the fear of the unknown in the Scottish borders, the couple say, that people are already buying properties in England. "Several businesses have taken a property in Berwick to use as their registered office…to move to have the option of a base," says Harry.
"Indications are that it'll be enough to be able to call yourself an English company and you therefore pay English tax. People are anxious as [the vote] gets closer."
Their company, which is located so close to the border that it has an English postcode, employs 30 people who are evenly distributed on either side. It is estimated that in total around 100,000 people live on one side of the border and earn on the other, which could cause tax and payroll headaches.
While both Harry and Trish are proud Scots, they say they can't vote for independence because they "can't vote for an unknown" and are scathing about the lack of clear guidance put forward by either side.
"We don't get enough information to make a business-based decision," says Harry. "A lot of people are making their emotive decision a bit Braveheart-ish, 'We want to be Scottish!' I think at a personal level people can do that, but at a business level we've got more responsibilities, more potential impact, or damage, or gain. But it's unknown."
But at a hotel just east of Peebles, 50 miles from the Frews, another small business owner with very different opinions is holding forth. Richard Arkless is a qualified solicitor who has his own business selling LED lights in Stranraer. He is evangelical about independence and tours the country on behalf of the pro-Yes group Business for Scotland trying to convert others to his way of thinking.
Speaking at an event organised by the Scottish Borders Chamber of Commerce, Mr Arkless tells the room full of sceptical small business owners that he's "not a fan" of Mr Salmond, has voted SNP just once and was only converted to the Yes cause after "studying the accounts". Flipping through PowerPoint slides, he says Scots pay more tax and create more GDP than other parts of the UK.
"I was absolutely flabbergasted at what I found," he told The Independent before the event. "When I'm going around the country speaking at these events, I see it as my job to dismantle the 'too poor myth'. I think that's very effective because once you cross out that myth, your mind begins to open up to it and you begin to think: 'Why not'?"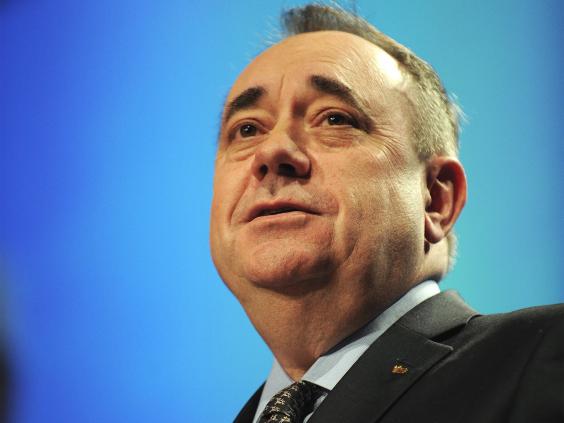 One of the members of the audience is Colin Semple, who runs a bespoke furniture business near Peebles. He says his business relies on Scots "feeling prosperous" because he makes luxury items and will suffer disproportionately if independence creates economic uncertainty or worse, a downturn.
So has he been swayed by the talk? Not quite. "Independence is probably quite an unknown, it's a leap of faith," he says. "There's a lot of things about the current UK that I think many people find isn't working well, but it's a known, so it's a safer option."
Another unknown worrying the borders communities is the possibility of checkpoints being introduced were Scotland to become independent. Last month, Ed Miliband said having border posts "stands to reason" if Scotland's immigration policy is different from that of the rest of the UK.
While the Government is desperate to be seen closing the door to large scale immigration as Ukip's influence continues to grow, Alex Salmond has said an independent Scotland would need an extra 2,000 immigrants a year to make pensions affordable.
Berwick MP Sir Alan Beith's prediction that his constituency would become a haven for "currency exchange kiosks and smugglers" after a Yes vote might be a little overblown, but the reality for people on the border is that any checks would dramatically affect how they go about their lives.
"From a personal point of view, it would be inconvenient," says Gavin Jones. "If they put a border patrol up, for example, it would be a hassle because we're on the border and our social travel goes both sides of the border."
The Scottish Government insists there would be "no need" for border checks as the newly-formed country would become another part of the current Common Travel Area (CTA) system, which allows freedom of movement between the UK, the Republic of Ireland, the Isle of Man and the Channel Islands.
But another group of people in the North of England have good reason to be worried about the prospect of independence: Labour supporters. Although many identify with Yes voters' feelings of alienation from Westminster, they fear they will be left isolated.
David Gray, a long-term Labour supporter from Newcastle, admits his views "may well have been more pro-independence had I been a Scot or living north of the border", but adds: "From Newcastle it seems that it would be a great loss if we were separated formally, not to say also the loss of a substantial number of Labour seats."
In a debate where so much is uncertain and disputed, one thing is clear: the people of the borders might be the first to see the tangible results of a Yes vote, but being so far from the UK's administrative centres means that until then, few will hear their voice.
As Harry Frew puts it: "We've always been impacted by the border, and we get somewhat neglected by both sides – we have to look after ourselves."
Reuse content