In a historic referendum without precedent, nothing this Thursday will look or feel like any other election. The Yes campaign is planning "Braveheart" marches, with "pied pipers" marching voters to the polls to the skirl of the bagpipes and the waving of Saltires.
Legal, within the election rules of a "minimum presence" at polling stations, this "short walk to freedom" – as it has been billed in some locations – may be difficult to stop.
Elsewhere the numbers, the business of Yes or No winning, will be unlike any election Scotland, or anywhere else in the UK, has experienced.
With two battling national campaigns, four main political parties, 59 Scottish constituencies, dozens of committed organizations, tens of thousands of activists, millions of leaflets, 500 billboards to fill - there are just two anxious days left.
This is the scale of the final push to deliver the promises and support offered on doorsteps and at meetings throughout Scotland over the past two years.
Scotland will be unable to escape this get-out-the-vote push. Months of detailed canvassing based on electoral rolls means that every constituency office now knows where their support lives. The hard work will pay only if they re-knock on doors and remind those who said Yes or No the last time they were asked.
One Labour No activist in Cathcart, just one in an army of 33,000 helping the BetterTogether push, said "We've asked the elderly throughout our canvassing if they need help getting to the polling stations. If they do, we will help get them there."
With a record turnout forecast, even the most experienced constituency workers know Thursday is special. A Yes campaigner in Clydebank, just finishing fixing a sticker to a lamp-post after Gordon Brown's visit said: "This is new territory. I'm excited so I am."
The Yes campaign, who have dominated traffic on social media, will deliver 2.6m Saltire-covered leaflets through letterboxes over the next 36 hours. A direct mail shot to 1.2 million pensioners is under way.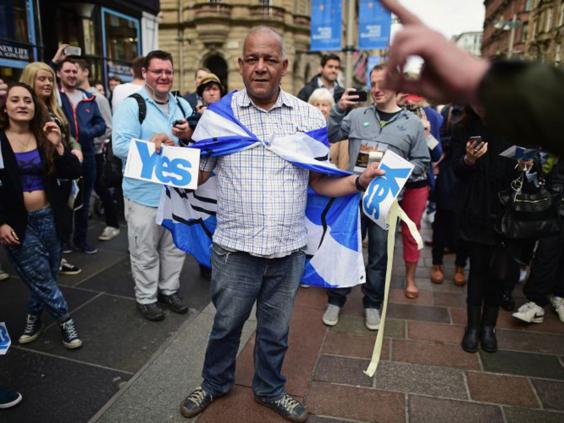 Blair Jenkins, head of the Yes campaign, has said for two years, that this will be the period Yes's "grassroots" activists will count.
On 334 billboards sites across Scotland – booked early in the rush for the best sites – will be images of a child's small hand sitting in the palm of a larger adult hand. The message: "Scotland's future in your hands".
Their leaflets describe a "choice between two futures" with a baby's hands pleading for Scots not to ignore this  "historic opportunity".
Labour will be targeting a "voter pool" of half a million Scots in their traditional heartland, whom polls have suggested will be the key to the final result. The party's own records across Scottish constituencies points to people in 100,000 homes being asked how they will vote.
Neither side is comfortable. Over one million leaflets will delivered by the No campaign at homes and outside polling stations. The leaflets depict the familiar "no thanks" message. But the flipside shows a new attack on the nationalists' claim that the NHS is safe in their hands. A stethoscope is twisted into a heart-shape with the message "we Love the NHS".
The Yes campaign says the information received from their own army of 35,000 canvassers means they have been feeding 25,000 canvass returns a day through their YesMo computer software. Alex Salmond says this has translated into a "decisive" majority.
Pro-Union Labour activists say their returns, gathered by long-serving and experienced canvassers, point to a Labour vote bleeding some to the Yes side, but not enough to mean the exit of Scotland from the union.
Who is right, who has won the battle of the billboards? It's not long to wait now.
Reuse content